DSCC Quality Specialist Honored for Service to Families in Crisis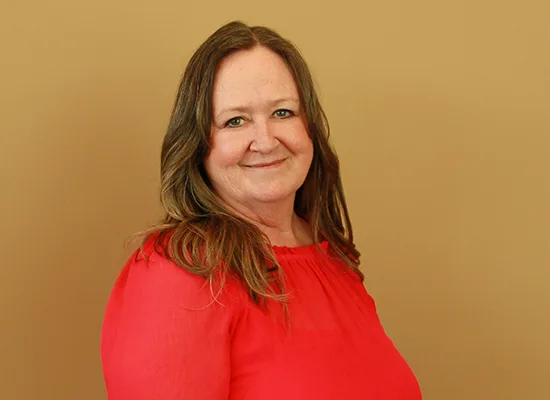 CountyCare awarded Tess Rhodes its Certificate of Excellence for her commitment and dedication
Tess Rhodes is a registered nurse on our Quality Improvement Team. She collaborates with her Division of Specialized Care for Children (DSCC) teammates and partner organizations across Illinois to make sure children in crisis have the right support.
A managed care health plan recently honored Tess for these efforts to protect the safety of children and families.
CountyCare's Health, Safety and Welfare Team awarded Tess its Certificate of Excellence. The certificate recognizes her "tremendous commitment and dedication" to keeping County Care participants safe and meeting their families' needs.
Tess said she couldn't do this important work without DSCC's care coordination teams and our partners in the community.
DSCC has a contract with CountyCare to provide care coordination to the children and youth with special healthcare needs in its Medicaid managed care health plan.
As a Core/Connect Care Quality Improvement Specialist, Tess helps DSCC's care coordination teams when a participant enrolled in CountyCare has a critical incident.
Critical incidents are events or situations that create a significant risk of substantial or serious harm to a participant's physical or mental health, safety or well-being. They can include:
Abuse or neglect
Harassment or bullying
Death of a family member
Significant injuries
Medication or treatment errors
Threat of self-harm
DSCC works with CountyCare to report these incidents and make sure our teams respond to reduce any risks for our participants and help them get the right resources and services they need.
When DSCC team members learn of a critical incident, they must report it to CountyCare within 24 hours of notification.
Tess says it's important to first ensure that our child/youth is safe and that their family receives the right support for their situation.
Tess and the DSCC care coordination teams work alongside CountyCare staff, the child's medical team and others to provide access to services and resources.
The DSCC Care Coordinator checks in with the family bi-weekly after a crucial incident to help and monitor the outcome. Tess assists in the process by guiding the participant's Care Coordinator and providing more resources and materials for education.
Once CountyCare closes a critical incident, Tess continues to monitor the situation and provides final updates at the 30-, 60- and 90-day marks. She also coordinates meetings for all care team members to discuss the incident and develop a plan of support.
"This requires very detailed organizational skills, and Tess never misses an update or chance to help," her supervisor, Quality Improvement Manager Brandon Bartels, said.
Brandon praised Tess' "exceptional" communication with CountyCare and her collaboration to keep participants' and families' needs at the forefront.
"Tess has received accolades by email from their team multiple times, so this Certificate of Excellence proves not only have they valued her efforts in the past but her continued support for our participants, Care Coordinators, and relationship with CountyCare is truly making an impact," he said.
Congratulations, Tess! We are grateful for your compassion, teamwork and commitment to children and families!
2023 Summer Camp Opportunities for All Ages and Abilities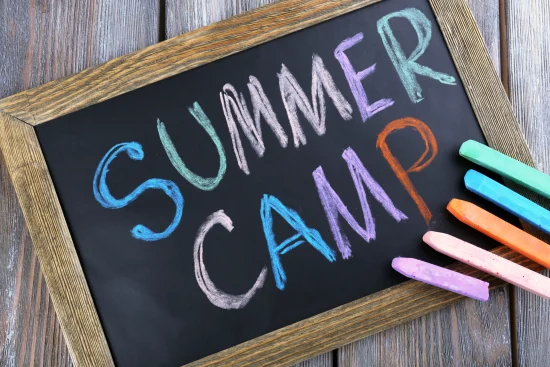 Check out our list of inclusive camps to help you find the right fit for your child
It's never too early to start planning for summer break activities.
Fortunately, there are a variety of opportunities for children and young adults with special healthcare needs.
We've compiled a list of day and overnight camps across Illinois as well as virtual programs.
Does your child want to make new friends? Develop new skills? Meet others with their condition or become more independent?
Our 2023 summer camp list can help you find the right fit.
These camps are accessible and inclusive for a variety of needs, including many of our program's eligible medical conditions.
Our events calendar shows the summer camps listed by date. You may also search for events in your area by clicking on a regional office near you.
Know of a good summer camp opportunity to add to our list?
Send us the details at dscc@uic.edu. We'll continue to update our list of camps and activities, so please check back often.
New Health Insurance Education Series Open to All DSCC Families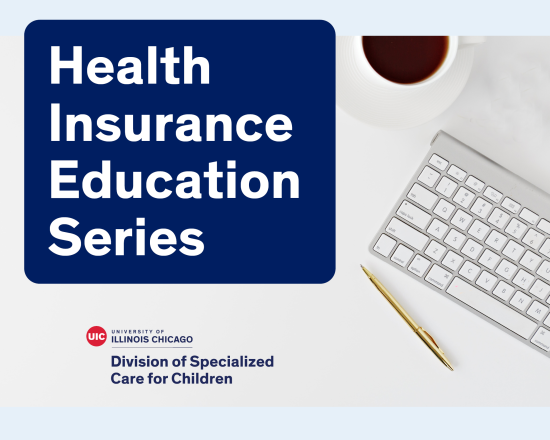 Free virtual training sessions in English and Spanish for Division of Specialized Care for Children participants, their families and all who are interested
Navigating the health insurance maze can be frustrating.
We've heard our participant families' feedback and want to help improve the process.
Please join the University of Illinois Chicago's Division of Specialized Care for Children (DSCC) for our new education series on important health insurance topics.
These free, family-focused sessions will help you better understand your coverage and benefits.
Sessions are virtual and open to DSCC participants, their families/caregivers and anyone interested in these topics.
The DSCC Health Insurance Education Series is the result of DSCC families' questions and suggestions from our Family Advisory Council.
Our Benefits Management and Research (BMR) team will explain a different topic and answer your questions each month. They will present each session in English and in Spanish via Zoom.
Save the date for each session:
Details about each series session are also posted on our Events page.
Each session will be recorded. You can access the recordings and related materials on our Family Education Webinars page.
There is no cost for families to participate.
If you have questions before or after a session, please email dscc@uic.edu or fill out our Contact Us form.
We hope you'll join us!
Chicago Care Coordinator Earns DSCC Merit Award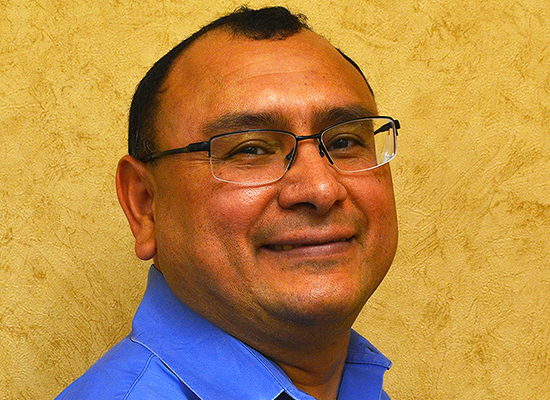 David Martinez honored for his dedication to supporting Illinois children with special healthcare needs and their families
David Martinez is the 2022 recipient of the Merit Award from the University of Illinois Chicago's Division of Specialized Care for Children (DSCC).
The award recognizes exceptional employees for outstanding dedication and service to Illinois children with special healthcare needs and their families.
David is a Care Coordinator in the Chicago Central Office. In this role, he helps families develop personalized care plans for their children's unique needs and connects them to the right services and resources.
"David has a remarkable ability to partner with our participant families and empower them to help reach their full potential," DSCC Executive Director Thomas F. Jerkovitz said. "He works with families from a variety of cultural backgrounds and helps them feel understood and able to navigate the systems involved in their child's care."
David's Chicago teammates say he has a talent for helping families and working "magic" in situations where others might not see a way.
"He is culturally sensitive, proactive and able to put himself in other people's shoes so that he can better understand their situation and how best to partner with them to find a solution," said Assistant Director of Research and Practice Initiative and former Chicago Central Regional Manager Patricia Perez.
David is a licensed clinical social worker. He grew up in El Salvador and studied criminal justice after coming to the United States.
He provided substance abuse programs at the Cook County Jail before deciding to pursue social work. This decision stemmed from his desire to help others and make an impact on families as early as possible.
David worked in mental health before joining DSCC in April 2016. He says he is honored to work for DSCC and with his amazing colleagues and managers in the Chicago Central office.
"Building strong relationships with my co-workers and the families we serve energizes me every single day," David said. "Our families' needs go beyond just medical. Every day is an opportunity to look at a situation from all different aspects and find a solution that can meet their needs. Sometimes it's as simple as just listening."
David said his DSCC career has helped him learn about many different cultures and that care coordination is not one-size-fits-all.
"Meeting the family where they are – that's my starting point," David said. "When I'm meeting with families, I tell them we are a team."
David has helped achieve many successful outcomes for his participant families. In early 2022, he secured a $36,000 grant through the Guaranteed Rate Foundation to purchase and install a vehicle wheelchair lift in a participant family's van and to make their bathroom wheelchair accessible.
But David says his proudest achievements are the relationships he builds with families.
"It would be impossible for me to deliver my passion in social work without having a relationship with families and open communication," David said. "To be able to talk to families on a monthly basis and help them navigate through issues in life, that is my biggest accomplishment — having the trust the families place in me and DSCC."
Our DSCC team nominated a total of 12 of our colleagues for this year's Merit Award. As the winner, David receives a Merit Award memento, a $2,500 award and recognition from the Executive Director.
The other 2022 nominees are:
Melissa Croft, Home Care Enrollment Specialist, Lombard Regional Office
Christina "Tina" Glim, Care Coordinator, Mokena Regional Office
Kristin Grubb, Administrative Aide, Peoria Regional Office
Becky Helmink, Program Coordinator Assistant, Olney Regional Office
Paula Holaday, Home Care Quality Improvement Specialist, Peoria Regional Office
Marlo Johnson, Human Resources Officer, Central Administrative Office in Springfield
Amy Jones, Regional Manager, Olney and Marion Regional Offices
Danielle Osburn, Home Care Claims Process Lead, Central Administrative Office in Springfield
Elma Saladar, Care Coordinator, Chicago Central
Cindy Saxsma, Administrative Aide, Central Administrative Office in Springfield
Katherine Serrano, Care Coordinator, Chicago Core
Congratulations, David! And a big thank you to all the nominees for their excellence on behalf of our participants and their families!
2022 Transition Conference Prepares Youth With Disabilities for Adulthood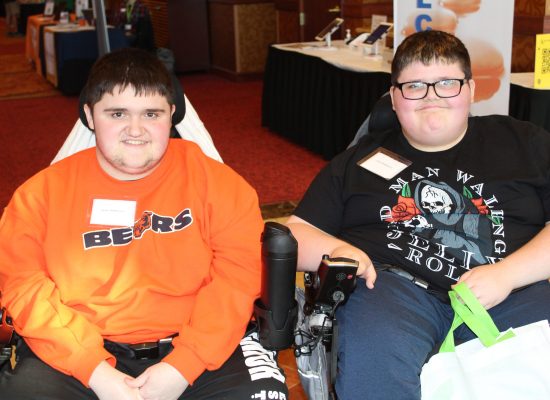 The annual Stepping Stones of Transition Conference gives families and professionals valuable resources and information to support youth on the path to adulthood.
Sixteen-year-old Ayla Etheridge says she's faced many surgeries and physical limitations throughout her life.
She was born with a spinal lipoma (a mass of fatty tissue) and has experienced nerve damage and scoliosis. At one point, she needed a tracheostomy to breathe.
Ayla now uses a wheelchair and credits her physical challenges with "making my brain better."
"I always bounce back and don't want to just sit around and get depressed," she said.
Ayla is also a careful planner, extremely tech-savvy and loves gaming, character design and writing.
As she attended the Illinois Statewide Transition Conference, Ayla thought more about how these interests and skills will shape her future and career goals.
"I'm very independent and would like to do more things myself," Ayla said. "This conference has kind of helped me visualize and think about my next steps."
The 17th annual transition conference, titled "Stepping Stones of Transition," took place in East Peoria on Nov. 3-4. The conference helps both families and professionals learn about the resources, information and opportunities available for youth with disabilities as they prepare for adulthood.
Ayla and her mom, Rachel, were among nearly 450 people who attended in person.
The University of Illinois Chicago's Division of Specialized Care for Children (DSCC) helps sponsor the conference and serves on its steering committee.
DSCC also covered the related costs for 34 of our participant family members to attend, including the Etheridges and the Barraza family.
"I am so thankful to DSCC for the fact they covered the cost to be here. That made a big difference in us being able to attend," Anita Barraza said.
"Education empowers me"
Anita's son, Daniel, 17, is a DSCC participant. His older sister Diana, 22, left DSCC last summer.
All three attended together along with dad, Jose, and Anita's mother-in-law, who helped care for Daniel and Diana when they needed a break from conference activities.
"It was great to have my husband be able to be part of the process and that both he and I could listen and take in the information," Anita said. "(The conference) is also a nice way to spend time together as a family. It's almost like a mini-vacation for us."
Anita is an occupational therapist who works with school children, so she understands both sides of the need for information and resources when supporting young adults with disabilities.
"As a parent, we can feel so overwhelmed. Even if help is right there, that reach can be hard to do," Anita said.
That's why opportunities to learn about a variety of resources and network with other families and professionals are so important.
"These types of resources educate me on how to best provide for my children's needs and for their future," Anita said
Both Daniel and Diana have significant medical needs and are unable to safely live on their own.
Anita says it's hard to think about, but she realizes must start planning for who can care for Daniel and Diana when she and her husband can no longer do it. Residential placement may be necessary in the future.
The Barrazas also want to learn about possible day programs that can offer one-on-one support to Diana and possible employment options that would work well with her needs.
"Education empowers me to be better prepared to help (Diana and Daniel) have a good quality of life," Anita said.
"One step ahead"
Anita had told two other DSCC moms about the conference and encouraged them to attend. One of those moms is her friend Yessy Castillo.
Though Yessy's son, Jacob Ortiz, is only 4 years old, she knew it was important to go.
"I want to be aware of what services are available for Jacob," Yessy said. "Most importantly, I want to be one step ahead. This conference allows me to get the information on what can benefit Jacob."
Jacob was born with a cleft palate, an underdeveloped jaw and his tongue pushed back toward his throat. He also had malformations in his hands and feet, and his intestines did not rotate appropriately.
Jacob now has a tracheostomy and depends on a ventilator 24-7 to breathe.
"I appreciate getting the opportunity to meet people and attorneys for advice and support and more legal information on Jacob's rights," she said. "If I was not exposed to these events, I wouldn't know what is available."
While Yessy speaks limited English, she said the presentations all gave information in a way she could understand.
Melania Tinoco, who also speaks Spanish and learned about the conference from Anita, said connecting with other families at the conference helps her feel more confident.
"It helps seeing we're all in the same boat and finding out we aren't alone," Melania said.
Her daughter Jeny is 14 and has been a DSCC participant since birth. Jeny has Pitt-Hopkins Syndrome, a rare genetic and neurological condition that causes developmental delays.
Melania said the conference has helped her plan for what happens to Jeny if she gets sick and/or can't take care of her daughter. She also appreciated the breakout sessions on helping youth with disabilities respect their body and feel empowered to say "no."
"The information has been helpful and inspirational," Melania said.
Putting information into action
The conference consisted of informative breakout sessions in the areas of employment, education, health care and more.
DSCC participant Vera Lynn Lindquist, 17, and her grandmother, Cheryl Lindquist Calcese, said they enjoyed the "Awareness and Transition Services for Students with Disabilities" session. It gave them helpful information on sex education and tips for building good money management skills.
Cheryl is Vera's legal guardian. She and Vera planned to start a new budget at home after the conference. Vera will get paid for doing chores, such as cleaning her room, helping with the laundry and feeding her two dogs and cat. She will also get a debit card so she can buy things and track her spending.
Vera has autism, attention-deficit hyperactivity disorder, anxiety disorder from childhood, tinnitus and hearing loss, and seizures.
She enjoys being an advocate, helping others and encouraging everyone to be kind.
During the breakout session, "Your Story Has Power: Great Expectations and Pieces of the Self-Advocacy Puzzle," Vera stood up and actively participated during the presentation.
Vera and Cheryl hope to attend the transition conference again next year.
DSCC participant Sabrina Doueihi, 20, was among several self-advocates who shared their perspectives during the "Transition Success Stories" breakout session. She is currently a junior at Bradley College, where she is studying criminology. She hopes to go to law school and become a prosecutor.
Sabrina spoke about the importance of staying true to yourself and what you want to do. She also recommended that youth with disabilities focus on what they can do and who can help them achieve their goals.
"Trade stories and network"
For brothers Jaysen and Justen McMenamin and their parents, the transition conference was a good opportunity to plan for life after high school.
Jaysen McMenamin, 18, is a senior at Woodland High School near Streator, where he is an honor roll student and honorary captain of the school's football team.
He says he's interested in digital media and related job opportunities. But, he's still deciding on the path that's right for him after graduation.
Justen, 14, is a freshman at Woodland High and interested in coding. Both brothers have Duchenne Muscular Dystrophy and are enrolled with DSCC.
Their stepfather, Charles Cusick, said the family wanted to learn more about jobs and career fields that are accessible for the boys and provide more opportunities than what's available in their small community.
They were also seeking information about camps and other recreation programs for Jaysen now that he has aged out of other programs.
The brothers enjoyed talking with some of the vendors about college resources, job coaching and training programs, and future housing opportunities.
Jaysen would like to live on his own but needs to make sure he has the right supports in place.
The brothers' mom, Deanna Cox, said she appreciated the breakout session on Supplemental Security Income (SSI) benefits. Jaysen and Justen's dad passed away in June, and the session helped her better understand how to help her boys keep the benefits they're entitled to.
The family met up with their DSCC Care Coordinator Kristin Lenover during the conference.
"If families can get away from work, there's so much they will get out of being at the transition conference," Kristin said. "Attending in person gives you so much access to all kinds of information. There are also opportunities to meet other families, trade stories and network."
Thirty DSCC team members attended the conference to network, learn from others and strengthen their skillsets and tools to serve participant families.
DSCC also sponsored the conference's healthcare track for providers who play a role in the transition from the pediatric to adult healthcare system and those who build youth's capacity and healthcare skills to prepare for adulthood.
DSCC Transition Specialist Darcy Contri has helped plan the conference since it began 17 years ago. This year's event was her last before she retires.
"I'm so grateful for and have loved being part of this great work," Darcy said. "Partnering with talented people from organizations across the state to help others has made a positive difference in so many lives. It is my hope the annual conference will continue to make an impact on improving adult outcomes for youth with disabilities for many more years."
Visit our Facebook page to see more photos from this year's conference.
Resources and Tips to Promote Good Mental Health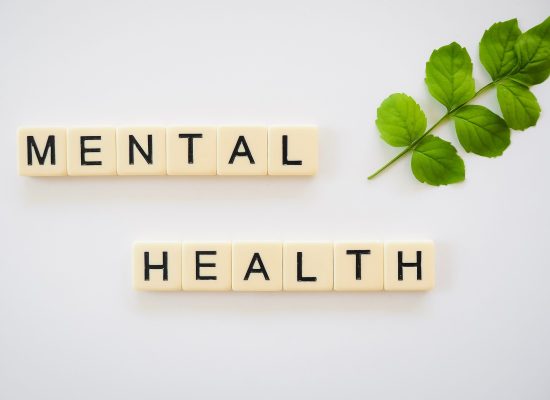 Helpful tools and resources for individuals of all ages in honor of Mental Health Awareness Month
May is Mental Health Awareness Month.
Society often focuses on physical health rather than mental health, but both are equally important. Mental health plays a big role in our overall well-being.
Although the pandemic's challenges have led to more conversations about mental health, talking about it can still feel difficult or out of reach.
It's important to remember that we all face challenges in life that can affect our mental well-being.
Understanding the topic can help us maintain good mental health and be more informed when experiencing a mental health condition or crisis.
Our Division of Specialized Care for Children (DSCC) team has pulled together a few resources to help get started:
Life can be challenging, but every day shouldn't feel hard or out of our control. A mental health screening at mhascreening.org can help provide a quick snapshot of our personal mental health. The screening is free and anonymous. The screening results can help start a conversation with your primary care provider.

Our DSCC Transition Tools include a Mental Health Resources tip sheet with a helpful list of crisis hotlines, service locators, videos and more.
Remember the National Suicide Prevention Lifeline at (800) 273-8255 and the Crisis Text Line (text HOME to 741741) are available 24 hours a day, seven days a week.
A new, nationwide three-digit number will also be available this summer for people facing mental health crises. Starting on July 16, anyone in the United States can call 988 and get connected to the National Suicide Prevention Lifeline.
More mental health resources are available in our online Resource Directory. You can also follow our DSCC Facebook page for more reminders and tips throughout the rest of the month.
Knowing the basics about mental health will help us all feel better prepared when needed. Support is out there, and recovery is possible.