Peoria Regional Office
Contact Info
7013 N. Stalworth Drive Peoria, IL 61615
P:

(309) 693-5350

TTY:

(309) 693-5345

F:

(309) 693-5306

Toll Free:

(800) 382-8569
Hours
Monday - Friday
8:00am - 4:30pm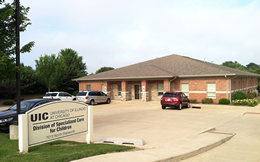 Satellite Offices
Cardiac Clinic
Congenital Heart Center
420 NE Glen Oak, Suite 301
Peoria, IL 61603
2nd Monday of each month
Call (309) 693-5350 for time
UIC-Spina Bifida Clinic
OSF Saint Francis
420 NE Glen Oak, Suite 201
Peoria, IL 61603
2nd Monday of each month
Starts at 1:00pm
Oral Facial Anomalies Clinic
Easter Seals
507 E Armstrong Avenue, 2nd Floor
Peoria, IL 61603
2nd Friday of each month
Starts at 1:00pm
Local Resources
If you're looking for programs and services when Specialized Care for Children is closed, dial 211. United Way and PATH Crisis trained staff are available 24 hours a day, 7 days a week, 365 days a year.

Arena of Dreams Therapeutic Center

The Arena of Dreams, located in Hanover IL., is a therapeutic recreation center for children, teens and adults with disabilities and additional needs. The facility offers therapies such as equine therapy, therapeutic horseback riding, hydrotherapy, sound therapy and sensory therapy.  The Arena, located on 20 acres of land with trails and fields, also has an indoor swimming pool, an indoor and outdoor riding arena, a new sensory room, recreation and arts and crafts room.

Dunlap & Central Illinois Special Needs Parent Group

A forum for parents to discuss different topics for their special needs children.

Meets monthly at Dunlap Valley Middle School.

For additional information, contact Libby at (309) 693-0514 or email dunlapparentgroup@att.net.
Browse all Peoria resources