Annual Report
We served more than 15,800 families during fiscal year 2018.
The University of Illinois at Chicago's Division of Specialized Care for Children (DSCC) is proud of our long-standing mission to partner with Illinois families and communities to help children with special healthcare needs connect with services and resources.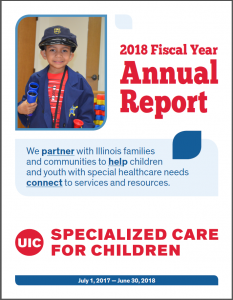 Fiscal year 2018 (July 1, 2017 – June 30, 2018) was a year of preparation to strengthen these partnerships and further empower families to reach their full potential.
Our staff, administration and Medical Advisory Board worked together to update our medical eligibility requirements for children in our Core Program.
We also continued to invest in our staff to improve our expertise and the skills and processes we use to help participants and their families.
We served more than 15,800 families in all 102 counties in Illinois during FY 2018.
As you read through this report, you'll learn more about how we are working to achieve our vision that every child and youth with special healthcare needs and their family are at the center of a seamless support system that improves the quality of their lives.