Annual Report
We served more than 18,600 families during fiscal year 2020.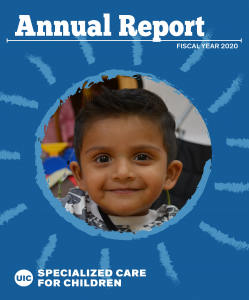 Throughout our 83-year history, we've adapted and evolved to meet the changing needs of the families we serve. But no single year brought more change and challenges to date than fiscal year 2020 (July 1, 2019, through June 30, 2020).
The COVID-19 pandemic abruptly altered life as we know it. The public health emergency put profound stress on our participant families, especially those whose children are high-risk and medically complex.
From the start of the stay-at-home order, our team united remotely to provide much-needed support to our families.
Together our team served more than 18,600 families in all 102 counties in Illinois.
We checked in with our participants, compiled resources, provided education and partnered with state agencies to ensure Illinois included all children and youth with special healthcare needs in its disaster planning and response.
Our FY 2020 Annual Report explains these efforts as well as our ongoing work to partner with Illinois families and communities to help children and youth with special healthcare needs connect to services and resources.
We look forward to brighter times ahead and another 80 years of partnering, helping and connecting.