Annual Report
We served more than 17,400 families during fiscal year 2021.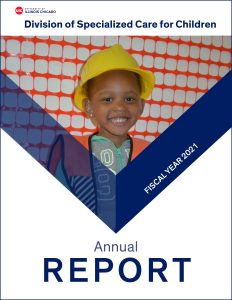 Fiscal year 2021 (July 1, 2020, through June 30, 2021) was our first full year of operating during a global pandemic.
The Division of Specialized Care for Children (DSCC) team continued to persevere and collaborate to support Illinois children with special healthcare needs and their families through new and ongoing challenges.
Our staff found ways to stay connected to one another and to the families we serve as we worked almost entirely remotely. We partnered with state agencies and organizations to make sure the needs of the state's most medically complex children and adults are at the forefront of pandemic planning and response efforts.
We shared the latest health guidance and resources about testing, vaccines, assistance programs and more to help all Illinois families. We also continued to improve the strength of our programs and the quality of services for participants.
We also developed a new strategic plan based on guiding principles to help us achieve our goals. These goals reflect our commitment to equitable systems for both children and youth with special healthcare needs in Illinois and our DSCC team.
Together our team served more than 17,400 Illinois families through our care coordination, resource information or referrals.
Though challenges and uncertainty persist, we continue to adapt and strengthen the quality of our services and support. We are proud of our team's collective resilience, problem-solving and dedication to our participants.