Family Advisory Council
Your voice is important to us!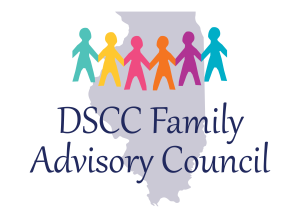 We value our parents' and participants' feedback.
We've set up our Family Advisory Council (FAC) to make it easier for families to participate and share their input with us.
Our Family Advisory Council's mission is to bring our families, staff and leadership together to promote the delivery of participant- and family-centered services.
The FAC connects families to resources and provides guidance to strengthen our teamwork, improve communication and empower families to have a voice in their child's care.
Our Family Advisory Council consists of 22 family members from across the state and two Division of Specialized Care for Children (DSCC) staff members.
The FAC meets four times a year. Two meetings per year are open to all Illinois families of children with special healthcare needs. You do not have to be a DSCC participant to attend these open forums.
Please check the schedule below for the next public meeting. We will post meeting registration information once it is available.
If you would like more details on how you can participate in the Family Advisory Council, please email dsccfac@uic.edu.
We hope to hear from you!
FAC Meeting Schedule
Nov. 16, 2023, 9 to 11 a.m.

This meeting is a virtual open forum for all Illinois families of children and youth with special healthcare needs.

Click on this Zoom meeting link to join.

Meeting ID: 852 8529 2710
Passcode: jYHA7mgP!
FAC Meeting Minutes
Aug. 24, 2023
May 11, 2023
Feb. 9, 2023
Nov. 10, 2022
Aug. 11, 2022
May 5, 2022
Feb. 2, 2022
Aug. 25, 2021
May 25, 2021