Dominic's Family Story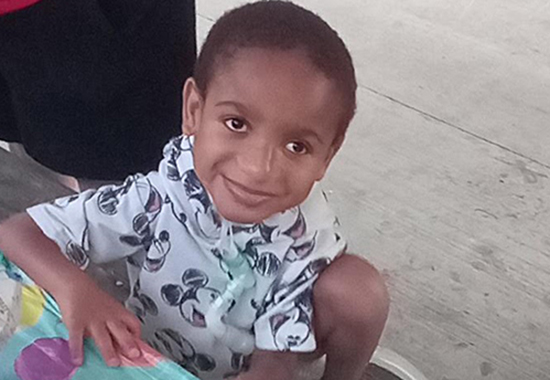 "It's been a pretty easy program to work with. All of my case managers have been extremely helpful."
— Aurea, mother of Dominic in the Home Care Program
"The tunnel can be very long, but there's light at the end of it."
Dominic's mom, Aurea, felt like she lived at the hospital during the first years of her son's life.
"Everybody joked that I was an honorary staff member," she recalled of the many and long hospital stays.
Dominic, now 7, was born with a large omphalocele. Omphalocele is a rare condition at birth that affects the abdominal (belly) wall. It caused his intestines, liver and bowels to stick outside of his belly in a sac through his belly button.
Aurea said the omphalocele's size prevented his lungs and chest wall from fully developing.
"Initially, he didn't really need that much respiratory support. But as he started growing, he needed more oxygen," she said.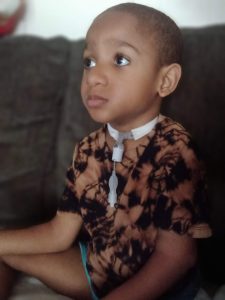 Dominic soon got sick with pneumonia and was placed on a ventilator. He was able to get off the vent, but his chest wall was too small to support his breathing needs.
"They did a chest surgery when he was 6 months old. They cut his ribs to give his lungs a chance to grow and give more respiratory capacity," Aurea said. "(His condition) has not been a linear thing. It's definitely a little up, a little down. It's all trying to figure out what works best."
Through the highs and lows, the University of Illinois Chicago's Division of Specialized Care for Children (DSCC) has helped Aurea and her family navigate Dominic's changing needs over the last seven years.
"It's been a pretty easy program to work with," Aurea said. "All of my case managers have been extremely helpful."
Dominic and his family receive in-home nursing through the Home Care Program. DSCC operates the Home Care Program on behalf of the Illinois Department of Healthcare and Family Services (HFS).
Dominic has a tracheostomy and a vent. His home must meet certain requirements to support his ventilation equipment.
Aurea said Dominic was in the hospital so long that her family didn't renew the lease on their home and stayed with her parents. When preparing for Dominic to leave the hospital, they had to find a house with grounded outlets.
A friend of Aurea's family is an electrician and was able to ground their home's outlets before Dominic arrived home. Dominic's DSCC Care Coordinator at the time helped their family with the necessary paperwork to pay for the electric work and complete the home inspection.
Once Dominic was home, Aurea grew frustrated with Domonic's local care. Dominic's Care Coordinator helped her find pulmonologists used by other DSCC participant families and move Dominic's pulmonary care to Ann and Robert H. Lurie Children's Hospital.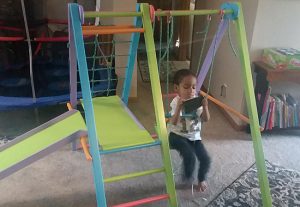 "That was really helpful and made it very easy to switch," Aurea said.
Dominic's current Care Coordinator, Julie Gosnell, is now working with Aurea to find a cart that can easily carry his vent beside him while he's on the go outdoors.
"He's very active. He runs up and down the hallway all of the time, jumps on the bed, jumps on the couch. He loves jumping on whatever he can jump on," Aurea said. "He just loves to climb on things. I tell people he's a regular little boy, he just has extra tubes."
Julie has helped Aurea apply for the Health Insurance Premium Payment (HIPP) Program and compile Dominic's medical records to share when seeking a second opinion.
Aurea also partners with Julie to focus on goals for Dominic and his future.
"My ultimate goal is for him to be done with all of those machines – no oxygen, no trach, no g-tube (gastrostomy tube). But I realize that goal to ultimately get him off machines is not a goal that I can attain. I can't do anything to make that happen," Aurea said.
"I can make sure that I am on top of his medical care and making sure he gets what he needs, whether that's joining Facebook groups or Google searching or finding things out about different techniques… I want to do what I can to improve Dominic's quality of life."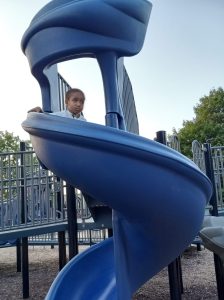 Although she is an independent person, Aurea said she appreciates having a team to contact when problems occur, she has a question or she just feels overwhelmed.
"It's nice to have someone follow up with me consistently," she said. "It's nice to speak with Julie, and she can give me ideas for doing something differently."
Aurea has also joined DSCC's Family Advisory Council (FAC).
"I've always felt with this journey in general is if I can to anything to help somebody else along the way, I'm going to do that, whether it's having a conversation or sharing some of the hiccups in a program I've seen," she said.
Aurea recommends that families of children with medical complexity focus on what they can control and celebrate the small victories.
"There is light at the end of the tunnel. The tunnel can be very long, but there's light at the end of it," she said.