Willa's Family Story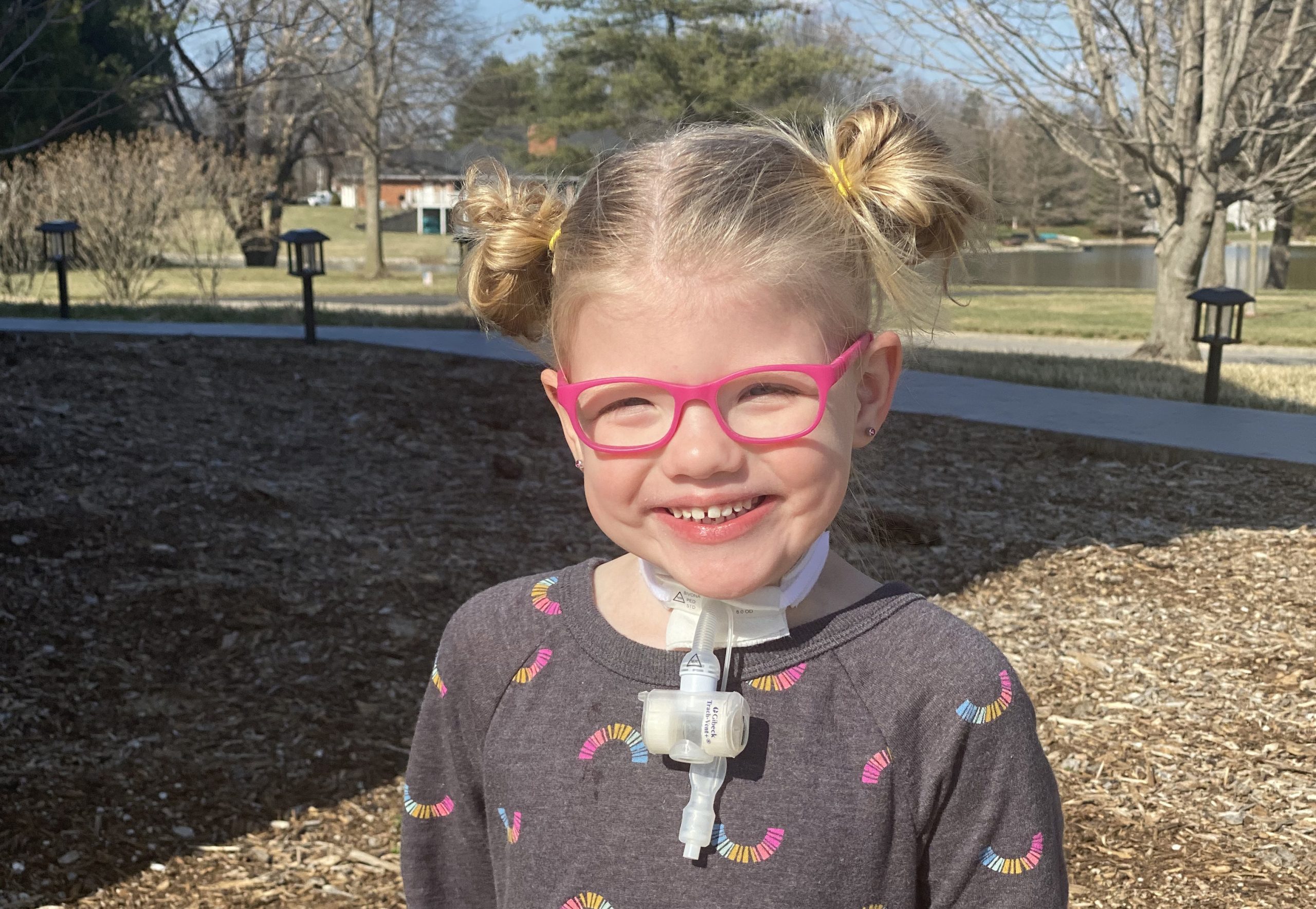 "It's been an incredibly positive experience working with (the Division of Specialized Care for Children), and I've gained even more of an understanding that I'm not alone."
— Whitney, mom of Willa in the Home Care Program
"Don't be afraid to take advantage of the resources and supports that are out there"
Willa is a 4-year-old "tiny tornado" with an iron will, her family says.
This strong will earned her the nickname "Wonder Willa." It also keeps her family entertained and hopeful through the uncertainty of her rare medical condition.
Willa was born with Congenital Central Hypoventilation Syndrome (CCHS), a lifelong and life-threatening genetic disorder that affects her breathing and nervous system.
Willa's mom, Whitney, said there are only about 1,400 to 1,500 people in the world with a CCHS diagnosis.
"No single person with CCHS presents the same way," she said. "So, it's really hard to come up with a plan of care."
Whitney is grateful for Willa's amazing medical team and the support of the University of Illinois Chicago's Division of Specialized Care for Children (DSCC) to help Willa continue to grow and thrive amid the unknowns.
A tough pill to swallow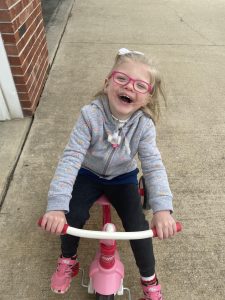 Being born prematurely is often not ideal. But Willa's arrival six weeks early turned out to be a blessing, Whitney said.
When Willa was born, her family and doctors did not know she had CCHS. They simply wanted to monitor her still-developing lungs.
"In most cases of her condition, it doesn't present itself right away so we were lucky that she was early because she didn't really start showing danger signs until 3 days old," Whitney said.
"For Willa, her respiratory tract is only impacted by her condition when she's sleeping. When she's awake, she breathes just like you and I do. But once she falls asleep, her brain doesn't tell her body to breathe. It doesn't register the CO2 changes and she goes into CO2 narcosis. Her organs then shut down to protect her from that buildup of CO2 in her body."
Three days after birth, Willa went into CO2 narcosis. Fortunately, doctors made the call to quickly transfer her to Cardinal Glennon Hospital in St. Louis before irreversible damage occurred.
A month later, genetic tests confirmed her CCHS diagnosis.
"Once we got the official diagnosis, we focused on what does treatment look like and how do we ensure she has the best life she can have," Whitney said.
Willa's medical team soon recommended placing a tracheostomy in Willa's neck so she can breathe through a mechanical ventilator while she sleeps.
"It was not an easy pill for my husband or me to swallow when the pulmonary team wanted to put a trach in," Whitney recalled. "But it was what needed to be done to keep her healthy and safe."
"I'm not alone"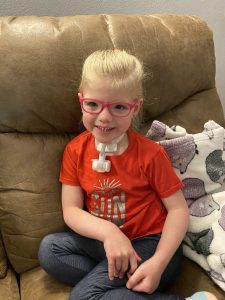 Willa received her trach at 2 months old. She arrived home more than two months later and has received in-home nursing through the Home Care Program ever since.
DSCC operates the Home Care Program on behalf of the Illinois Department of Healthcare and Family Services (HFS). The program provides in-home nursing and other support to help families safely care for their children with complex medical needs.
Whitney said the in-home nursing support is invaluable.
Willa's nervous system can't regulate, so if she's playing hard or gets overexcited, her body won't tell her to breathe. Therefore, Willa needs constant monitoring.
"But if you didn't know about her condition, you'd have no idea that there's anything going on with her except for the fact she has a trach," Whitney said. "She is just your normal, crazy 4-and-a-half-year-old. She is a tiny tornado who loves to terrorize her older sister."
As Willa grows, Whitney remains a strong advocate not only for her daughter but also for other families of children with special healthcare needs.
She joined DSCC's Family Advisory Council (FAC) in 2021 and soon volunteered to serve as its advocacy chair.
Whitney appreciates the opportunity to connect with other families and share what she's learned.
"It's been an incredibly positive experience working with (DSCC), and I've gained even more of an understanding that I'm not alone. Being a medical mom and a medical parent is often very isolating. My husband and I know what each other is going through and what we face on a daily basis (with their daughters) but our friends or outside people don't really get it," she said. "(The council) has opened my circle."
Improving services for families


Whitney is also passionate about helping improve how the Home Care Program serves families. In particular, she wants to help families better understand the process for how HFS assigns in-home nursing allocations for each Home Care participant.
She also wants to help HFS understand the unique needs and circumstances of families like hers when deciding nursing allocations.
As part of her FAC service, Whitey hopes to speak with families across the state to learn about their experiences with nursing allocations and the appeal process.
"I want to hear their experiences so I can make a more well-rounded recommendation for changes," she said.
Illinois families can email Whitney directly with feedback at w.woodring25@gmail.com.
Whitney also wants to use her role with DSCC's FAC to educate families about existing resources and encourage them to use them.
"There can be a stigma associated with accepting help but don't be afraid to take advantage of the resources and supports that are out there," she said.
Visit our Family Advisory Council page to learn more about the FAC and how to get involved.