The Whitted Family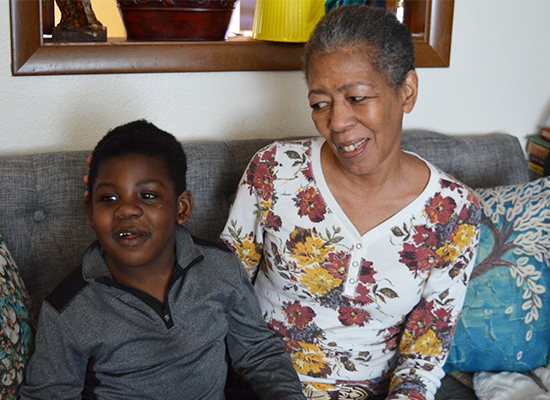 "It takes a village, it's true. The Division of Specialized Care for Children is part of that village -- an integral part."
— Nedra Whitted, grandmother to Stanton
"It takes a village."
Stanton Whitted is a little superhero, according to his grandmother Nedra.
His short life has been a series of new diagnoses, physical and developmental delays, medical procedures, therapies and treatment plans.
With the help of the University of Illinois at Chicago's Division of Specialized Care for Children (DSCC) and other community supports, Nedra says Stanton is now a precocious 5-year-old showing more potential than she thought possible.
"I see him blossoming. I'm seeing him grow. I've seen how far Stanton has come because I utilize the services" Nedra said. "I really think he's a little superhero and he's been given a chance with all these little angels that have been following him through his journey. (DSCC) and your staff have been some of those angels."
"A job in itself"
When Stanton was born, he had trouble breathing. Doctors soon discovered he had blocked nasal passages. He needed surgery to fix the issue and stayed in the neonatal intensive care unit.
While in the NICU, doctors also found Stanton had agenesis of corpus callosum, which is a partial or complete absence of an area of the brain that connects the two cerebral hemispheres. As a result, Stanton is missing part of his pituitary gland, which regulates his body's growth hormones.
He has problems with his depth perception and the signals he receives from his brain to move his limbs. Therefore, he has trouble walking long distances and falls often.
As he grew older, Stanton was also diagnosed with hearing loss, sleep apnea, vision problems and Landau-Kleffner Syndrome, a rare form of epilepsy that causes seizures and speech delays.
"It seemed like every single time he went to the doctor, he had some new condition," Nedra recalled.  "It's a job in itself just to keep up with his medical issues."
"A translator to the medical world"
Before Stanton turned 3, one of Stanton's Early Intervention providers told Nedra about DSCC. He became enrolled with the Chicago Regional Office.
"That's when everything started happening," Nedra recalled.
"It's not just a service that's provided, it's information on the diagnoses. It's almost like a translator to the medical world," she said of DSCC's Care Coordinators. "You realize how valuable it is to be able to speak with someone who knows about different programs and support groups."
DSCC was able to help pay for a gait trainer and other equipment to help Stanton's mobility.
In 2017, DSCC invited Nedra to take part in the Institute for Parents of Preschool Children who are Deaf or Hard of Hearing. The Institute is a free one-week program at the Illinois School for the Deaf campus in Jacksonville. Parents and caregivers attend daily lectures by experts in the field to learn about raising a child with hearing loss. The children attend classrooms overseen by experienced teachers of children who are deaf or hard of hearing.
Nedra said the experience was life-changing. She fell in love with the Illinois School for the Deaf and decided to move from Chicago to Jacksonville so Stanton could attend full-time.
"Somebody I could call"
Robin Mahnken from the Springfield Regional Office became the family's DSCC Care Coordinator. Nedra said Robin helped Stanton transition to new providers in central Illinois.
DSCC also gave Nedra access to sign language videos, where she can learn to sign at her own pace in her own home. These lessons help Nedra keep up with communication methods that Stanton learns at school.
Nedra doesn't drive, so Robin helps her arrange transportation to Stanton's medical appointments.
Immediately after the move, Nedra and Stanton still had to commute to Chicago for his medical care.
"Robin worked with all of the Rush (University Medical Center) people to get all of his appointments scheduled and find me housing in the medical district. So, instead of us having to come back three or four times in a month, we were able to get all of our appointments within two or three days," she said.
When Stanton undergoes medical procedures, Nedra says Robin will check in often. She's even gone up to the hospital and stayed with Nedra while she waits.
"I'm kind of isolated here, and she's somebody I could call to give updates to," she said.
"It takes a village"
Robin also helps Nedra find local specialists who understand Stanton's unique health challenges.
Because of his frequent falls, Stanton has several broken teeth that need fixed. He'll need sedation and has experienced complications with anesthesia in the past. Robin is helping them find a pediatric dentist who can safely address these issues.
"How hard would it be for me to go through this by myself with trying to find somebody who could do his dental work that would respect my knowledge as a grandma," Nedra said.
"Robin's seen the growth, physically and emotionally, so it's good to have somebody there who you feel cares for your kids."
Nedra says Stanton is a living testimony to how programs like DSCC and Early Intervention services pay off.
"People don't understand how much it has taken to get him where he is right now… It takes a village, it's true. The Division of Specialized Care for Children is part of that village — an integral part," Nedra said.
"I now have a functioning, laughing, happy boy who has a future."