The Agarwal Family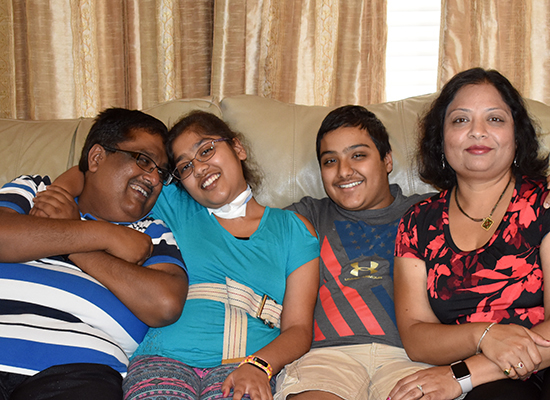 "DSCC gave us the confidence to bring Radhika home... Staying at home is the most important part. It made us a family again."
— Saurabh Agarwal
"The challenges are still there, but you feel like you are a family."
In the summer of 2013, Radhika Agarwal was a healthy, active 11-year-old who earned straight A's in school and loved swimming, soccer, softball and golf.
"She competed with all of the boys in the neighborhood," her father, Saurabh, recalled.
That August, Radhika started having flu-like symptoms. Within just a few days, she had a massive seizure.
Saurabh and his wife, Mukta, called 911 and their daughter was rushed to the hospital. Radhika's seizures wouldn't stop, so she was placed in a medically-induced coma. She was diagnosed with refractory epilepsy with autoimmune limbic encephalitis.
The effects of the disease were devastating. With the help of the University of Illinois at Chicago's Division of Specialized Care for Children (DSCC), the Agarwals were eventually able to bring their daughter home and find a new normal together as a family of four with her older brother, Ayush.
"You can't imagine how one night can change your whole life in a few hours," Mukta said. "It was like she was a baby. We had to teach her how to do everything."
After that August night, Radhika was hospitalized in intensive care for four months and lost her ability to move and speak. She lost all of her muscle strength and was so weak, she couldn't hold up a pencil to write her name.
Radhika received a tracheostomy to ensure she gets enough oxygen during her seizures and a gastrostomy tube for medications and nutrition. She also underwent intensive therapy at what is now the Shirley Ryan AbilityLab in Chicago.
Radhika eventually grew stronger and more stable. However, her parents developed a new set of worries.
"We were so scared to bring her back from (the AbilityLab). How were we going to take care of her?" Saurabh said.
Radhika became enrolled in the Home Care Program, which DSCC operates on behalf of the Illinois Department of Healthcare and Family Services. The Home Care Program helps youth who require skilled in-home nursing remain in their family home rather than a hospital or skilled nursing facility.
"We are not medical people," Saurabh said. "DSCC gave us the confidence to bring Radhika home."
A DSCC Care Coordinator began working with the Agarwals and walked them through all of the necessary steps and preparations needed for Radhika to transition home safely and smoothly.
Today, Radhika struggles with short-term memory, numerous cognitive issues and vision problems. She also needs assistance to walk. Radhika has a vagus nerve stimulation (VNS) device and is on a ketogenic diet to manage her seizers. She requires round-the-clock care but continues to make strides since returning home, her parents said.
Radhika attends a life skills program at her high school and goes to weekly physical, occupational and speech therapy appointments. She also does adaptive extracurricular activities, like golf and a hip-hop dance class.
The Agarwals say they are grateful for their DSCC Care Coordinator, Amber, who regularly checks in with the family, keeps track of information from Radhika's doctor's visits and therapy sessions and helps schedule new appointments.
"You feel a lot more confidence that someone is doing something on your behalf," Saurabh said.
Most of all, the Agarwals are thankful for living under one roof together as a family.
"Staying at home is the most important part. It made us a family again," Saurabh said. "The challenges are still there, but you feel like you are a family."