The Monical Family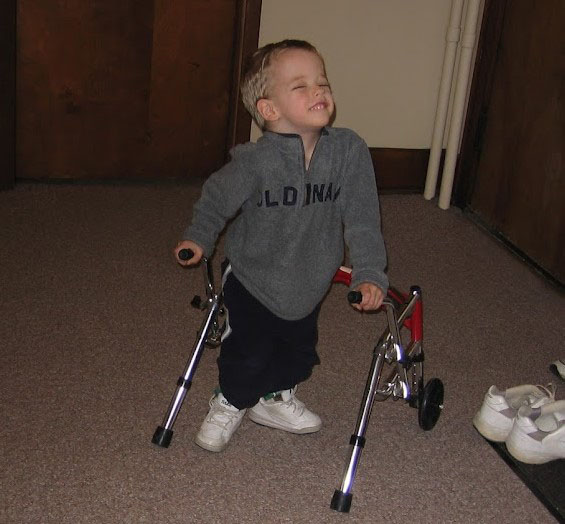 "The Division of Specialized Care for Children has been incredible since the start"
— Collin's mom, Christine Monical
"We're grateful for DSCC's help. They've always been there for us."
Collin Monical was born with abnormalities of the hips, feet and legs, including a dislocated hip.
A surgery to relocate his hip led to a severe infection that further damaged his ball-and-socket joint.
Collin experienced developmental delays and numerous hurdles but grew up determined to be considered a typical kid.
The University of Illinois Chicago's Division of Specialized Care for Children (DSCC) helped Collin and his family get the right equipment for his developing mobility needs as he grew. His DSCC care coordination team also provided guidance and resources to help Collin and the Monicals navigate each transition of Collin's life.
Now 21, Collin is happily employed and ready to take on adulthood with the same determination he showed throughout childhood.
Collin's parents, Greg and Christine, appreciate DSCC for supporting Collin and helping him fulfill these goals.
"We're grateful for DSCC's help. They've always been there for us," said Greg.
"Incredible from the start"
The Monicals first relied on DSCC for help with obtaining Collin's orthotics. Orthotics are braces that allow additional stability while standing and walking.
As Collin grew, he would need new orthotics to replace the old ones. The Monicals say DSCC was helpful each time.
"When he was just a toddler, DSCC helped us get a platform lift that made it possible for him to be at the table with us in an upright position. It made such a difference," Greg said.
Christine agreed. "The Division of Specialized Care for Children has been incredible since the start," she said.
From addressing Collin's medical and educational needs to later fostering his independence and employment goals, DSCC has played an important role in Collin's journey.
Kristin Lenover is Collin's current DSCC Care Coordinator. "I have helped with things such as resolving a medical bill issue to walking through what they want the next steps of their lives to look like," Kristin said. "I provide resources to help families and their children navigate private and public benefits, college scholarships, obtaining medical equipment and even tax preparation."
Strength in helping others
DSCC covered the costs for the Monicals to attend the Illinois Statewide Transition Conference together in 2019. DSCC helps sponsor and plan the conference, which highlights the opportunities and resources available for youth as they prepare for adulthood.
Collin and his parents benefited from the range of conference session topics, including government benefits, education supports, the financial aspects of transition planning and self-advocacy.
One especially impactful conference session for Collin focused on matching an employee's strengths to the employer's needs.
Collin's strength is interacting with others, which he's proudly shown in each of his jobs to date.
"My first job in high school was the electronics department of a major national chain. I grew to be very knowledgeable about cell phones and many other products," Collin said. "Dad would often have co-workers approach him saying, 'Yeah, I was out at Walmart and met a very nice young man.' Dad would encourage them to elaborate."
After almost two years at Walmart, Collin began work at Taco Bell. He also upgraded from a Rollator walker to an upright style.
"I had some of my regular customers let me know that I was looking better." Collin said of his posture. "This made me stand even taller. People ask me about an upright walker, and I highly recommend one."
Collin eventually left Taco Bell to work at Wally's Travel Center, where he continues to work today.
"The place is really big and always busy! There are 76 fuel pumps, electric charging stations, food and merchandise. We see lots of truckers, businessmen and families coming in with questions or needing help to find stuff," he said.
Collin rings up purchases and helps customers find what they need.
"I often work a 10-hour day. I really enjoy it and don't shy away from picking up extra hours," he said. "I'm most content during my day when I'm making others happy."
"Move forward with confidence"
Kristin is happy to see Collin pinpoint his strengths and use them in the transition to adulthood.
"Helping individuals move forward with confidence when they turn 21 is so important," she explained. "It's important for Collin to be able to navigate and better understand things like insurance and benefits, financial planning, taxes and moving from pediatric specialists to adult care."
Now that Collin is 21, he is ready to age out of DSCC's Core Program. It's a milestone that Collin, his parents, and Kristin have worked together to achieve.
Collin said he is truly happy as he starts this new chapter. He looks forward to helping more Wally's customers with a kind attitude and big smile.
"Always remember, 'You may be the best part of someone else's day,'" Collin said.