Lisette's Family Story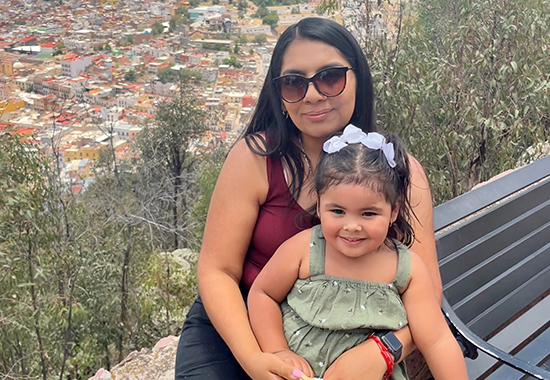 "I think seeing how much DSCC (the Division of Specialized Care for Children) helped my family made me want to do social work. I want to help people, and I want to make things better or try to find solutions to things."
— Lisette Rios, current DSCC team member and former participant
"It's more than simply providing information; it's about building relationships."
Lisette Rios' career has truly brought her life full circle.
Born with a cleft lip, Lisette grew up receiving services from the University of Illinois Chicago's Division of Specialized Care for Children (DSCC).
"I remember my mom talking on the phone a lot to my Care Coordinator, who would always ask how I was doing," Lisette said.
DSCC helped the Rios family find medical specialists, discuss treatment options, coordinate surgeries and ensure Lisette and the family's overall needs were met.
Now as a DSCC employee herself, Lisette is that helping hand and voice of comfort for other families like hers.
"My mom likes to say it's a full circle for me. It was meant to be," she said.
True to her dream
For as far back as Lisette can remember, DSCC was a part of her life. Shortly after her birth, her pediatrician referred the Rios family to DSCC.
"I think my parents were probably very overwhelmed. I was the firstborn and there were a lot of issues, and they didn't know what was going to happen. The fact that my pediatrician told them about DSCC helped a lot," she said.
Lisette required at least eight surgeries throughout her childhood until age 12. She particularly remembers DSCC helping her family navigate her orthodontics issues and finding a specialist who could address them.
The family's Care Coordinator would also check in about Lisette and her goals for the future. Around age 12, she decided she wanted to become a social worker.
"My mom told my Care Coordinator that, and my coordinator said, 'Maybe she can come work with us,'" Lisette recalled. "After I got my internship, I joked with my mom that I'm coming for this position I was promised."
Lisette stayed true to her dream.
After high school graduation, she double majored in sociology and criminology at UIC. When it was time to look for internships, she reached out to DSCC.
Lisette started an internship in the Chicago Core Regional Office during the fall 2018 semester.
"I think seeing how much DSCC helped my family made me want to do social work. I want to help people, and I want to make things better or try to find solutions to things," Lisette said.
"You're already dealing with so much when you have a child born with a health condition. It's already a lot of emotions for the family and then to try to figure everything out on your own – that's a lot. I want to be on the other side trying to reassure families and help them."
Part of the DSCC team
Lisette called her DSCC internship a wonderful experience. She learned how to read medical reports and the steps necessary for families to apply for DSCC's assistance. She also learned how to communicate with families and help them identify their needs.
After her internship ended, Lisette graduated in December 2018. Since DSCC had no job openings at the time, she looked elsewhere for employment.
A few months later, a job in our Chicago Core Office became available. Lisette applied and in August 2019, DSCC hired her as a full-time Program Coordinator Assistant (PCA).
In this role, she makes sure families complete the necessary paperwork for DSCC to communicate with their providers, provide financial assistance and so on. She also takes calls from families about any needs or problems that arise.
Three years into her full-time role at DSCC, Lisette continues to learn and deepen her passion for helping others.
"I've started working on my master's and really love working with our families," she said.  "Getting to know our families and how they all approach things a little differently has been very gratifying. Having a child with special healthcare needs can be scary and overwhelming. I have gained so much respect for our families and all that they do."
Lisette is proud to be part of the DSCC team that is helping families navigate so much more than just health care and all the appointments.
"There are many pieces that need to come together," Lisette emphasized. "Kids are also transitioning to school, finishing school and aging out. At every stage, parents may have to adjust and learn a whole new routine or list of things. I'm really thankful that I can provide encouragement and help ensure that our families don't have to figure it all out alone."
Building relationships
Lisette's experiences with DSCC have not just helped her grow professionally. Now as a mom to a young daughter with specialized needs of her own, Lisette is drawing on what she's learned from working with other families.
"I recently had an Individualized Education Program (IEP) meeting for my 3-year-old daughter who will be starting pre-school. I've been thinking a lot since then about how I know the process and it was still stressful," Lisette said. "I just keep thinking about how intimidating the IEP meeting could be for someone who doesn't have any background or information and how education is just one of the areas that parents are trying to navigate for their child."
Lisette also understands how difficult it can be to ask for help.
"It's not always easy to let someone know that you need help," Lisette said. "I really appreciate our families and their ability to share and let us know that they need assistance. It's more than simply providing information; it's about building relationships. It's like we're being adopted into their family."