The Jamison Family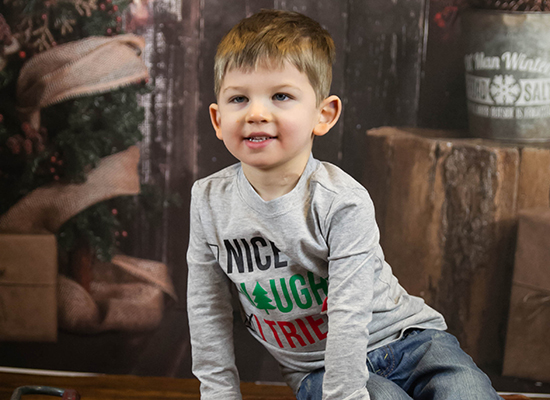 "I can't say enough about the DSCC organization and how amazing it is to have something like this to help you through these hard times."
— Trisha Jamison
"That's just what I need."
Trisha Jamison doesn't like to sugarcoat things.
Her son's journey with a rare form of epilepsy has been a hard battle and an emotional roller coaster.
"To watch your small child have a seizure for an hour and be so helpless is the absolute worst feeling in the world," Trisha said.
Everett Jamison, 3, has Dravet syndrome (DS), which causes frequent and/or prolonged seizures and developmental and cognitive delays. He's been enrolled with the University of Illinois at Chicago's Division of Specialized Care for Children (DSCC) since 2017.
Trisha said Everett's DSCC Care Coordinator has provided valuable emotional support and resources to navigate the medical, social and financial issues that come with Everett's condition.
"Sarah Kelly is an amazing person and she has helped us with so much," Trisha said. "For example, I reached out to Sarah about help getting us a cooling vest for Everett."
Everett typically didn't go outside because heat can trigger his seizures. Additionally, one of his medications doesn't allow his body to sweat, and DS children have a hard time regulating their body temperature.
"Just like that, Sarah was hard at work and got us one, "Trisha said.
"She's also someone I can vent to and bend her ear. I have emailed her about issues with doctors and she just listens to me, and that's just what I need."
With the stress of raising a child with special needs, Trisha said it's important to have someone on the outside who can listen.
Sarah was also a valuable resource to the Jamisons when they needed to find a local pharmacy to do compounding for one of his medications.
"I can't say enough about the DSCC organization and how amazing it is to have something like this to help you through these hard times," Trisha said.
Though many challenges still exist, Trisha said Everett continues to work hard and exceed expectations.
Doctors initially told the Jamisons that Everett wouldn't walk but with frequent physical therapy, he started taking steps in fall 2018.
As Everett grows, his seizures are evolving and becoming more frequent with different triggers, Trisha said.
"He's pretty medically fragile these days," she said. "However, even with all of these changes happening, he is walking A LOT. He's still not talking, but he is so smart and I can see it."
Trisha has channeled her efforts into raising awareness and funds for epilepsy research and support.
With the help of a friend who has epilepsy, Trisha started the successful "Seize Hope" fundraiser and awareness walk in her community. The proceeds go to the Dravet Syndrome Foundation, the LaSalle County Epilepsy Foundation and local families affected by epilepsy.
"We will continue to do this every year because it's been proven our community supports us," Trisha said.
"I do want to reiterate how important DSCC is in my family's life," she added. "Sarah Kelley is not just an ear to bend, a resource for us, but over the years I consider her a friend. She goes above and beyond to help and guide me."