Trooper's Family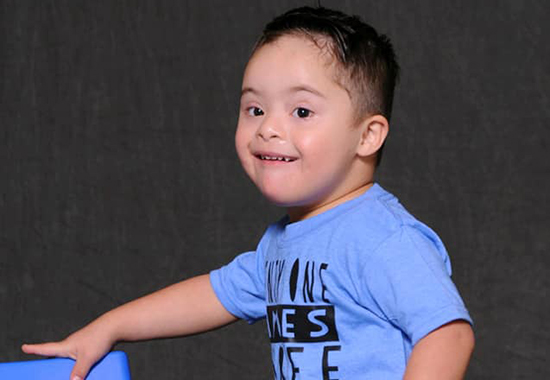 "The reassurance you gave me that (my Care Coordinator) was here and he understood and if I needed anything, I could just call or come to the office and it was OK. There was nothing we couldn't handle."
— Trooper's mom, Brandy Santiago
"You're not alone."
Parents can feel many emotions when their newborn is diagnosed with a medical condition.
Brandy Santiago was pregnant with her son Trooper Orosco when he was diagnosed with trisomy 21 (Down syndrome). Trooper then failed his newborn hearing screening after birth.
Brandy recalls feeling overwhelmed for the moment.
"But I knew it was going to be OK. I needed to learn the language of having a child with Down syndrome and then learn the language of having a child with hearing loss, too," she said. "It's like throwing yourself in a foreign country and you have to learn that language today. There were lots of mixed feelings for sure."
Brandy says the University of Illinois at Chicago's Division of Specialized Care for Children (DSCC) has helped her family navigate this new world over the last four years.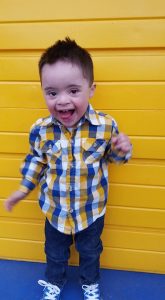 "Once we were introduced to (DSCC), I was given a guide," she recalled. "I wouldn't have known this world unless I was introduced to it, and that's where you guys came in."
After failing his newborn hearing screening, Trooper had a follow-up appointment. It confirmed conductive hearing loss in both ears.
DSCC learned of Trooper's failed screening and reached out to his family. Trooper was just a few weeks old when a DSCC Care Coordinator met with Brandy at her home to recommend next steps and provide support.
"It was a relief and a feeling of you're not alone because you feel lonely that you don't know what you're going to do," Brandy said. "After (our Care Coordinator) left, I felt like we had some type of start. Before that, I didn't have a start."
Within three months, Trooper had his first set of hearing aids. He also started feeding therapies, occupational and physical therapy and Developmental Therapist Hearing Services.
"Going through that first year was just basically a lot of struggles with the whole process of getting ear molds (for hearing aids) with a baby," Brandy said. "That was my biggest trial for our first year and then he got sick a lot."
Brandy said she was thankful to have her own personal "Yellow Pages" of resources in the form of DSCC. She also appreciated the check-ins from her Care Coordinator.
"The reassurance you gave me that (my Care Coordinator) was here and he understood and if I needed anything, I could just call or come to the office and it was OK. There was nothing we couldn't handle, even though it might have seemed in that moment like I couldn't handle it," she said.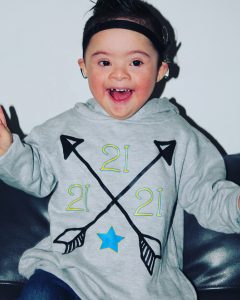 For example, Brandy recalled an instance when Trooper's daycare provider lost his hearing aids.
"I was spastic," she recalled. "So that's one of those situations where I call him and ask, 'What do I do?'
"He said, 'Don't worry, we'll see if it's covered and if not, we'll try this,'' Brandy said. "It was covered and he got it all taken care of."
In 2017, Trooper's Care Coordinator told Brandy about a program that would be a huge help to her family – the Institute for Parents of Preschool Children who are Deaf or Hard of Hearing.
The Institute is a free one-week program held on the Illinois School for the Deaf campus in Jacksonville. It includes daily lectures by experts in the field to learn about raising a child with hearing loss. Other activities include meeting in small groups to discuss specific concerns and connecting with other caregivers. During the Institute, children attend classrooms overseen by experienced teachers of children who are deaf or hard of hearing.
Trooper, his parents and one of Trooper's older brothers all attended and had a great experience.
Brandy said she loved the opportunity to connect with other families of children with hearing loss. She also formed a close bond with another mom and the two remain good friends.
After the Institute, Trooper's Care Coordinator helped connect his family with cued speech classes.
Today, Trooper is a rambunctious 4-year-old with energy to spare. He enjoys going to preschool and is working on ways to communicate.
"His name fits him literally," Brandy said.
Brandy also passes on information about DSCC to other families of children with special healthcare needs.
"It can be an overwhelming feeling, but it's OK, (DSCC) is there for you," she said.