Kimmy's Family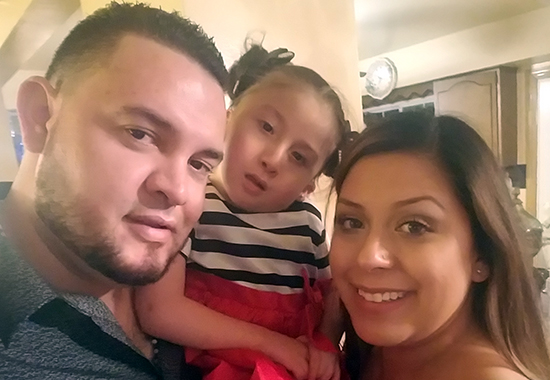 "(Our care coordinator) helped us out so much and would call every day. If we didn't have DSCC, I don't know who would've helped us."
— Mayra Pasillas
"We all feel like she has her life back."
Kimmy spent her first 23 months of life in a hospital.
The toddler was born with congenital scoliosis so severe that it deformed her spine, chest and ribs and prevented her left lung from developing. Kimmy could not breathe on her own and her ribs threatened to crush her lungs.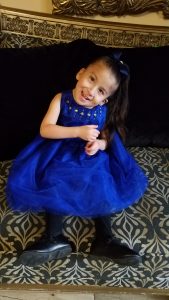 Kimmy eventually underwent lifesaving surgery to receive a vertical expandable prosthetic titanium rib (VEPTR). The VEPTR device helps straighten Kimmy's spine and separates her ribs so her lungs can grow. The VEPTR must be expanded regularly until Kimmy stops growing.
After the VEPTR was placed, Kimmy had to undergo a successful expansion surgery before doctors gave the OK for her to go home. It was welcome news but also nerve-wracking to plan for Kimmy's arrival and care at home, her mother, Mayra, recalled.
"We were just lost. We had no clue. We just wanted to get her home but we didn't know what it was going to take to get her home safely," Mayra said.
That's when their DSCC care coordinator, Margaret, stepped in and began working with Kimmy's family and doctors to prepare for Kimmy's homecoming and help it go smoothly. She also worked with charities to help cover the cost of travel expenses for her arrival home and for subsequent surgeries.
"She helped us out so much and would call every day," Mayra said. "If we didn't have DSCC, I don't know who would've helped us."
Later, when Kimmy's family moved into a renovated older home, Margaret brought in an electrician to replace the power box and install new outlets to support Kimmy's breathing machines. The house also had issues with ants and spiders, so Margaret set up regular exterminator visits. DSCC ensured all costs were covered under the Medicaid waiver program for children who are medically fragile and technology dependent.
Kimmy is now almost 4 years old and thriving beyond her family's highest hopes. Mayra says she's seen a huge difference in her daughter's progress and happiness since she has been home.
"She's now standing, walking around and running and she goes to school and is learning all of her little friends' names," Mayra said. "We all feel like she has her life back."