Eloise's Family Story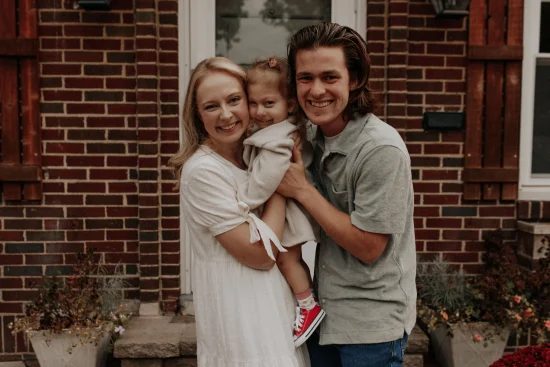 "I'm grateful for the team that we have surrounding us… How else would we have gotten here?"
— Eloise's mom, Rachel
"It takes a village, and you need to find your village."
Rachel Singleton has faced many frightening unknowns throughout her daughter Eloise's life.
At 20 weeks pregnant, Rachel learned Eloise has a rare brain malformation called alobar holoprosencephaly. The condition causes a developing baby's brain to not properly separate into the right and left hemispheres (halves).
At first, Rachel and her husband, Zach, didn't know if Eloise would survive birth. Once Eloise was born in November 2019, they didn't know how long she would live. Her life expectancy was six months or less.
The new parents also didn't know how much they would gain. Understanding doctors. The generosity of family and friends. And caring professionals from the Division of Specialized Care for Children (DSCC).
Rachel credits this support team with helping Eloise and her family reach her 3rd birthday.
"This has been three years we didn't know that we would get," Rachel said. "I'm grateful for the team that we have surrounding us… How else would we have gotten here?"
Help from a "jack-of-all-trades"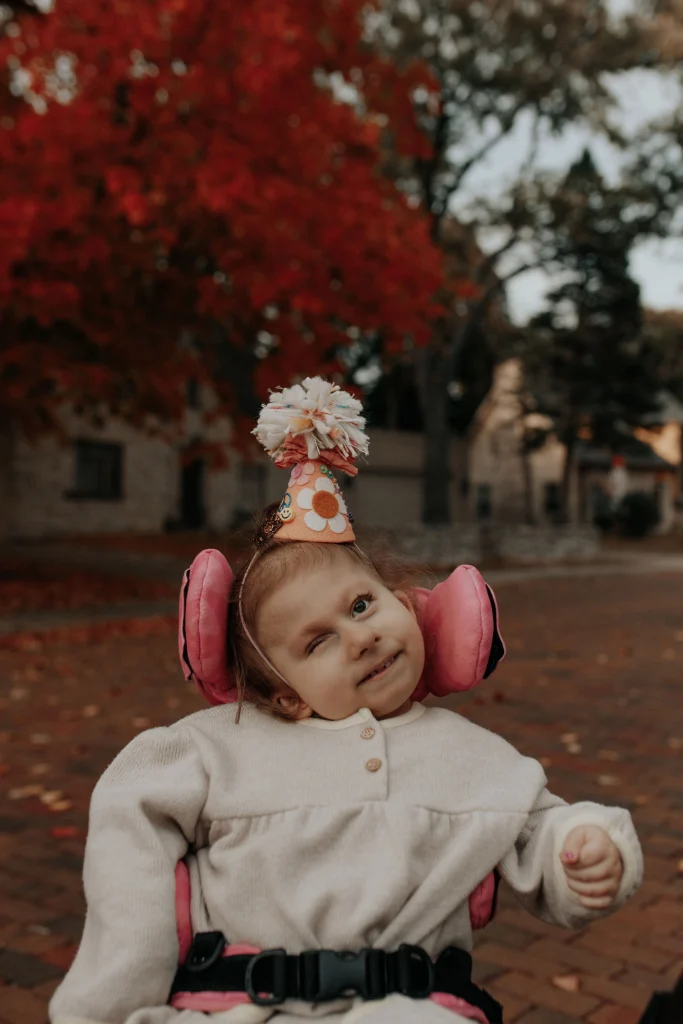 Immediately after her birth, Eloise spent 20 days in the neonatal intensive care unit at OSF Children's Hospital of Illinois. She then went home to hospice care just before the COVID-19 pandemic hit.
Early on, her family contacted DSCC. Care Coordinator Haley Shropshire helped them navigate many new and unfamiliar challenges.
"That first year we learned to do a lot on our own but when we needed additional nursing help, Haley and the team at DSCC helped us sort through insurance and get Eloise's needs met," Rachel said. "Haley is a jack-of-all-trades, and we're so thankful for all that she does."
Eloise has since moved from hospice to palliative care and continues to defy the odds.
Her middle name is Joy and that's exactly what she brings to all who meet her, Rachel said.
"She has the biggest smile and hair that can't be tamed. She's a charming warrior – feisty, sweet and sassy."
The family was overjoyed to celebrate Eloise's third birthday. They used the occasion to give back to OSF Children's Hospital with a donation of sound machines and other special treats and gifts for the hospital's patients and staff.
"The party was a way to give back and celebrate something we never dreamed possible," Rachel said.
"It takes a village"
Along with the joy, there are still immense challenges in caring for Eloise's complex medical needs.
"You can feel like you're drowning. Some days it feels impossible," Rachel said. "It takes a village, and you need to find your village."
Rachel is thankful to have Haley and DSCC as part of her village.
If a need comes up, "she's the first person I go to, and I can count on her to look into something," Rachel said, whether it's glasses for Eloise, new equipment or an insurance question.
"So far, there's no question that she hasn't been able to answer," she said.
Rachel also appreciates how Haley takes the time to really talk with her during their monthly check-in calls.
"I get so many calls for Eloise, and I have to go through things as quickly as possible. With Haley's calls, there's time to chat. I don't have to just run through everything," she said.
Eloise now has an Individualized Education Program (IEP) and may start preschool soon.
Rachel also started a blog called Eloise's Mom to help other medical moms and families feel less alone. She also hopes to educate others about the grief and happiness that come with raising a child with medical complexity.
"The 'loss of normal parenthood' has taken on different meanings over time," Rachel wrote in one post. "I no longer grieve experiences. I have sort of allowed myself to dream again. But the anticipatory grief lingers. And that's okay."
You can read more about Rachel and Eloise's powerful story at https://eloisesmom.com/.