Community Partners Brighten Holidays for DSCC Families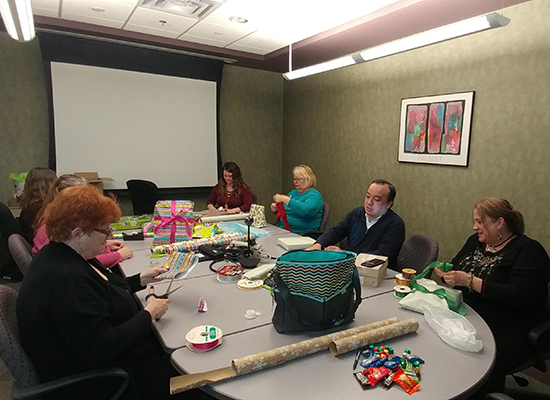 DSCC families in need receive gifts and necessities from our generous community partners.
Partnerships are a crucial part of our mission to help children and youth with special healthcare needs connect to services and resources. For 80 years now, DSCC staff has developed relationships with social service agencies and community organizations across the state to help improve the lives of our children and families. During this holiday season, we are especially grateful for our community partners who've stepped up to ensure that some of DSCC's neediest families have a merry Christmas.
In the Springfield Regional Office, Care Coordinator Robin Mahnken worked together with the Salvation Army in Jacksonville and her dedicated team of colleagues to deliver piles of wrapped presents for a sick 1-year-old in our program and her three siblings. The girl was born with Down Syndrome and a heart impairment that required surgery a few months later. In November, she developed an upper respiratory infection and was hospitalized and placed on a ventilator.
Robin has stayed in close contact with the girl's mother since her admission to the hospital and learned the family is greatly strained financially. During the first week of December, the mother asked Robin to help find any available Christmas assistance for her children. Though the deadlines for many local charities' assistance programs had already expired, Robin spoke with a director at the Salvation Army, who made arrangements for Robin to "shop" their facility for items on each of the children's wish lists while the mother stayed at her daughter's side in the pediatric intensive care unit.
"I anticipated receiving an article of clothing and one or two toys for each child.  I was overwhelmed by all of the gifts selected.  Volunteers called to me from every direction suggesting this or that for one of the children," Robin said. "The director kept telling me I hadn't selected enough.  I left with a carload of toys and clothing."
With the mother in no position to wrap gifts at the hospital, Robin snapped photos of the items to show the mother and wrapped them herself. Robin saved the little girl's packages to be wrapped by Springfield RO staff during their holiday party this week. Springfield RO members also donated funds to purchase a Walmart gift card for the family. Robin and her husband, with the family's permission, delivered four huge bags of wrapped presents and the gift card to the appreciative family on Wednesday night.
At our Lombard Regional Office, staff members have developed a special bond with their building neighbor, Hope Fellowship. This bond was strengthened last year when Pastors Jeff Brewer and Jon Trott helped the office cope with the difficult loss of their assistant regional manager, who passed away unexpectedly in November 2016. The pastors' support of the Lombard RO has continued ever since and earlier this month, Pastor Jeff asked Program Coordinator Assistant Kim Firkins if any DSCC families in the Lombard office's coverage area need extra help during this year's holidays.
Kim worked with the Lombard office's managers and assistant managers to check with staff for families in need. Staff suggested a total of eight families, and Kim collected information about each family member and provided it to Hope Fellowship. Hope Fellowship's parishioners purchased gifts for each family member. Their gifts include diapers, wipes, a homemade fleece blanket, pajamas, DVDs, gloves, hats and a generous assortment of gift cards for gas, groceries and various stores and restaurants. Hope Fellowship also provided stockings for each child and parent.
Kim coordinated the receipt of gifts, and Lombard's Care Coordinators are delivering the items to the families.
Further north at our Rockford Regional Office, a Care Coordinator learned that a toddler was being discharged from a transitional care facility earlier this month after being separated from her family for a year.
"This little one became part of a bustling home of five brothers and sisters who were overjoyed to welcome her home," her Care Coordinator Shan Johnson said.
On Dec. 14, the toddler's mother told Shan that she had no Christmas presents for the children.
Shan contacted the Rockford Salvation Army, who "without hesitation" opened their doors for Shan and let her into their warehouse on a Sunday afternoon to handpick gifts for the children. They even provided gift bags.
"I will never walk past a (Salvation Army) red kettle again without thinking about this happy miracle," Shan said.
A big thank you to these organizations, our staff and all of our community partners for their support and service to our families throughout the year!
DSCC Helps Brothers Meet Soccer Heroes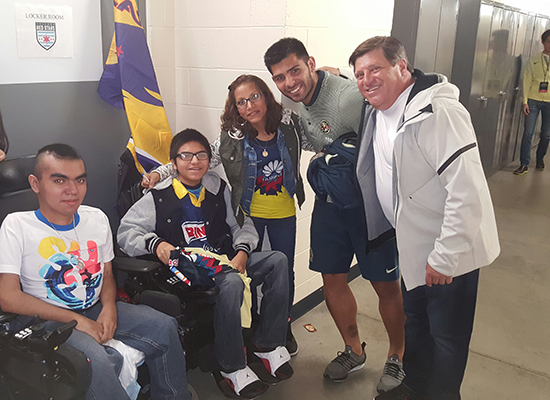 Miguel and Carlos spend time with Club America soccer team, thanks to their DSCC care coordination team.
One of the main ways that UIC's Division of Specialized Care for Children (DSCC) helps children with special healthcare needs and their families is through a process called care coordination.
Our care coordination addresses each child and family's unique needs. It can include helping a family understand their child's diagnosis or connecting a family in need of financial assistance with the right resource. Sometimes, our care coordination involves providing experiences that simply help a special needs child be a kid.
A care coordination team from DSCC's Chicago Core Regional Office recently used their creativity to provide one such priceless experience to two brothers with muscular dystrophy.
Miguel, 17, and Carlos, 14, are big soccer fans who live near Toyota Park in Bridgeview. The park hosts major league soccer games with players from around the world, and the teens had hoped to meet the Mexican soccer team Club America.
Miguel and Carlos' mother reached out to their Care Coordinator Rita DeSoto and Program Coordinator Assistant Maria Carrera to see if they could help.
Maria invited their mother to the Chicago Core office to sign authorizations so she could contact the team's marketing and promotions manager on her behalf. Rita was able to reach the manager two days before the game and with the family's permission, wrote a letter detailing Miguel and Carlos' condition and why they wanted to meet the team.
Thanks to Rita and Maria's efforts, the teens were able to meet the team and take photographs and collect autographs from their favorite players. Their mother reported that they were "surprised, grateful and overjoyed."
"Each day freedoms such as walking, running, playing, laughing, eating and breathing can be taken away from children with muscular dystrophy," Chicago Core Regional Manager August Nall said. "The Care Coordination team communicated the family's needs at the right time to the right people and they were able to secure a service the family wanted."
Great work, Rita and Maria!
DSCC Family Writes Book About Their Journey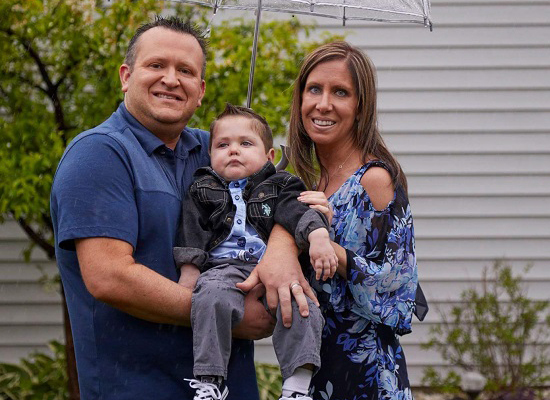 "A powerful true story about trusting your instincts, holding onto hope and never, ever giving up."
After her son, Nixon, was diagnosed with a rare, fatal disease, Kristin Skenderi started blogging and sending her family and friends regular email updates about his condition.
"I wanted Nixon one day to know what he went through," Kristin recalled.
Her blog posts, emails and journal entries were the early drafts of what was to become a book detailing the Skenderi family's experiences treating Nixon's disease and the lessons they've learned. "Holding Hope in Our Hands," was published in September and launched last month.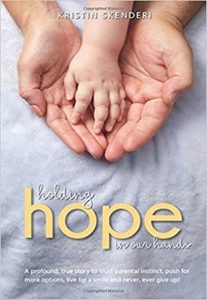 "I put myself in front of the computer and it took me three years," Kristin said of the writing process. "It's a powerful true story about trusting your instincts, holding onto hope and never, ever giving up."
Nixon was born without an enzyme that helps the brain develop, Kristin explained. At just a few months old, he was diagnosed with Gaucher Disease Type 2, which hindered his breathing, swallowing and neurological development and enlarged many of his organs. Doctors said he likely wouldn't live past 3 years old.
Kristin said the devastating news put her in survival mode and she began a quest to research every treatment option available. Nixon later received a stem cell transplant and has also benefited from acupuncture, equestrian therapy and hyperbaric oxygen therapy to reduce or stave off some of the effects of his disease, Kristin said.
On Nov. 1, Nixon turned 4 during a trip to Disneyworld through the Make-A-Wish Program. It was the first birthday he was able to spend outside of the hospital.
Kristin's book details each step of their journey to help Nixon progress to where he is today. She credits the University of Illinois at Chicago's Division of Specialized Care for Children (DSCC) with providing the support her family needed so she could have time to research treatment and therapy options for Nixon and write about their experiences.
Nixon is enrolled in the Home Care Program, which DSCC operates on behalf of the Illinois Department of Healthcare and Family Services. The Home Care Program allows youth who require skilled in-home nursing to remain in their family home rather than a hospital or skilled nursing facility.
"The things (DSCC) can offer and help us with – it's been huge," Kristin said.
DSCC arranged for the installation of new electrical outlets in the Skenderi's home to handle Nixon's medical equipment. DSCC also covered the cost for an exterminator as well as a wheelchair ramp for the family's home.
"It's amazing that there's a resource out there for families like us," Kristin said. "Because those things were taken care of by (their Care Coordinator) Beth, I didn't have to worry about it and it gave me more time and effort to work on trying to find solutions for Nixon."
You can learn more about Nixon and his family's journey on their Facebook page.
"If this book helps the average, regular person look at life a little bit differently, or I can find that one family who was ever put in a situation like ours and give them courage to fight a little harder, then this book was 100 percent worth it," Kristin said.
Congratulations, Skenderi family!
DSCC Youth is Champion for Animals in Need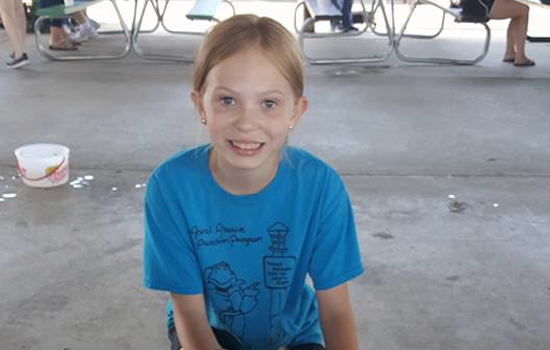 Emma Wiker organized her third successful dog walk to benefit abused and neglected animals.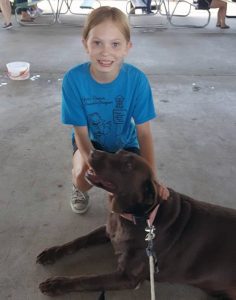 For many preteens, summer is a time to relax, have fun with friends and enjoy the break from homework before school starts again. But for 12-year-old Emma Wiker, summer is the time to focus on her passion for helping animals in need and inspiring others in her community to do the same.
Three years ago, Emma started the Animal Abusive Protection Program to raise money for abused or abandoned animals in Menard County. She sells buttons and key chains and organizes a hugely popular annual dog walk in her in her hometown of Athens to benefit the program.
Emma also has a vocal cord dysfunction that impairs her ability to breath. She was wrongly diagnosed as asthmatic for most of her life and spent years suffering allergic reactions to unnecessary medications until 2016. She then became enrolled in the University of Illinois at Chicago's Division of Specialized Care for Children (DSCC) program, which has helped her family communicate with Emma's doctors and specialists and find medical providers that are covered by their insurance.  Her mother, Violet, is a former Care Coordinator and now DSCC's Family Liaison.
Violet says Emma has always been determined and committed to helping others. She was inspired to start the dog walk after seeing a disturbing image of an abused dog that went viral on social media.
Though she hasn't reached her teen years yet, Emma handles all of the responsibilities of planning and coordinating the dog walk herself and has become a local celebrity.
About 100 people attended this year's third annual dog walk on July 15, raising more than $3,000 for Menard County Animal Control. (You can watch local news coverage of the event here.)Ten current and former DSCC staffers attended the dog walk with their pets to support Emma's cause.
"This is another perfect example of how DSCC staff go above and beyond to support each other," Violet said.
Emma is already looking forward to planning next year's dog walk. You can read more about Emma's efforts and how she got started with the Animal Abusive Protection Program here.
Amazing job, Emma!
In the News: DSCC Teen with CF Leads by Example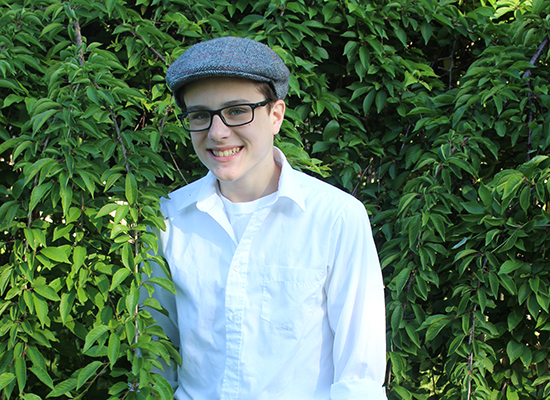 "He is a modest, humble kid who always puts forth his best effort and rarely complains."
Alex Killian is an involved eighth-grader at Gibson City Middle School who pours himself into his studies and extracurricular activities with passion and focus. But he's not your typical middle school student. His teachers say they're the ones who look up to him for his bravery and determination as he lives with cystic fibrosis (CF).
Alex was recently featured in WCIA 3 News "Kid to Know" series after his teachers recommended him for the honor.
He is a straight-A student who loves math, science and history. He enjoys playing in the local soccer league and has been an active member of the GCMS Scholastic Bowl team for the past three years. Alex went to state for the geography bee and won every single competition in that event for two years in a row. He also participates in summer and winter theater productions from a local theater group called A.C.T. and tried his hand at track and field this spring.
"He is a modest, humble kid who always puts forth his best effort and rarely complains," his mother, Andrea Killian, said.
Therefore, many are surprised to learn that Alex was born with CF, a disorder in which a defective gene causes thick mucus to buildup in the lungs, pancreas and other organs. This buildup causes persistent lung infections and restricts breathing as the disease progresses.
Alex was diagnosed with CF in December 2003 and the counselor at the family's CF Clinic in Peoria suggested the Killians consider enrolling with the University of Illinois at Chicago's Division of Specialized Care for Children (DSCC).
"We've been working with DSCC ever since and have had a very positive experience. We have typically qualified for copay assistance and over the years, that has been a huge help with prescriptions as Alex takes several medications and even the copays become rather costly," Andrea said.
The Killians recently began working with their second DSCC Care Coordinator, Angel, and say she's been a huge help in addressing Alex and his family's needs.
In 2015, Alex was selected for the Make-A-Wish Program and chose to travel to Ireland with his whole family. The family made the trip over spring break 2016. That May, he was hospitalized for the first time and received a peripherally inserted central catheter (PICC) line. He was able to finish the school year with a 20-day round of IV antibiotics at home.
"He was so disappointed to miss the last few weeks of school, but again, he took the changes in stride, completed all his homework and made it to school for the last couple of days with his IV in place," Andrea said.
This past winter, Alex was asked to speak about his experiences with CF at his school's "GRIT" assembly, which features students speaking about challenges they face in their daily lives.
Andrea says Alex takes an active role in his CF care by helping to clean and disinfect his nebulizer cups and by doing his treatments and taking his medications on his own. Currently, he does chest therapy via a vest that shakes him twice a day for 30-minute periods. He also does a minimum of four nebulizer treatments per day and takes several medications in pill form.
In addition to excelling at school and his extracurricular activities, Alex is also a great big brother to three younger siblings and is a huge help to his parents at home, Andrea said.
Congratulations on all of your achievements, Alex! We're excited to see what you accomplish next.