Share Your Feedback on the Nursing Allocation Process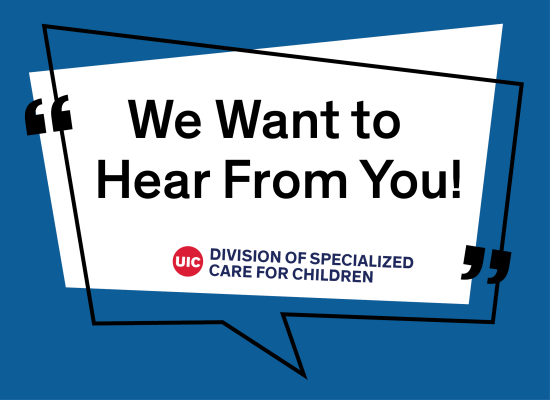 Help our Family Advisory Council recommend changes that can benefit Home Care Program participants and their families.
The Division of Specialized Care for Children (DSCC) helps coordinate and monitor in-home nursing for families through the Home Care Program.
The Illinois Department of Healthcare and Family Services (HFS) determines the number of approved nursing hours after reviewing the individual's medical reports and medical needs.
Our Family Advisory Council (FAC) now wants to help families better understand the process for how HFS assigns nursing allocations. The FAC also wants to help HFS understand the unique needs and circumstances of Home Care families when deciding nursing allocations.
FAC Advocacy Chair Whitney Woodring is putting together a Nursing Allocation Workgroup to gather feedback on these issues. Whitney's daughter Willa has received Home Care services since she was a baby. (See Willa's Family Story for more details.)
Whitney hopes to speak with families across Illinois to learn about their experiences with nursing allocations and the appeal process.
You can email Whitney directly with feedback at w.woodring25@gmail.com.
Whitney would like to hear all input, including positive experiences with the process.
Your feedback will help Whitney and the FAC make recommendations for changes that can benefit as many participants as possible.
To learn more about the FAC, visit our Family Advisory Council page. Be sure to also join the FAC's next open forum meeting on Nov. 10.
Need more information about nursing services and allocations?
Our Nursing Services Tip sheet gives an overview of Medicaid's nursing services to help families in the Home Care Program take care of their child's medical needs:
Our Home Care Appeal and Peer-to-Peer Review Tip Sheet explains how the review and determination of medical eligibility for Home Care services work:
You can find these handouts and other helpful information for families on our Home Care Information Hub.