Parent Institute Lectures Available for Families of Children With Hearing Loss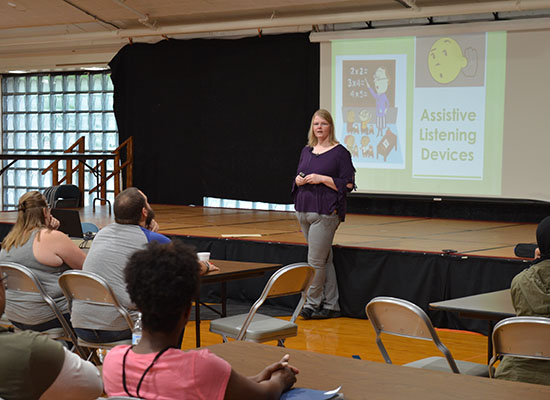 Families can watch video presentations from experts in the field on a range of topics affecting children who are deaf or hard of hearing.
The Institute for Parents of Preschool Children Who Are Deaf or Hard of Hearing is a one-week program for parents of children ages 5 and under who have a significant hearing loss.
It takes place on the campus of the Illinois School for the Deaf in Jacksonville each June. Participating parents attend daily lectures by experts in the field to learn about raising a child with hearing loss.
Lecture topics include:
Individuals With Disabilities Education Act (IDEA)
Advocacy
Communication Options
Language
Assistive Listening Devices
Literacy
Amplification
The University of Illinois at Chicago's Division of Specialized Care for Children (DSCC), a supporter of the Institute, is making these presentations available online so they can benefit more families of children with hearing loss.
Videos on each topic are posted on the Illinois Sound Beginnings website.
Parents and caregivers can watch each presentation at their own pace in the comfort of their own home.
If you are interested in participating in the next Institute or would like more information, call us at (800) 322-3722 or email Institute@exchange.dscc.uic.edu.
You can also visit our Events page for more details about the 2020 Institute.
You may also read a recap of the 2019 Institute at https://dscc.uic.edu/institute-provides-support-connection-for-dscc-families-of-children-with-hearing-loss/.