Institute Provides Support, Connection for DSCC Families of Children With Hearing Loss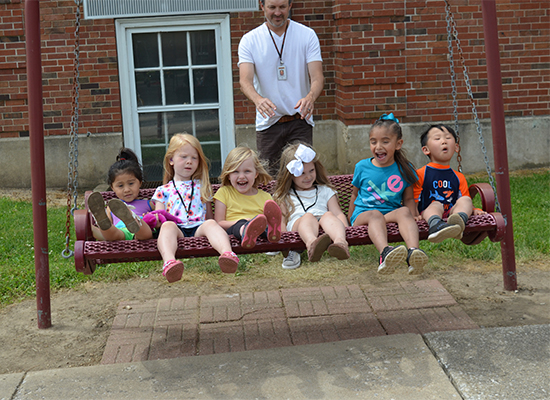 Families gain knowledge, resources and friendships during the 2019 Institute for Parents of Preschool Children who are Deaf or Hard of Hearing.
When Leticia Hubart learned about the Institute for Parents of Preschool Children Who Are Deaf or Hard of Hearing, she knew she must attend.
Her 4-year-old son, Liam, was just diagnosed with hearing loss in December after showing behavioral issues.
"Hearing loss was not on my radar. I dove right into educating myself," she said.
Leticia, Liam and his big sister, Teagen, traveled from Rock Island to the Illinois School for the Deaf campus in Jacksonville to attend the Institute. They joined 33 other families from across the state for the weeklong program from June 9-14.
"It's changed my world," Leticia said of the experience. "It opened my eyes to the diversity of hearing loss. It's not a doom-and-gloom kind of diagnosis. He's going to be OK, and I'm going to be the best advocate I can be for him."
The Institute provides support and valuable information on communication options, language development, amplification, social-emotional development and school programs. There is no cost to participating families.
A common link
UIC's Division of Specialized Care for Children (DSCC) supports the Institute, along with other sponsors.
This year's Institute was the largest on record, with 34 participant children enrolled and a total of 119 people attending from 31 families.
Participating parents attend daily lectures by experts in the field to learn about raising a child with hearing loss.  Lecture topics include:
Child development
Types of hearing loss
Language development
Communication choices
Assistive communication devices
Deaf culture
School programming
Other activities include meeting in small groups to discuss specific concerns and connecting with other caregivers. Parents are also able to have a night out together without their children.
During the Institute, children attend classrooms based on their age group. Experienced teachers of children who are deaf or hard of hearing oversee these classrooms.
Attending children have the opportunity to receive hearing, vision, psychological, speech, language and educational evaluations as well as play with other children who have a hearing loss.
Their siblings are also welcome to attend and participate in fun and educational activities, including art projects and learning to sign. This year's sibling program had 30 children.
There is no cost for families to participate, and meals and housing are provided at no charge.
"I am very delighted that one common link that each of these families share is that each one of them is a DSCC family. I am so thankful to our DSCC staff for the extra work that was involved in getting each of these families ready for this weeklong experience," DSCC Family Liaison Violet Wiker said.
A community ready to help
T.J. and Brianna Taylor of Macomb attended the Institute with their 11-month-old daughter, Larkin.
Larkin's newborn hearing screenings were positive, suggesting she may have a problem hearing. She then underwent an Auditory Brainstem Response (ABR) test. She was diagnosed with bilateral sensorineural hearing loss and enrolled with DSCC and Early Intervention.
"She's been in her element. She loves watching people sign," T.J. said, noting Larkin has already mastered several basic signs herself.
The Taylors want to let Larkin choose her communication form and her assistive device as she gets older. T.J. said it's been valuable for the couple to hear so many positive stories about different options.
Brianna said she also values the connection with other families.
"We all have different journeys but it's nice to be able to relate to those different stories," she said.
Lynsey Runyon attended with her 4-year-old son, Branson. She said she was impressed with the amount of information available during Institute.
Years of problems passed before Branson's hearing loss was diagnosed in spring 2018. A few months later, Lynsey moved her family to Jacksonville so Branson could attend the Illinois School for the Deaf late last fall.
Lynsey said she often feels she is trying to play catch-up with learning about the world of hearing loss. She appreciated the Institute's more in-depth lectures and workshops to explain topics in ways she could easily understand.
"I only wish we would have found out about this sooner," she said.
Many of the attendees encouraged other parents to consider the Institute.
"Don't be afraid to ask for help because you have a community that's ready to be there and help you," Leticia Hubart said. "Don't' be afraid to advocate for your child."
Visit our Facebook page for photos from this year's Institute.
For more information about the Institute for Parents of Preschool Children Who Are Deaf or Hard of Hearing and how DSCC supports children with hearing loss, call (800) 322-3722 or email dscc@uic.edu.
Visit our Facebook page for photos from this year's Institute.
The following organizations supported the 2019 Institute:
University of Illinois at Chicago's Division of Specialized Care for Children (DSCC)
Department of Human Services (DHS) Division of Rehabilitation Services (DRS)
Illinois School for the Deaf (ISD)
Illinois State Board of Education (ISBE)
Department of Public Health (DPH)
Ann & Robert H. Lurie Children's Hospital of Chicago