New Health Insurance Education Series Open to All DSCC Families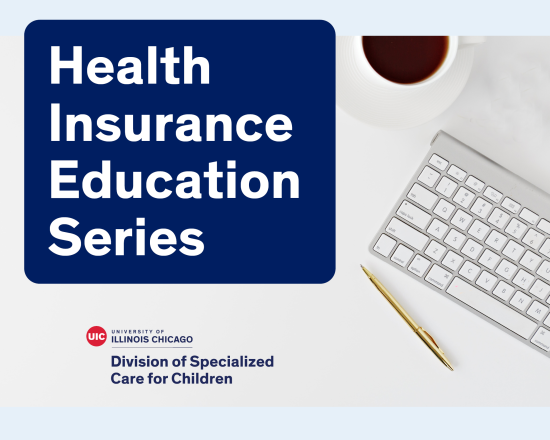 Free virtual training sessions in English and Spanish for Division of Specialized Care for Children participants, their families and all who are interested
Navigating the health insurance maze can be frustrating.
We've heard our participant families' feedback and want to help improve the process.
Please join the University of Illinois Chicago's Division of Specialized Care for Children (DSCC) for our new education series on important health insurance topics.
These free, family-focused sessions will help you better understand your coverage and benefits.
Sessions are virtual and open to DSCC participants, their families/caregivers and anyone interested in these topics.
The DSCC Health Insurance Education Series is the result of DSCC families' questions and suggestions from our Family Advisory Council.
Our Benefits Management and Research (BMR) team will explain a different topic and answer your questions each month. They will present each session in English and in Spanish via Zoom.
Save the date for each session:
Details about each series session are also posted on our Events page.
Each session will be recorded. You can access the recordings and related materials on our Family Education Webinars page.
There is no cost for families to participate.
If you have questions before or after a session, please email dscc@uic.edu or fill out our Contact Us form.
We hope you'll join us!