Participant Families: Share Your Preference for In-Person Visits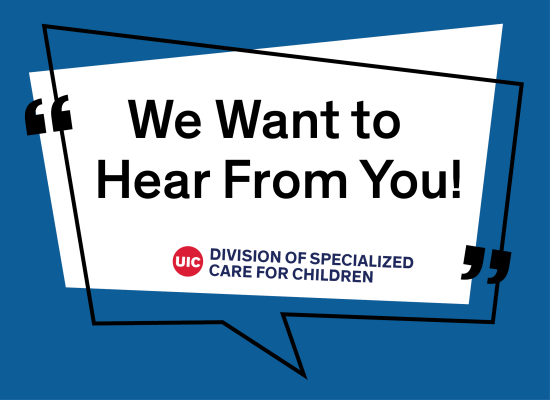 Complete a short survey to share your input and comfort level
As we move out of the pandemic phase of COVID-19, we're planning for how to best support our participant families. These plans include how our Division of Specialized Care for Children (DSCC) team meets with families. 
We want to know how you and your family feel about returning to in-person meetings and home visits.
You can click on this survey link to share your input. The survey is only six questions and shouldn't take long to complete.
The survey is available in English and Spanish. It will be open through March 25.
Our goal is to serve you and your family in the safest and most comfortable way possible. Your survey responses will help us understand your comfort level and plan accordingly.
We appreciate your time and feedback!
We also encourage you to check our COVID-19 Resource Directory often for the latest information on testing options, assistance programs, health guidance and more.
Our next "Resource Roundup" newsletter will go out later this month. It highlights recent additions and updates to our Resource Directory as well as news and upcoming events. Fill out this brief subscription form to join our newsletter mailing list.
If you need help with specific needs or have questions about available resources, please contact your DSCC Care Coordinator.