Chicago Care Coordinator Earns DSCC Merit Award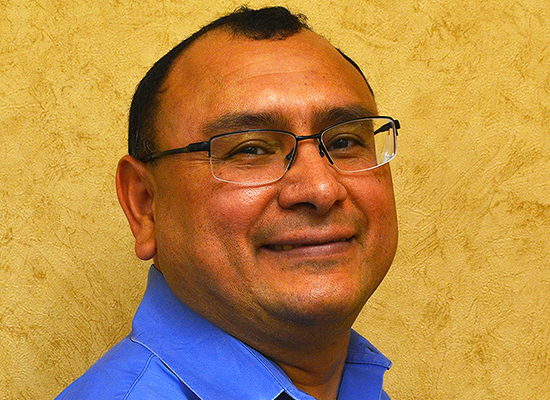 David Martinez honored for his dedication to supporting Illinois children with special healthcare needs and their families
David Martinez is the 2022 recipient of the Merit Award from the University of Illinois Chicago's Division of Specialized Care for Children (DSCC).
The award recognizes exceptional employees for outstanding dedication and service to Illinois children with special healthcare needs and their families.
David is a Care Coordinator in the Chicago Central Office. In this role, he helps families develop personalized care plans for their children's unique needs and connects them to the right services and resources.
"David has a remarkable ability to partner with our participant families and empower them to help reach their full potential," DSCC Executive Director Thomas F. Jerkovitz said. "He works with families from a variety of cultural backgrounds and helps them feel understood and able to navigate the systems involved in their child's care."
David's Chicago teammates say he has a talent for helping families and working "magic" in situations where others might not see a way.
"He is culturally sensitive, proactive and able to put himself in other people's shoes so that he can better understand their situation and how best to partner with them to find a solution," said Assistant Director of Research and Practice Initiative and former Chicago Central Regional Manager Patricia Perez.
David is a licensed clinical social worker. He grew up in El Salvador and studied criminal justice after coming to the United States.
He provided substance abuse programs at the Cook County Jail before deciding to pursue social work. This decision stemmed from his desire to help others and make an impact on families as early as possible.
David worked in mental health before joining DSCC in April 2016. He says he is honored to work for DSCC and with his amazing colleagues and managers in the Chicago Central office.
"Building strong relationships with my co-workers and the families we serve energizes me every single day," David said. "Our families' needs go beyond just medical. Every day is an opportunity to look at a situation from all different aspects and find a solution that can meet their needs. Sometimes it's as simple as just listening."
David said his DSCC career has helped him learn about many different cultures and that care coordination is not one-size-fits-all.
"Meeting the family where they are – that's my starting point," David said. "When I'm meeting with families, I tell them we are a team."
David has helped achieve many successful outcomes for his participant families. In early 2022, he secured a $36,000 grant through the Guaranteed Rate Foundation to purchase and install a vehicle wheelchair lift in a participant family's van and to make their bathroom wheelchair accessible.
But David says his proudest achievements are the relationships he builds with families.
"It would be impossible for me to deliver my passion in social work without having a relationship with families and open communication," David said. "To be able to talk to families on a monthly basis and help them navigate through issues in life, that is my biggest accomplishment — having the trust the families place in me and DSCC."
Our DSCC team nominated a total of 12 of our colleagues for this year's Merit Award. As the winner, David receives a Merit Award memento, a $2,500 award and recognition from the Executive Director.
The other 2022 nominees are:
Melissa Croft, Home Care Enrollment Specialist, Lombard Regional Office
Christina "Tina" Glim, Care Coordinator, Mokena Regional Office
Kristin Grubb, Administrative Aide, Peoria Regional Office
Becky Helmink, Program Coordinator Assistant, Olney Regional Office
Paula Holaday, Home Care Quality Improvement Specialist, Peoria Regional Office
Marlo Johnson, Human Resources Officer, Central Administrative Office in Springfield
Amy Jones, Regional Manager, Olney and Marion Regional Offices
Danielle Osburn, Home Care Claims Process Lead, Central Administrative Office in Springfield
Elma Saladar, Care Coordinator, Chicago Central
Cindy Saxsma, Administrative Aide, Central Administrative Office in Springfield
Katherine Serrano, Care Coordinator, Chicago Core
Congratulations, David! And a big thank you to all the nominees for their excellence on behalf of our participants and their families!
Participant Families: Share Your Preference for In-Person Visits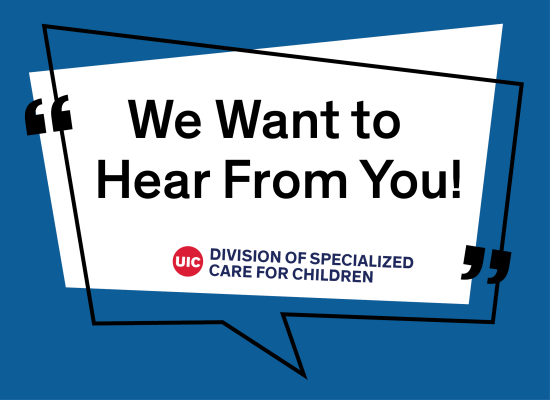 Complete a short survey to share your input and comfort level
As we move out of the pandemic phase of COVID-19, we're planning for how to best support our participant families. These plans include how our Division of Specialized Care for Children (DSCC) team meets with families. 
We want to know how you and your family feel about returning to in-person meetings and home visits.
You can click on this survey link to share your input. The survey is only six questions and shouldn't take long to complete.
The survey is available in English and Spanish. It will be open through March 25.
Our goal is to serve you and your family in the safest and most comfortable way possible. Your survey responses will help us understand your comfort level and plan accordingly.
We appreciate your time and feedback!
We also encourage you to check our COVID-19 Resource Directory often for the latest information on testing options, assistance programs, health guidance and more.
Our next "Resource Roundup" newsletter will go out later this month. It highlights recent additions and updates to our Resource Directory as well as news and upcoming events. Fill out this brief subscription form to join our newsletter mailing list.
If you need help with specific needs or have questions about available resources, please contact your DSCC Care Coordinator.
DSCC Care Coordinator Raising Funds for Soldier Suicide Prevention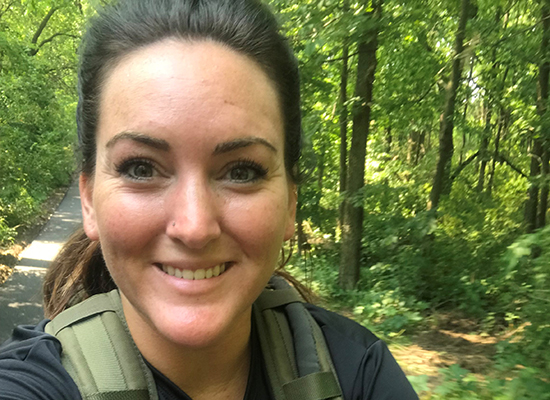 Haley Shropshire of the Peoria Regional Office is biking 250 miles as part of nationwide Stop Soldier Suicide Cycling Challenge in July
Four months ago, Haley Shropshire, a Division of Specialized Care for Children (DSCC) Care Coordinator from the Peoria Regional Office, got a new bike. She hadn't owned a bike since she was 10. Now, she's part of the Stop Soldier Suicide Nationwide 250 Mile Cycling Challenge during July.
The challenge is raising awareness and funds to end soldier suicide.
"I've grown up surrounded by family members and other individuals who have served in the military. My father served seven years in the Army infantry and although he didn't die of suicide, it's important that I show my support and respect for what he did to serve our country," explained Haley. "I don't usually do Facebook fundraisers, but I love this cause and just had to go for it!"
According to the Stop Soldier Suicide website, veterans are at a 50 percent higher risk of suicide than their peers who have not served. Stop Soldier Suicide's mission is to reduce the military suicide rate by 40 percent by 2030.
Funds raised through their Facebook challenges provide direct support to service members and veterans at risk for suicide.
Haley cares deeply about this cause and is hoping others will visit her Facebook page for more information, to check on her progress or make a donation by Aug. 7.
"Riding my bike is just so freeing! I've really been encouraged by the great comments and support," Haley said "I set up my page in June and was surprised when I passed my goal before I started riding. I bumped up my goal and am really hoping I can pass it again. It's all been so amazing!"
Haley is fast approaching her current fundraising goal of $500 and has logged more than 143 miles.
"I'm riding because I want to help and I want service members who are struggling to know there's help," Haley said. "I would be thrilled if my challenge could raise $1,000. That would help so many get the help they need."
Haley also encourages any interested DSCC staff members to ride or join her on Facebook.
"I may be riding my bike alone, but I'm not going solo. It's been incredible," she said.
If you know a struggling service member, veteran or military family member, Stop Soldier Suicide can help. If you're a veteran or service member in crisis, please call (844) 317-1136.
DSCC "Angel" Helps Teen's Wish Come True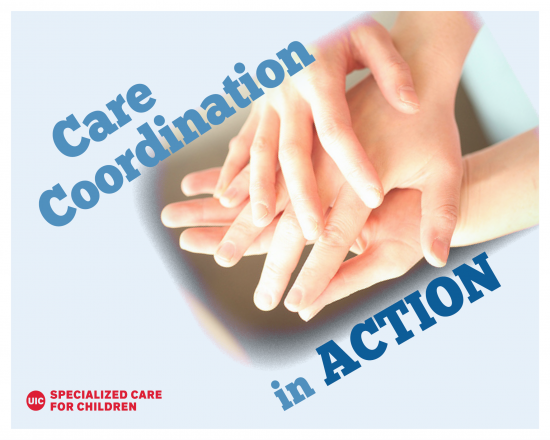 Division of Specialized Care for Children participant Trenten Jankuski has a special vacation and accessible home, thanks to Care Coordinator Angel Lawrence's efforts.
Angel Lawrence is a Care Coordinator at the University of Illinois at Chicago's Division of Specialized Care for Children (DSCC). A big part of this job involves connecting families with the right services and resources to support their children with special healthcare needs. Sometimes, a seemingly simple connection can make a dream come true.
Such was the case for Trenten Jankuski, a 16-year-old DSCC participant with cerebral palsy.
More than two years ago, Angel started working closely with Trenten's family to help make their home more accessible.
The Jankuskis live in a bi-level home. It made sense for Trenten's therapy needs to move his living space to the home's lower level. However, Trenten's power wheelchair could not access the lower level.
Angel got to work seeking bids from vendors who could examine the house and determine what modifications would be necessary. Angel enlisted the help of UIC's Assistive Technology Unit, which determined that an elevator would be the best option for the home and Trenten's wheelchair. The elevator, however, would have a high price tag.
Angel then started checking for funding sources and grant opportunities. After months of effort, she helped the Jankuskis receive a grant from the Illinois Department of Rehabilitation Services to cover most of the elevator's costs. Angel also contacted Make-A-Wish Illinois and the Illinois Elks Children's Care Corporation to see if any assistance was available.
The Illinois Elks Children's Care Corporation was able to provide the remaining funds needed for the elevator, which was installed in March.
But the Make-A-Wish Foundation took an interest in Trenten's story and contacted his mother to set up an interview in February. A trip to Disney World for his whole family was soon in the works for the avid Disney fan.
On March 15, local Make-A-Wish granters met Trenten's parents at his high school to surprise him and announce the special vacation would start that Sunday. The Kankakee Daily Journal newspaper was there to capture the fun announcement. You can read the Daily Journal's coverage on the newspaper's website.
Angel said she's delighted to see Trenten, his parents and his siblings have this special getaway together.
"This is an opportunity for them as a family to really enjoy one another in a fun atmosphere, away from the reality of day-to-day life," she said. "They can enjoy a real vacation."
We're grateful for Angel's hard work to help this very deserving family. Congratulation to Trenten and all of the Jankuskis!
DSCC Teamwork Helps Infant Heart Patient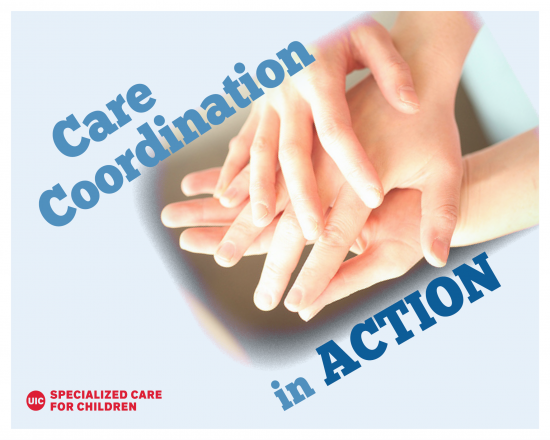 DSCC staff provide an air conditioner to family of baby boy recovering from heart surgery in triple-digit temperatures.
Families enrolled with the University of Illinois at Chicago's Division of Specialized Care for Children (DSCC) know their care coordination team is here to help. This help can include finding resources and developing a care plan to meet their unique needs and goals.
What our families may not realize, however, is how many DSCC staff work together behind the scenes to help our Care Coordinators find the best solutions for their child.
A powerful example of this group effort occurred after a 4-month-old baby boy underwent open heart surgery during a stretch of dangerously hot temperatures.
The boy was born with a heart condition shortly after his family moved to Illinois. After spending several weeks in the neonatal intensive care unit, he was able to go home in June and prepare for surgery later in the fall. However, his family soon learned that the surgery couldn't wait. He underwent the procedure in July.
"It was a blow to them," their Care Coordinator Robin Mahnken said. "But, they did the surgery and he went through it with flying colors."
Shortly after the surgery, DSCC Administrative Services Coordinator Debbie Cole called the baby's mother to check in. The mother reported that her son's recovery was going well until an intense heat wave hit the area. The family didn't have an air conditioner, and she was concerned how the extreme temperatures would affect him.
"Instead of saying, 'I'm sorry to hear that,' Debbie went, 'Hmm, I wonder if we can help,'" Robin recalled.
Debbie went to Robin and the two began brainstorming ways to get an air-conditioning unit for the family's home. Robin soon learned that durable medical (DM) equipment providers would not be able to help. She then went to her supervisors, who suggested an alternate way for DSCC to support the cost for an air conditioner.
Robin then got to work trying to find a non-medical, general merchandise retailer who would be able to bill DSCC for the cost of the air conditioner.
Robin contacted a big box retailer in town, which was willing to help. But, there were several administrative hurdles to overcome. She enlisted the help of two store managers, their general manager and a clerk to develop a plan for the store to accept a prior approval from DSCC to provide the air conditioner.
Robin then worked with DSCC Claims Services staff and the Provider Data Unit to enroll the retail store as a provider and work out a solution for payment. Claims Services Supervisor Michele Dillon even called into the office while on vacation to work with DSCC's Business Office and Provider Data Unit to make sure a solution was reached quickly so the retailer could be paid as soon as possible and the family could have the much-needed air conditioner.
Once a payment solution was reached, another DSCC Care Coordinator went with Robin to pick up the air-conditioner, deliver it to the family's home and install it for them.
"That is how a family with a 4-month-old baby who just underwent open heart surgery was able to get an air conditioner on a day when the heat index was 113 degrees at 2 p.m.," Robin said. "This whole organization and this whole other business pulled together to help this one little person."
We are extremely proud of our compassionate employees and their willingness to go the extra mile to provide the best outcomes for our families.
DSCC Regional Manager Mary Gruenich put it best – "In my 25-plus years at DSCC, I have witnessed  many outstanding examples of dedicated and caring staff going above and beyond to meet the needs of their families.  However, I don't recall such an exemplary example of true care coordination that involved so many units within DSCC to meet the needs of a 4-month-old cardiac patient… completed  within 24 hours!"