New Family Liaison Joins DSCC Team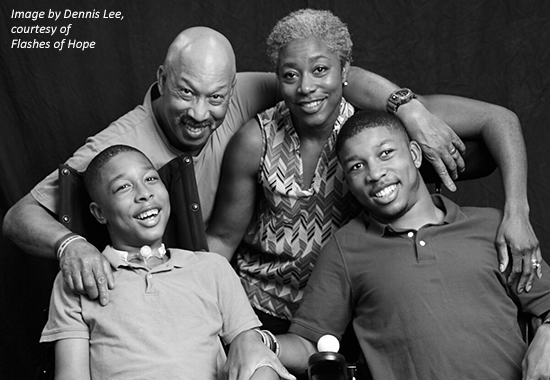 DSCC parent Gina Jones will work with families north of Interstate 80.
The University of Illinois at Chicago's Division of Specialized Care for Children (DSCC) is proud to welcome a new part-time Family Liaison to the team. Gina Jones, a Chicago registered nurse and mother of two sons in the DSCC program, will help build relationships with families and explain their needs to DSCC administration and staff.
She joins Springfield-based Violet Wiker, who became DSCC's full-time Family Liaison in December.  Gina will work out of the Chicago Administrative Office and be responsible for meeting with families and community members in the Chicago, Lombard, Mokena and Rockford areas. She will also help Violet reinvigorate the Family Advisory Council.
Gina has extensive experience with DSCC and representing families of children with special healthcare needs through her sons, Garrett, 19, and Gavin, 15. The young men were born with a rare genetic neurodevelopmental disorder called Pelizaeus-Merzbacher Disease that affects their vision and ability to eat, speak, breathe and move.  The family first learned of DSCC when Gavin was only 1 year old, and both he and Garrett now receive in-home skilled nursing through the program. (Read more about the Jones family here.)
Gina says she hopes to empower families like hers.
"I want to help families see the possibilities in disabilities," Gina said. "Health care is a part of our life, but we can still lead an active and fulfilling lifestyle outside of that."
As a registered nurse, Gina has worked in physical rehabilitation, labor and delivery and hospice. She is also dedicated to raising awareness about neurodevelopmental diseases, disabilities and their effects on families.
She is the family member trainee coordinator for the LEND (Leadership Education in Neurodevelopmental and related Disabilities) program at the University of Illinois at Chicago and is a community advisory board member for the Leadership for Urban Primary Care Education and Transformation (LUCENT) program at the University of Chicago. She has served on the board of trustees for the PMD Foundation and continues to be active in family support and fundraising for that organization. Additionally, Gina is involved with The Family Forum for Region 4 Midwest Genetics Collaborative.
Gina also created and chaired the Jones PMD Walk 'n Roll, an annual fundraiser for Pelizaeus-Merzbacher Disease, for five years.