DSCC Teamwork Helps Infant Heart Patient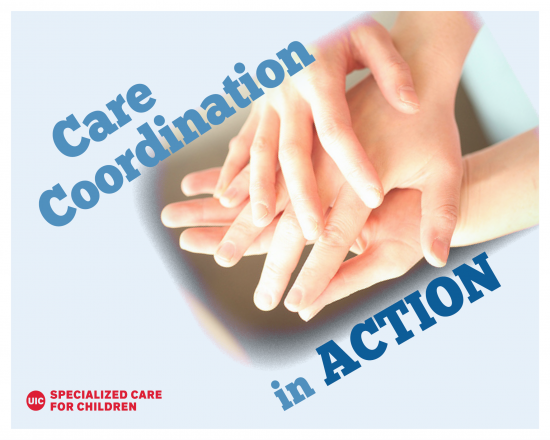 DSCC staff provide an air conditioner to family of baby boy recovering from heart surgery in triple-digit temperatures.
Families enrolled with the University of Illinois at Chicago's Division of Specialized Care for Children (DSCC) know their care coordination team is here to help. This help can include finding resources and developing a care plan to meet their unique needs and goals.
What our families may not realize, however, is how many DSCC staff work together behind the scenes to help our Care Coordinators find the best solutions for their child.
A powerful example of this group effort occurred after a 4-month-old baby boy underwent open heart surgery during a stretch of dangerously hot temperatures.
The boy was born with a heart condition shortly after his family moved to Illinois. After spending several weeks in the neonatal intensive care unit, he was able to go home in June and prepare for surgery later in the fall. However, his family soon learned that the surgery couldn't wait. He underwent the procedure in July.
"It was a blow to them," their Care Coordinator Robin Mahnken said. "But, they did the surgery and he went through it with flying colors."
Shortly after the surgery, DSCC Administrative Services Coordinator Debbie Cole called the baby's mother to check in. The mother reported that her son's recovery was going well until an intense heat wave hit the area. The family didn't have an air conditioner, and she was concerned how the extreme temperatures would affect him.
"Instead of saying, 'I'm sorry to hear that,' Debbie went, 'Hmm, I wonder if we can help,'" Robin recalled.
Debbie went to Robin and the two began brainstorming ways to get an air-conditioning unit for the family's home. Robin soon learned that durable medical (DM) equipment providers would not be able to help. She then went to her supervisors, who suggested an alternate way for DSCC to support the cost for an air conditioner.
Robin then got to work trying to find a non-medical, general merchandise retailer who would be able to bill DSCC for the cost of the air conditioner.
Robin contacted a big box retailer in town, which was willing to help. But, there were several administrative hurdles to overcome. She enlisted the help of two store managers, their general manager and a clerk to develop a plan for the store to accept a prior approval from DSCC to provide the air conditioner.
Robin then worked with DSCC Claims Services staff and the Provider Data Unit to enroll the retail store as a provider and work out a solution for payment. Claims Services Supervisor Michele Dillon even called into the office while on vacation to work with DSCC's Business Office and Provider Data Unit to make sure a solution was reached quickly so the retailer could be paid as soon as possible and the family could have the much-needed air conditioner.
Once a payment solution was reached, another DSCC Care Coordinator went with Robin to pick up the air-conditioner, deliver it to the family's home and install it for them.
"That is how a family with a 4-month-old baby who just underwent open heart surgery was able to get an air conditioner on a day when the heat index was 113 degrees at 2 p.m.," Robin said. "This whole organization and this whole other business pulled together to help this one little person."
We are extremely proud of our compassionate employees and their willingness to go the extra mile to provide the best outcomes for our families.
DSCC Regional Manager Mary Gruenich put it best – "In my 25-plus years at DSCC, I have witnessed  many outstanding examples of dedicated and caring staff going above and beyond to meet the needs of their families.  However, I don't recall such an exemplary example of true care coordination that involved so many units within DSCC to meet the needs of a 4-month-old cardiac patient… completed  within 24 hours!"