Connecting with the Community at the State Fair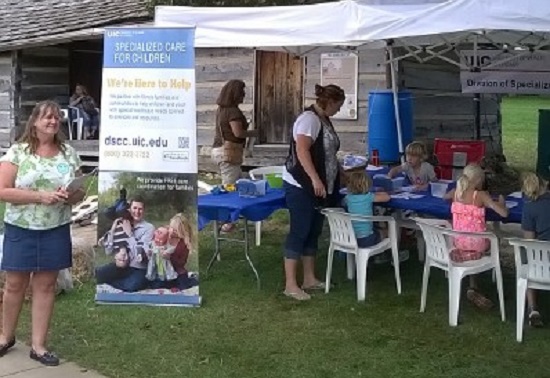 "Everyone has a story and we need to listen…"
This weekend I was one of many Specialized Care for Children staff who worked our tent at the State Fair.  Besides seeing tons of adorable kids, I met a lot of parents, grandparents and teens who all knew someone with a special healthcare need. As Daniel, a Masters of Social Work Care Coordinator in our Springfield office once told me, "Everyone has a story and we need to listen…"
Here are few of the stories I heard:
"My child has a cleft lip and palate and Beverly [a Medical Social Consultant] has helped us so much.  If she doesn't know the answer, she finds it out and gets back to me." -parent
"My son was with Specialized Care for Children from birth to 21.  He had a congenital heart problem.  DSCC helped us so much!  I don't know what I would have done without them.  He died last year, but I know he lived longer than he should have because of the people who helped us at DSCC." -parent
"My 13 year-old is in remission from his second bout of leukemia.  Now he stutters and has other neurological problems.  Can you help?" -parent
"My brother has autism.  He is supposed to go to Hope School, but our school says they can't afford to bus him there.  Can you help? – teenage youth
"We know about DSCC! Thanks!" -family of 7 who all have hearing aids
"My 23 year-old son is bi-polar.  He's very violent.  Do you know of any resources?" -parent
"DSCC and Roxanne [Medical Social Consultant] helped us get this wheel chair for our daughter." -parent
"I work in the schools and appreciate DSCC so much.  Could I have some extra brochures?" -physical therapist
"I'm a special education teacher and know about DSCC!"
"I'm a Head Start teacher.  I have several kids in mind I'm going to refer."
Those are just a few of the stories I heard.  So many people and everyone has a story. Even if we can't help you directly, we'll find someone who can!
This guest blog post is brought to you by Shelly, the Assistant Director of Operations for our Core Program.