Town Throws Special Birthday Parade for DSCC Participant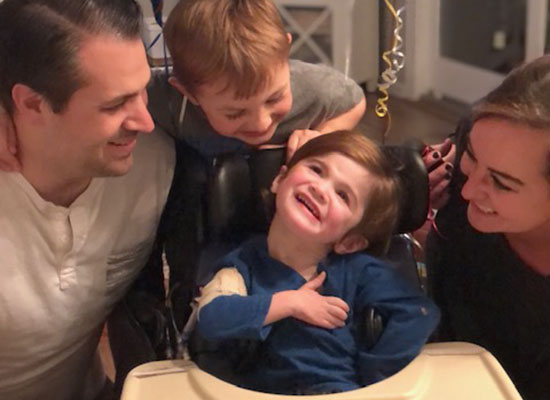 The story of 3-year-old Nash Stineman's huge birthday parade goes viral as his family seeks treatment for his rare, terminal disease.
Nash Stineman has a rare condition called Spinal Muscular Atrophy with Respiratory Distress or SMARD.
It is so rare, Nash is the only person in Illinois ever diagnosed with this disease, his family says. There are only 60 children living with this disease worldwide.
SMARD causes progressive muscle weakness and respiratory failure, often leading to death before age 2. There is no known treatment or cure.
When his mom Brittany heard her baby boy's diagnosis, she sprung into fight mode.
"I'm not going to accept that my child is going to die without doing everything in my power. I just can't accept that," she recalled.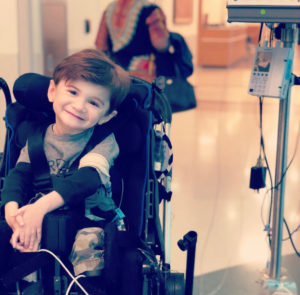 Brittany created a non-profit called Smash SMARD to raise awareness and funds for research. She's tracked down researchers and raised over $2 million to develop gene therapy for SMARD patients.
So when Nash's third birthday approached, the family was ready to celebrate.
"It's been a really rough road, but we have had so much community support. Since Nash is immunocompromised, he hasn't been able to meet most of the people who have relentlessly supported him," Brittany said. "One of my best friends said, 'Nash turning 3 is such a big deal, and you have been working so hard. Let's do something for Nash and bring the party to him.' So that is what we did, and we were able to thank so many of the people that have continued to support our family this whole way through."
Brittany initially thought a group of a dozen or so friends could drive by their house in a small parade so Nash could watch and wave. Her friends reached out on social media to see if anyone had a truck or special vehicle that could participate.
The response was overwhelming.
On Sunday, Nov. 17, the day before Nash's actual birthday, more than 100 vehicles, including village fire engines, school buses, police vehicles, Jeeps and specialty trucks, paraded in front of the Stinemans' home.
Nash's 5-year-old brother, Blake, even served as the grand marshal leading the pack.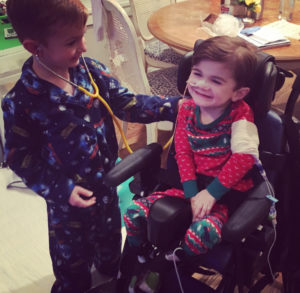 The procession took more than an hour as Nash watched with a huge smile on his face.
"It was the most special thing that ever happened to us, even more special than our wedding day," Brittany said. "For the first few days, we couldn't even form a sentence about how special it was."
The heartwarming story was covered by CBS Chicago. It quickly went viral with other media outlets picking up the story, including CBS News and CNN. Brittany also appeared on Anderson Cooper's daily live news show, Full Circle.
"It was unbelievable," Brittany said. "We have an amazing community. I knew people would want to take part, but I did not realize just how big it would be."
Videographers and photographers even donated their services to capture the special celebration.
"Now, we want to capitalize on the attention for our fundraising," Brittany said.
The Stineman family hopes those who see Nash's story will consider donating $5 to their non-profit, Smash SMARD, at www.smashsmard.org. Smash SMARD is currently working to fund gene therapy research and a clinical trial for six to 12 patients in the year 2020.
"Without this treatment, Nash will not live," Brittany said. "This is what we're asking for. If everyone donates $5, we are hopeful that for Nash's 4th birthday, we will be celebrating with gene therapy."
Nash is currently enrolled with the University of Illinois at Chicago's Division of Specialized Care for Children. He requires in-home nursing and is a participant in the Home Care Program.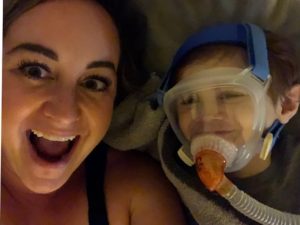 "(DSCC) has and continues to make being at home so much more manageable and has fought with us and for us. We really genuinely appreciate it," Brittany said.
At birth, Nash appeared to be a typically developing baby. However, within the first few months of his life, he stopped growing and was considered "failure to thrive." He soon was hospitalized, going into cardiac arrest and a coma, spending seven months in the hospital.
While his diagnosis at 11 months of age was difficult, Brittany said it at least provided answers. She has since devoted her life to help find an effective treatment for Nash and other children like him.
She describes Nash's third birthday as an emotional and bittersweet milestone.
"It recently hit me that my child is not going to have the same opportunities as others and that has been pretty challenging and overwhelming. But at the same time, I wouldn't choose this for my family but now I would never change it. I don't want to think about my life with him not in it," she said.
"For how much Nash has been through, he truly is beyond inspirational. He lives his life every day with a huge smile on his face, and I am so hopeful for what the next year has in store."
For more news coverage on Nash's birthday celebration and his condition, visit:
For more information about SMARD and the Stineman family's fundraising efforts, visit www.smashsmard.org.