New Support Group and Workshop Series for Home Care Families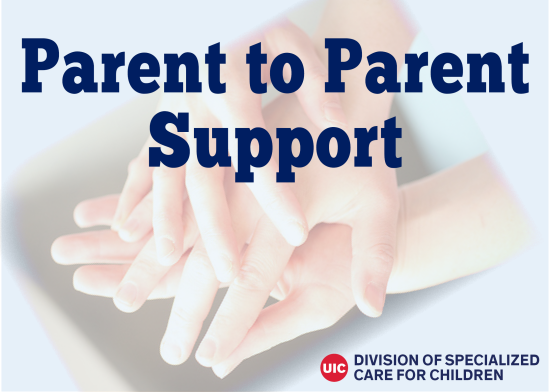 UPDATE: Please note this support group is now open to all families of children enrolled with the Division of Specialized Care for Children. See the latest support group news for more details.
The University of Illinois Chicago's Division of Specialized Care for Children (DSCC) is partnering with UIC's Leadership and Education in Neurodevelopmental and related Disabilities Program (IL LEND) to offer a support group for families enrolled in the Home Care Program.
The Home Care Program helps children and adults who require in-home nursing care. DSCC operates the Home Care Program on behalf of the Illinois Department of Healthcare and Family Services.
This support group will provide an online space for parents to access educational workshops and swap concerns, resources and strategies.
There is no cost for families to participate.
The group will meet on the third Wednesday of the month from November through April.
Workshops topics may include:
Respite care
Feeding
Ventilator maintenance/cleaning
Transportation
Navigating relationships with Home Care staff
IL LEND would also like to hear families' ideas for future support groups and workshop topics. You can share your feedback on this brief online form.
The support group schedule is for the following dates from 5:30 to 6:30 p.m.:
Nov. 17
Jan. 19
Feb. 16
March 16
April 20
Here are details for the first session:
WHAT: Virtual support group/workshop series for parents/caregivers of children and adults enrolled in the Home Care Program.
WHEN: Nov. 17 from 5:30 to 6:30 p.m.
TOPIC: Navigating the COVID-19 Pandemic (Note, the discussion portion of the support group will include a facilitator for Spanish-speaking families.)
WHERE: Virtual via Zoom
REGISTER: Please sign up online in advance. After registering, you will receive a confirmation email containing information about joining the workshop discussion via Zoom.