DSCC Intern Grateful for Education Opportunity of a Lifetime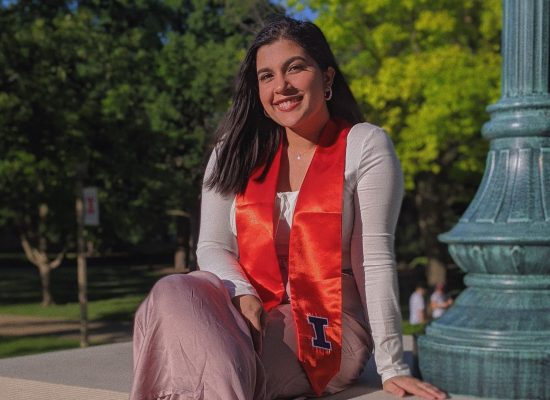 "My time with DSCC has not only shaped me as a social worker but also shaped my idea of the perfect team."
As part of the University of Illinois Chicago, the Division of Specialized Care for Children (DSCC) offers internships and other valuable educational opportunities to college students. These opportunities help students gain real-world experience and complete their advanced degrees.
They also help develop the next generation of social workers, nurses and health care providers to serve children and families with understanding and compassion.
To celebrate Social Work Month, we're sharing how a DSCC internship provided life-changing experiences for one young social worker.
"My time with DSCC has not only shaped me as a social worker but also shaped my idea of the perfect team," said Sruthi Thinakkal.
Sruthi wrapped up her two-semester internship with our Marion and Olney Regional Offices in December 2021. She recently graduated with her master's degree in social work through the BHWELL Scholars Program at the University of Illinois at Urbana-Champaign.
Drawn to partner, help and connect
Sruthi said she discovered DSCC through her advisor. When she first began looking for internships, she was struggling to find the right fit.
About a month before she had to make her decision, Sruthi's advisor mentioned a new internship opportunity with DSCC that recently opened.
Sruthi did her research and liked DSCC's mission and approach to helping families. She decided to apply.
"The emphasis was on partnering with families and communities to help children and youth with special healthcare needs connect to services and resources," she said. "Also, that children and youth with special healthcare needs should be at the center of a seamless support system really stuck with me."
When Marion and Olney Regional Manager Amy Jones reached out to Sruthi, the "deal was sealed."
"She spoke passionately about providing families support and teaching them the skills needed for success. Her enthusiasm and sincerity were contagious," Sruthi said.
She felt excited but worried she would miss out on important opportunities because of the pandemic and working remotely.
Sruthi soon learned she was "in a really good place" and that remote work would be smooth and successful.
"A true team approach"
"From the beginning, the Olney and Marion regional offices provided me with information, cheat sheets, everything I needed to get situated. They would reach out in so many ways," Sruthi said. "We used chat and had weekly meetings to bond and catch up. It was AMAZING, a true team approach."
Sruthi shadowed DSCC Care Coordinators during their comprehensive assessments and person-centered planning conversations with families. She also helped Care Coordinators with data entry, scheduling and making calls to families.
One of Sruthi's major accomplishments during her internship was a guardianship project for DSCC families and staff members in southern Illinois.
Sruthi created an extensive, easy-to-click-through tool kit that includes definitions for the various guardianship processes, step-by-step instructions, courthouse contacts, blank copies of needed forms and legal resources. She presented the toolkit to a group of more than 50 DSCC staff members in the southern region of Illinois.
"Sruthi's project focused on (the question), could families complete this type of process on their own?" Amy said. "She diligently contacted all 32 courthouses in both regions, put together a comprehensive tool kit, then partnered with Care Coordinators to make calls and contact families. Already, one family she helped has successfully completed the process and another continues to work through the process."
Amy praised Sruthi's eagerness to learn and ability to soak up information.
Lessons for a lifetime
The end of the internship was bittersweet for both Sruthi and the Marion and Olney office teams.
"It's hard leaving a fantastic team but the lessons I've learned will be with me always," Sruthi said.
"One of the biggest takeaways for me is the importance of just being there and listening. Chatting about every aspect of a kiddo, providing space to vent, helping to arrange something for a family that has so much going on every moment and obstacles no one expected, getting to know parents who are so worried about their kiddos that they forget about their own health, and hearing how they feel alone, not lonely," she continued.
"These conversations with families each month create an everlasting relationship and lessons that I will carry with me for a lifetime."
Sruthi is now moving to Chicago and launching her career in social work. She's ready to take what she's learned at DSCC and put it into action.
"I'm so grateful for my internship at DSCC," she said.
"I will be working with the Rush Craniofacial Center team and believe that my internship experience at DSCC was key to helping me move into this position. I'm looking forward to building new partnerships, connecting individuals to the programs and tools needed for self-determination, and making sure that each patient knows that they have a team behind them that genuinely cares."