DSCC Teen's Princess Dream Comes True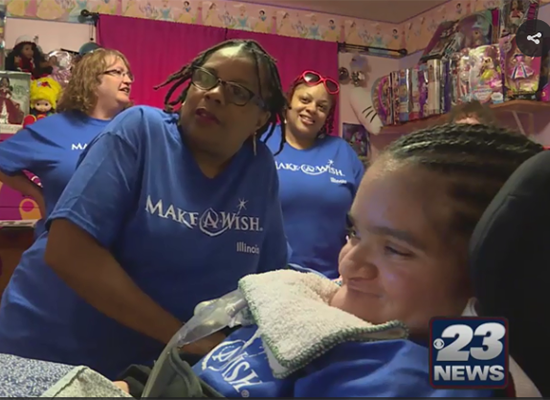 News story captures Trinity's special send-off to Disney World.
Trinity Alston always wanted to be a princess. Thanks to Make-A-Wish, she and her family recently traveled to "The Most Magical Place on Earth" to make her dream come true.
Trinity, 15, has a structural defect in her brain called Chiari malformation, which causes brain tissue to extend into her spinal canal. She is quadriplegic and non-verbal and uses a computer to speak with her family and caretakers.
Rockford's 23 WIFR news station covered the community's special send-off for Trinity, including a motorcycle escort, before she and her relatives boarded a plane to Disney World in April.
For nearly 10 years, Trinity and her family have received support through the Home Care Program, operated by the University of Illinois at Chicago's Division of Specialized Care for Children on behalf of the Illinois Department of Healthcare and Family Services.
We are thrilled to see Trinity receive the royal treatment she deserves!