Project Fire Buddies Helps DSCC Participant Attend Concert of Her Dreams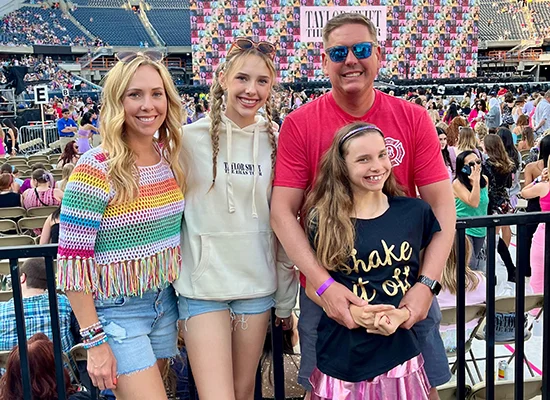 Lily Brown and her entire family saw Taylor Swift perform at Chicago's Soldier Field
Lily Brown and her family experienced a whirlwind week earlier this month that they won't soon forget.
The 14-year-old Oak Forest girl graduated from eighth grade. She then played in an adaptive Little League Challenger baseball game.
But the week's biggest highlight was seeing Lily's favorite artist Taylor Swift in concert at Soldier Field in Chicago on June 2.
"It was a very special week for all of us," Lily's mom, Jennifer Brown, said.
A nonprofit group of Chicago-area firefighters called Project Fire Buddies made the unforgettable concert experience possible.
Lily has Rett syndrome, a rare genetic neurological disorder. The condition can severely affect abilities such as speaking, walking, eating and even breathing.
Lily has seizures and uses a wheelchair. Even though she doesn't speak, she says a lot through her expressive eyes and huge smile.
She is also a participant with the University of Illinois Chicago's Division of Specialized Care for Children (DSCC). DSCC partners with families to help them find the right services and resources for their child's special healthcare needs.
In January, Lily turned 14. For her birthday present, Jennifer wanted to take her to see Taylor Swift, who announced her concert tour would include Chicago.
"I took her older sister, Grace, when she was about 9 years old to see Taylor Swift. It was a really special mother and daughter experience," Jennifer explained. "I wanted Lily and I to have that same experience. Due to the pandemic, Taylor Swift hasn't toured for a while."
From the day the tour was announced, they searched for two accessible tickets nearly every day. But their search came up empty. Then, the Oak Forest Project Fire Buddies heard about Lily's wish to see Taylor Swift.
The Oak Forest Fire Department created Project Fire Buddies in 2016. Its mission is to bring joy to kids struggling with serious illnesses and their families. Volunteers visit the kids throughout the year to deliver gifts for special occasions, play games, read books or just to say "hi" and spend time together.
"We love the fire buddies!" Jennifer said. "We're so grateful for all that they do. They gave Lily a bike made specifically for her needs so that she can enjoy riding. This year, she's also playing with the Challenger's baseball team and enjoyed playing against the Project Fire Buddies team."
Now, Project Fire Buddies has made Lily's ultimate birthday wish come true and more.
"Our family usually has to use the divide and conquer approach. We don't get to attend events together very often," Jennifer said. "It was an incredible surprise to learn that our Oak Forest Fire Buddies chapter found tickets for our entire family and worked with Soldier Field to have the area accessible for Lily's wheelchair. We were just blown away."
Since no "Swifty" can go to a concert without bling, everyone made sure Lily had just what she needed for the big night.
"We made a cute 'Shake it Off' shirt with all the sparkle and bling any Swifty would be proud of," Jennifer said. "We also made a sign, and friends also got her some flashy, light-up flare."
The Brown's had an amazing time – together – at the Taylor Swift concert.
"The show was incredible, and Lily loved it," Jennifer said. "She did have a couple of seizures during the show but bounced back in time to catch her favorite song, 'Shake it Off.'"
"Project Fire Buddies is hoping to expand to help more kids who are medically challenged or have life-threatening conditions," Jennifer added. "The Oak Forest chapter is amazing and incredibly generous. They are an important part of Lily's life, and we are so thankful."
Visit our Resource Directory to learn more about Project Fire Buddies.
You can also read about the news coverage of Lily's special concert experience:
Thank you to Project Fire Buddies for making Lily's wish come true!