Internship Opportunities for Suburban Cook County Youth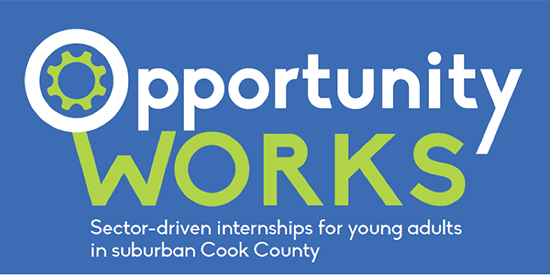 Opportunity Works places young adults in subsidized internships, exposing them to viable careers in a variety of sectors.
Opportunity Works is a program that provides sector-driven internships for young adults between the ages of 16 and 24 in suburban Cook County
More than 33,000 young adults are disconnected from both work and school in suburban Cook County. At the same time, many employers report a shortage of skilled workers.
Opportunity Works trains participants and connects them with businesses that are looking for new employees. If you are selected for this program, you will participate in a paid internship that will expose you to exciting careers that you may not have thought about before. Opportunity Works will also connect you to the resources you need to get a good paying job.
This program targets southern and western suburbs but will be open to all of suburban Cook County, offering sector-specific training in these fields:
Manufacturing
Information Technology
Transportation, Distribution, and Logistics
Interested youth can fill out the Opportunity Works application online.
To learn more, call (312) 603-7092 or visit the Opportunity Works website.