New Nationwide Three-Digit Mental Health Crisis Number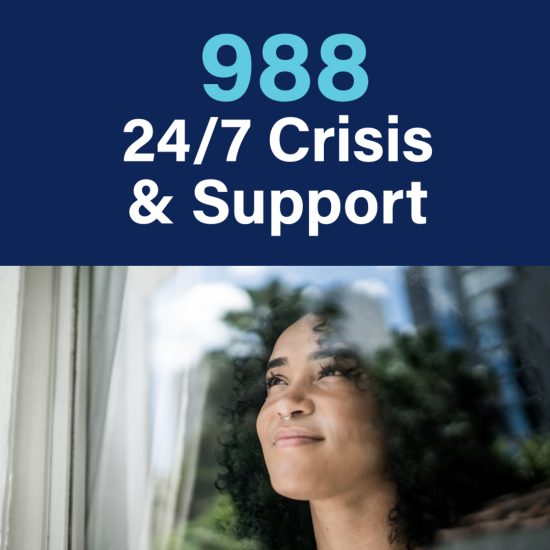 Individuals facing mental health crises can call 988 anytime for help and life-saving services
Starting on July 16, a simple three-digit number will connect anyone in the United States to the National Suicide Prevention Lifeline (also called the Lifeline).
The new 988 dialing code will help people facing mental health crises immediately connect to individuals who are specially trained to respond to such situations. It is available for calls (multiple languages) and text or chat (English only).
The Lifeline is free, confidential and available 24 hours a day, seven days a week.
Lifeline crisis counselors understand what callers are going through and know what local resources might make a difference. Anyone who needs support for a suicidal, mental health and/or substance use crisis may dial 988.
The new 988 number aims to strengthen efforts to transform crisis care nationwide. It will serve as a universal entry point so that no matter where someone lives, they can reach a trained crisis counselor who can help.
According to the Centers for Disease Control and Prevention, one in five Americans will have a mental illness in any given year.
The Substance Abuse and Mental Health Services Administration (SAMHSA) reports that in 2020 the United States had one death by suicide about every 11 minutes. Suicide is also a leading cause of death for people ages 10 to 34 years. Additionally, more than 100,000 individuals died from drug overdoses from April 2020 to 2021.
You can learn more about how 988 works and the support it provides on the 988 Frequently Asked Questions page.
This fact sheet also explains the basics about 988. (You can also see the fact sheet in Spanish.)
The current Lifeline phone number of (800) 273-8255 will remain available to people in emotional distress or suicidal crisis, even after 988 is launched.
Individuals may also continue to text the Crisis Text Line (text HOME to 741741). Both offer free, confidential help around the clock, 365 days a year.
You can also visit our online Resource Directory for more mental health services and support.