Family Thanks DSCC for Van Modifications, Support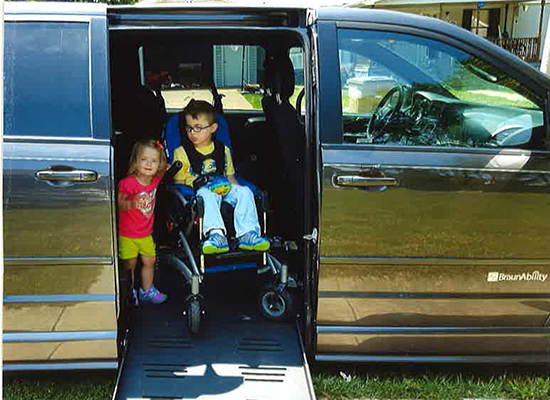 Financial assistance and resources from DSCC helped Payton's family pay for modifications to their home and vehicle so he can stay active.
Eight-year-old Payton was born with a gene mutation so rare that it doesn't have a name. The condition affects the STXBP1 gene and causes seizures, developmental delays, nonverbal communication and abnormal muscle movements.
"There are less than 250 people (with the mutation) that we know of worldwide," Payton's mom, Kristy, explained. "It is almost like a spectrum-type diagnosis… Doctors just don't know much about it."
What Payton's family does know is that his symptoms are severe. He cannot walk or sit up and is nonverbal. However, he has no problem letting his happy, easygoing personality shine through. Payton loves his little sister, Hunter, and doing special extracurricular activities, like horseback riding and water therapies.
Kristy says the University of Illinois at Chicago's Division of Specialized Care for Children (DSCC) has helped provide the accommodations, equipment and resources needed to help Payton stay active and comfortable as he grows.
Payton became enrolled with DSCC six years ago. His family qualified for financial assistance from DSCC to install a ramp in their home for Payton's wheelchair.
"He's getting bigger, and we were starting to have difficulties getting him in and out of our vehicle and his car seat," Kristy said. "I contacted (our Care Coordinator) Beverly and she told me about the ways DSCC could help."
DSCC was able to provide some financial assistance to modify the van with a lift, but the remaining price tag was still too expensive for the family to afford. Beverly then used her connections within the community to link Payton's family with two charitable organizations to pay most of the remaining cost.
"Beverly went above and beyond," Kristy said. "It's been awesome. Now I can wheel him in and strap him down, and it's so much easier without having to get him out of the chair and do multiple transfers."
The modification helps the family of four's busy lifestyle, especially now that Payton is in second grade and is increasingly involved in activities outside of the home.
Kristy said DSCC's assistance and Beverly's patience and hard work have helped make her family's lives much easier. She also values Beverly's knowledge of community resources and services and encourages other families to work with DSCC and ask what may be available to help their family.
"If Beverly wasn't able to help with something, she can always point me in the right direction of where I could turn," she said. "You just need to ask the question, and don't be afraid to ask."