DSCC Toddler's Birthday Celebration Benefits Hospital Patients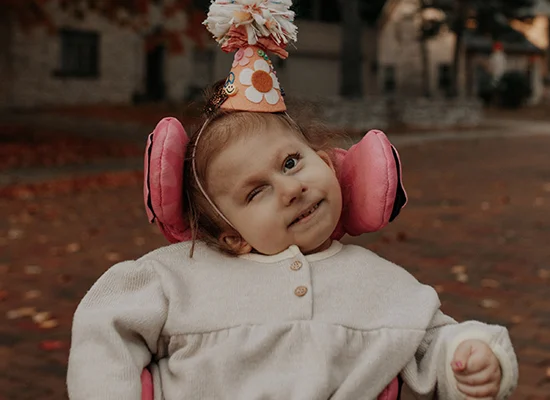 To celebrate Eloise turning 3, her family threw a "groovy" birthday party to provide comfort and treats for patients and their families at OSF Children's Hospital of Illinois
Birthdays are major milestones in every child's life. For families of children with rare diseases, they're especially precious.
Eloise was diagnosed with alobar holoprosencephaly when her mom, Rachel, was 20 weeks pregnant. This congenital condition causes a developing baby's brain to not properly separate into the right and left hemispheres (halves).
"There are several types of holoprosencephaly and alobar is the most severe. We had no idea if she would be born alive or how long she would live," Rachel said. "She spent 20 days in the NICU (neonatal intensive care unit) before going home on hospice just before COVID-19 hit."
Her first birthday didn't seem possible, let alone future birthdays. But Eloise defied the odds. The Division of Specialized Care for Children (DSCC) participant moved from hospice to palliative care. Eloise is now a feisty 3-year-old who brings joy to everyone she meets, Rachel said.
To celebrate Eloise turning 3 in November, her family planned a special birthday party to benefit the patients and their families at OSF Children's Hospital of Illinois. The party, dubbed "Eloise Fest – Let's Get Groovy," provided plenty of treats and gifts from local businesses. The celebration also donated new sound machines to create a more calming setting for families.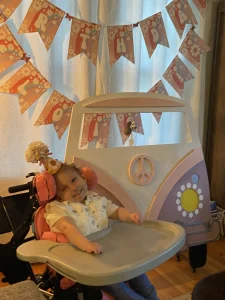 "The party was a way to give back and celebrate something we never dreamed possible," Rachel said.
Eloise has spent time in nearly every pediatric unit of OSF Children's Hospital. Rachel and her husband, Zach, got the idea for Eloise Fest when they noticed some of the hospital rooms didn't have sound machines.
"Eloise's first and second birthdays we raised money for the Carter Centers for Brain Research in Holoprosencephaly and Related Brain Malformations. This year we wanted to do something more tangible," Rachel said.
"It may seem like a small thing but hearing the beeps and monitors all the time can be really stressful for families and patients. A sound machine helps provide calm by drowning out the medical stuff. During our stays, we usually set our machine on the ocean setting and it helps provide a sense of calm that's hard to come by in a hospital. We wanted to help other families have that same sense of calm."
Rachel and Zach worked with the hospital to find out how many sound machines each department needed. The couple then posted a wish list for their family and friends to buy 92 sound machines and related supplies. They fulfilled the wish list within three days.
"It was so touching to see how many people are impacted by Eloise's story and are there supporting and loving her," Rachel said.
Eloise's "groovy" themed party also included her favorite music playlist and a VW bus photo station that traveled from floor to floor. Local businesses also donated an array of food and non-food goodies for patients and staff.
"This has been three years we didn't know that we would get," Rachel said. "I'm grateful for the team that we have surrounding us that includes doctors who understand and all the support our friends, family and DSCC provides. How else would we have gotten here?"
You can see more photos from Eloise Fest and the list of local business donors on OSF Children's Hospital's Facebook page.
Read more about Eloise's powerful journey on our Family Stories page.