DSCC Staff Spread Holiday Cheer to Families in Need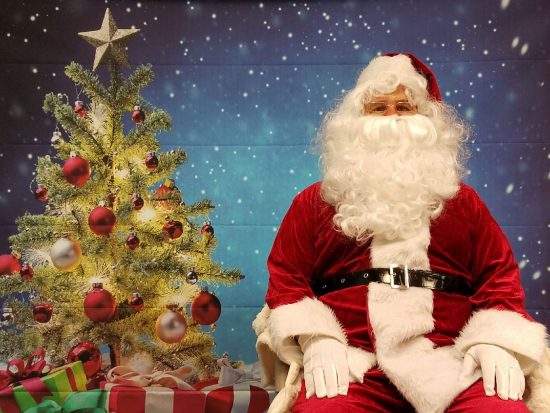 DSCC regional offices pitch in to provide gifts and Christmas magic to local families.
At the University of Illinois at Chicago's Division of Specialized Care for Children (DSCC), we all share a common goal to help improve the lives of children with special healthcare needs and their families. This commitment often extends into the greater communities we serve and the organizations we partner with throughout the state.
This holiday season, the staff at several of our regional offices donated their time, resources and creativity to make sure local children in need have Christmas gifts and priceless memories. We're proud of all of their hard work to be great community partners!
Mokena Regional Office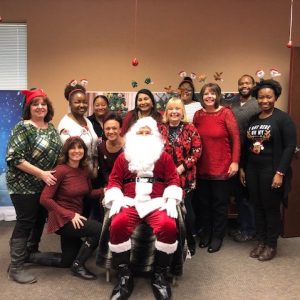 At our Mokena Regional Office, staff transformed their conference room into the North Pole to host their first "Pictures with Santa" event on Dec. 13.
The man in the red suit stopped by to visit with a small group of our participant families and pose for pictures.
One of the families shared it was the first time their children got to meet Santa. Previous attempts were either too difficult or impossible because their child was frequently in the hospital.
Both families went home with a donated toy and our calendar and coloring books.
Lombard Regional Office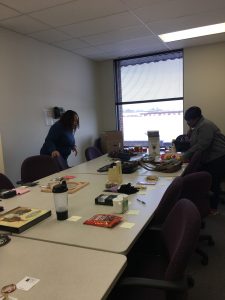 Each year during the holidays, the building that houses our Lombard RO displays Christmas wreaths with tags attached. The tags have wishes on them from a boy or girl in the community whose family needs assistance.
Wishes range from makeup bags and books to items that they truly need, such as diapers and coats.
To help make these wishes come true, the Lombard Social Committee organized a silent auction on Nov. 28. The committee asked staff to donate any unused or gently-used items they had at home.
The auction raised $75, providing enough funds to fulfill the wishes for five children.
Rockford Regional Office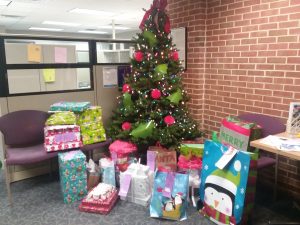 The Winnebago/Boone Foster Care Alliance is a collaboration of agencies that provide services to children in need in the community. Each year, the alliance organizes the "Adopt-An-Angel" project to provide Christmas gifts to local foster children and children involved with welfare services.
Our Rockford RO staff partnered with two of their building neighbors, the Illinois Department of Public Health and Illinois Guardianship Advocacy, to purchase gifts for these local "angels" this year.
Participating staff selected a tag for a foster child that included their name, age, gender and three gift ideas based on the child's interests.
Rockford Regional Manager Shannon Jones said the original goal was to purchase gifts for 15 children. But, thanks to everyone's generosity, the Rockford RO and their partners were able to provide gifts for 20.
"DSCC and the other state agencies within the RRO's building have been participating in this program for over 10 years now, and it has been a great opportunity for everyone to come together to give back to the community we serve," Shannon said.
Olney Regional Office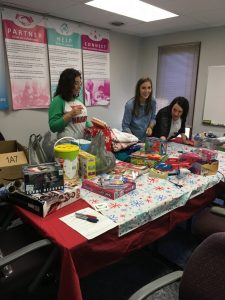 The Olney RO team recently had a "wrapping party" to benefit a special local family in need.
For the last several years, Olney staff have participated in the Adopt-a-Family program through the Good Samaritan of Richland County.
This year's adopted family recently moved to the area for a fresh start. The single mom has three children, ages 2 to 12.
The program gave Olney staff a list of the family's needs with clothing sizes, shoe sizes and so on.
The Olney team split up the shopping duties and brought in all of the purchased gifts for a wrapping party.
The gifts will be delivered to the family this week.
Despite everything on this mom's plate, she won't have to worry about giving her children a memorable Christmas morning.