Award Opportunity for Students Who Fight Ableism in Education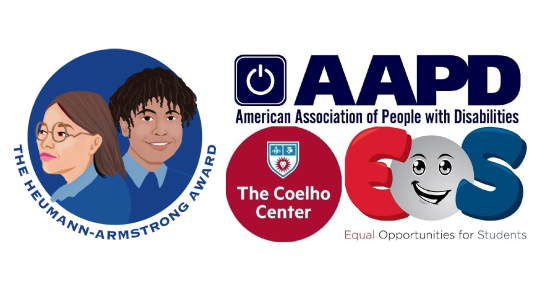 The Heumann-Armstrong Award is for students in sixth grade and up, including higher education
Ableism can take many forms. It is discriminating against someone because of their disability. It can also include bullying, isolation or the refusal to give accommodations to a student with a disability.
Like other forms of discrimination, ableism shows up in ways that are both blatant and subtle.
The Heumann-Armstrong Award is for students in sixth grade and up, including higher education, who have experienced and shown a passion for fighting ableism in education.
The American Association for People with Disabilities, The Coelho Center and Equal Opportunities for Students (EOS) sponsor this award program.
The award started in May 2021. It is named for two disability rights champions:
Judith (Judy) Heumann, a lifelong and internally recognized advocate for the rights of individuals with disabilities
Elijah Armstrong, who has epilepsy and founded the EOS organization to help tell the stories of marginalized students in education
The award program defines a disability as any physical or mental condition that affects how someone attends classes, participates in extracurricular activities or socializes with classmates.
Students can submit an application in writing or by video. All applicants must be willing to do a video interview upon winning the award.
Six individuals will receive an education award that includes a $1,000 prize and a video interview posted on EOS social media platforms. Six semi-finalists will also receive recognition.
See the 2022-23 Heumann-Armstrong Award application page to apply.
You can also check out the Heumann-Armstrong Award frequently asked questions and the 2022-23 award opening video for more details.
The deadline to submit applications is July 22.
If you have questions, contact equalstudentopportunities@gmail.com.