DSCC Family Donates Wagons of Hope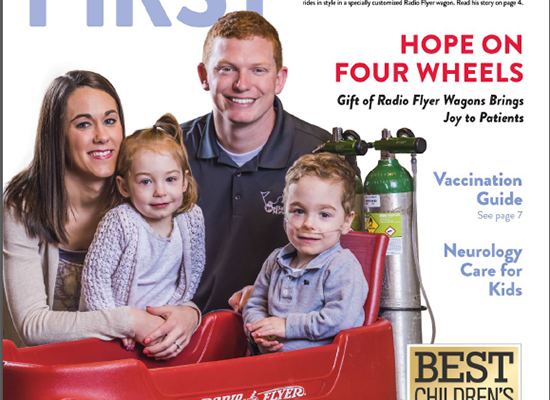 The Ruder family designed and donated special "rocket pack" Radio Flyer wagons for children who depend on medical equipment.
Kara and Logan Ruder understand how difficult it can be to care for and transport a technology-dependent child.
Their 3-year-old twins, Beau and Brooklyn, were born 12 weeks premature. While Brooklyn grew to be healthy, Beau was diagnosed with chronic lung disease and a combination of four heart defects called tetralogy of Fallot.
Beau spent seven months total in intensive care at OSF HealthCare Children's Hospital of Illinois. During that time, he became enrolled with the University of Illinois at Chicago's Division of Specialized Care for Children (DSCC), which has helped the Ruders understand and maximize Beau's insurance coverage and connected them to service providers, such as nursing agencies and durable medical equipment suppliers.
Once Beau arrived home, Logan jokes that his son "brought half the hospital" with him. Since he requires round-the-clock oxygen through a nasal cannula, Beau needs an oxygen tank as well as a monitor, suction machine, medicine pump and feeding pump for his gastronomy tube
It was overwhelming for the family to try to leave the house, especially when Kara would have to take both kids to Beau's many medical appointments. A stroller just couldn't comfortably hold all of the equipment and keep it accessible for when Beau needed it.
The inspiration for a better way struck after the twins received a Radio Flyer wagon for their first birthday. Logan developed a special attachment for the wagon to hold Beau's oxygen tank and still give him plenty of room. The Ruders describe how the design came about in a touching video for OSF HealthCare Children's Hospital of Illinois.
The wagon's "rocket pack" was such a hit with Beau and others who saw it, the Ruder family decided to make additional wagons to donate to Children's Hospital of Illinois. You can read more about the family's story and their donation in the hospital's Children First publication.
"When you're a dad like me who's not overly medical, there's not much you can do for a kid like (Beau) who's so sick," Logan said. "To have something like this (wagon) that I can do for him, it makes me feel good."
He would love to create more wagons for children who could benefit from one and encourages interested families to call him at (309) 360-3410.
Logan said he hopes the wagons can give children in similar situations a feeling of normalcy.
"When you pull a kid through the hospital in a wagon, it helps them feel like a kid," he said.
We're proud of the Ruder family's kind hearts and desire to help other children with complex medical needs. They truly are an inspiration!