In the News: DSCC Teen with CF Leads by Example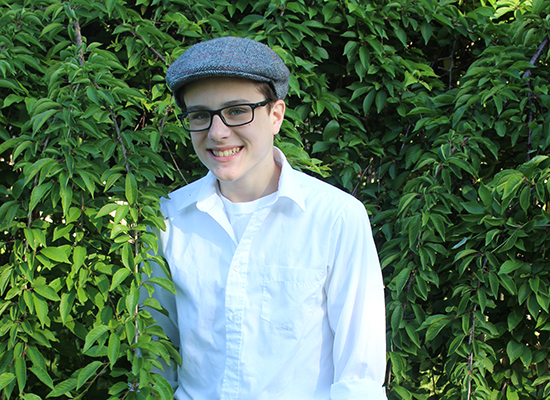 "He is a modest, humble kid who always puts forth his best effort and rarely complains."
Alex Killian is an involved eighth-grader at Gibson City Middle School who pours himself into his studies and extracurricular activities with passion and focus. But he's not your typical middle school student. His teachers say they're the ones who look up to him for his bravery and determination as he lives with cystic fibrosis (CF).
Alex was recently featured in WCIA 3 News "Kid to Know" series after his teachers recommended him for the honor.
He is a straight-A student who loves math, science and history. He enjoys playing in the local soccer league and has been an active member of the GCMS Scholastic Bowl team for the past three years. Alex went to state for the geography bee and won every single competition in that event for two years in a row. He also participates in summer and winter theater productions from a local theater group called A.C.T. and tried his hand at track and field this spring.
"He is a modest, humble kid who always puts forth his best effort and rarely complains," his mother, Andrea Killian, said.
Therefore, many are surprised to learn that Alex was born with CF, a disorder in which a defective gene causes thick mucus to buildup in the lungs, pancreas and other organs. This buildup causes persistent lung infections and restricts breathing as the disease progresses.
Alex was diagnosed with CF in December 2003 and the counselor at the family's CF Clinic in Peoria suggested the Killians consider enrolling with the University of Illinois at Chicago's Division of Specialized Care for Children (DSCC).
"We've been working with DSCC ever since and have had a very positive experience. We have typically qualified for copay assistance and over the years, that has been a huge help with prescriptions as Alex takes several medications and even the copays become rather costly," Andrea said.
The Killians recently began working with their second DSCC Care Coordinator, Angel, and say she's been a huge help in addressing Alex and his family's needs.
In 2015, Alex was selected for the Make-A-Wish Program and chose to travel to Ireland with his whole family. The family made the trip over spring break 2016. That May, he was hospitalized for the first time and received a peripherally inserted central catheter (PICC) line. He was able to finish the school year with a 20-day round of IV antibiotics at home.
"He was so disappointed to miss the last few weeks of school, but again, he took the changes in stride, completed all his homework and made it to school for the last couple of days with his IV in place," Andrea said.
This past winter, Alex was asked to speak about his experiences with CF at his school's "GRIT" assembly, which features students speaking about challenges they face in their daily lives.
Andrea says Alex takes an active role in his CF care by helping to clean and disinfect his nebulizer cups and by doing his treatments and taking his medications on his own. Currently, he does chest therapy via a vest that shakes him twice a day for 30-minute periods. He also does a minimum of four nebulizer treatments per day and takes several medications in pill form.
In addition to excelling at school and his extracurricular activities, Alex is also a great big brother to three younger siblings and is a huge help to his parents at home, Andrea said.
Congratulations on all of your achievements, Alex! We're excited to see what you accomplish next.