DSCC Thanks Orthopedic Surgeon for Extraordinary Care and Service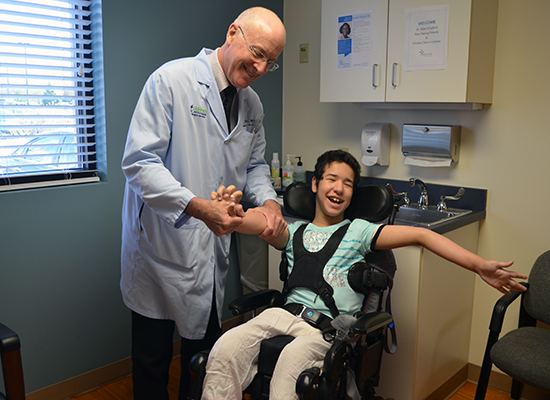 Dr. Gabriel retires after helping hundreds of DSCC youth through free orthopedic clinics.
Eleven-year-old Bayan sat quietly in an exam room during a recent orthopedic assessment clinic hosted by the University of Illinois at Chicago's Division of Specialized Care for Children (DSCC). A huge smile flashed across her face as Dr. Keith Gabriel walked into the room.
He clasped her hand in his and gently leaned down to tell her goodbye after eight years of care for issues related to her scoliosis and cerebral palsy.
"We've very sad to see him go," Bayan's father, Jaouad, said. "He's helped her a lot."
Dr. Gabriel, an orthopedic surgeon with HSHS Medical Group in Springfield, is retiring after 16 years of providing free orthopedic assessment clinics to DSCC participants in east-central and southern Illinois.
"DSCC has been fortunate to partner with Dr. Gabriel to provide thorough and compassionate care for children in our program with muscle, bone and joint issues," DSCC Executive Director Tom Jerkovitz said. "Dr. Gabriel's clinics provided a valuable service to our families and a convenient option for youth who live far from Springfield and have difficulties traveling there."
Dr. Gabriel saw 19 patients during his last DSCC-sponsored clinic at Christie Clinic in Urbana on May 4. The youth and their families all signed a thank-you poster. DSCC staff also treated Dr. Gabriel to a potluck lunch with his favorite pizza and cake to thank him and celebrate his retirement.
Dr. Gabriel said he's enjoyed working DSCC and praised how we fulfill our mission to partner with Illinois families and communities to help children with special healthcare needs connect to services and resources.
"I'm very impressed with the dedication of the Care Coordinators and think this is truly a service that benefits the state of Illinois," he said.
Dr. Gabriel first started working with DSCC participants from the East St. Louis area while he worked at Cardinal Glennon Children's Hospital in St. Louis from 1989 to 1999.
In 2002, he took a job in Springfield with SIU School of Medicine and began partnering with DSCC to provide orthopedic assessment clinics for youth served by our Champaign, Olney and Marion regional offices, all at no cost to the families.
In recent years, Dr. Gabriel's clinics typically drew children from Champaign, Vermilion, Douglas, Macon, Iroquois, Kankakee and McLean counties. Some attendees were in need of routine checks and monitoring for bone or joint problems while others were referred by physical therapists who observe a possible issue. Dr. Gabriel also checked children's orthotics, Ankle Foot Orthosis braces, wheelchairs and so on to make sure they are not outgrowing the devices and make adjustments for any pain or discomfort.
Dr. Gabriel has treated hundreds of DSCC youth, many since their earliest years of life.
"At the DSCC clinics, the nature of what we see is chronic conditions," he said. "We grow up together, or I grow old while they grow up. These children I've known since they were babes in arms."
DeAnn Pribble says her son Aiden Stricklin has seen Dr. Gabriel for as long as she can remember. Aiden is 15 and has hydrocephalus and spastic quadriplegic cerebral palsy.
"(Dr. Gabriel) does a good job of being outgoing for the kids and making visits fun for them," she said. "He's also very thorough."
Twelve-year-old Khalil has also seen Dr. Gabriel since birth. He and his mom, Candice, say they've appreciated Dr. Gabriel's bedside manner.
"He doesn't just speak directly to me. He speaks to Khalil and makes sure he understands what's going on," Candice said. "We're definitely going to miss him."
Dr. Gabriel said he's been honored to work with DSCC families and looks forward to continuing to serve on our Medical Advisory Board.
Visit our Facebook page to see photos from Dr. Gabriel's last DSCC-sponsored clinic.