Strategies to Empower Family Caregivers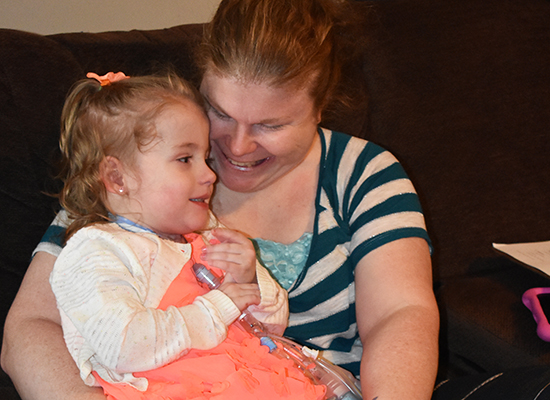 DSCC provides support and resources to strengthen caregivers' ability to care for themselves and children with special healthcare needs.
November is National Family Caregivers Month. It's an opportunity to celebrate all of you who selflessly and continuously care for your children and loved ones with special healthcare needs.
At the University of Illinois Chicago's Division of Specialized Care for Children (DSCC), we recognize the huge role you play in your child's overall health and wellbeing. We value our partnership with parents and caregivers to help set goals for your child, identify strengths and make plans to achieve what is important to your family.
We also understand the importance of caregiver health and providing you the right support and resources. DSCC is dedicated to empowering caregivers and strengthening your ability to provide care for someone else.
We recognize how you are there every day, managing multiple care needs and navigating complex healthcare systems, insurance systems and more. Our priority is to help strengthen your knowledge, reduce your stress and help you feel more confident and organized in your child's care.
Here are three significant ways we aim to empower caregivers:
Partner with you to identify what you, your child and your family need. As the parent or caregiver, you know your family's unique needs and values better than anyone. We listen to these needs and partner with you to identify your child and family's goals and how to accomplish them. If you are not enrolled in our program or need help knowing how to identify your needs, this quick self-assessment tool can help.

Help you brainstorm and connect with others. Conversations around health allow all of us to get creative, see things differently and develop new ways of doing things. These creative ways can save you time, energy or allow for improved interactions. Some connections in the community are your primary health or behavioral treatment specialist, other DSCC parents or a community parent support group.

Connect you to the latest research and information. As growing research helps us better understand physical and mental health, it can also show new techniques, interventions and treatment options. Think about how you learn best and reach out to trusted sources. Our staff can help you find the best sources of information. We are also experts on local resources and supports available in your community.
The physical and emotional demands of caring for a child with special healthcare needs are 24/7. Though we can't take away all the worries and emotions, we can provide a consistent helping hand to support you through your child's journey with a medical condition
To learn more about our care coordination, visit our How We Help page. You can also contact your local DSCC Regional Office or call us at (800) 322-3722.
Our online Resource Directory also includes resources and tips for caregivers.
Featured resources include: