DSCC Quality Specialist Honored for Service to Families in Crisis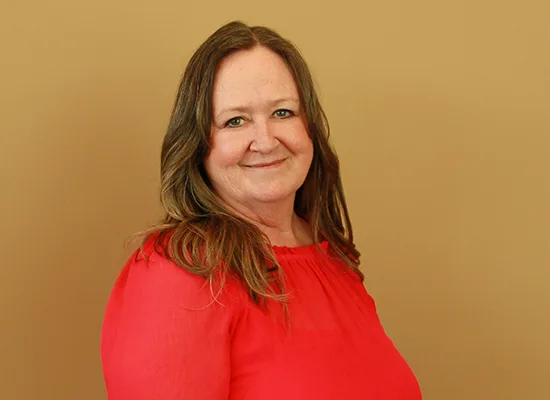 CountyCare awarded Tess Rhodes its Certificate of Excellence for her commitment and dedication
Tess Rhodes is a registered nurse on our Quality Improvement Team. She collaborates with her Division of Specialized Care for Children (DSCC) teammates and partner organizations across Illinois to make sure children in crisis have the right support.
A managed care health plan recently honored Tess for these efforts to protect the safety of children and families.
CountyCare's Health, Safety and Welfare Team awarded Tess its Certificate of Excellence. The certificate recognizes her "tremendous commitment and dedication" to keeping County Care participants safe and meeting their families' needs.
Tess said she couldn't do this important work without DSCC's care coordination teams and our partners in the community.
DSCC has a contract with CountyCare to provide care coordination to the children and youth with special healthcare needs in its Medicaid managed care health plan.
As a Core/Connect Care Quality Improvement Specialist, Tess helps DSCC's care coordination teams when a participant enrolled in CountyCare has a critical incident.
Critical incidents are events or situations that create a significant risk of substantial or serious harm to a participant's physical or mental health, safety or well-being. They can include:
Abuse or neglect
Harassment or bullying
Death of a family member
Significant injuries
Medication or treatment errors
Threat of self-harm
DSCC works with CountyCare to report these incidents and make sure our teams respond to reduce any risks for our participants and help them get the right resources and services they need.
When DSCC team members learn of a critical incident, they must report it to CountyCare within 24 hours of notification.
Tess says it's important to first ensure that our child/youth is safe and that their family receives the right support for their situation.
Tess and the DSCC care coordination teams work alongside CountyCare staff, the child's medical team and others to provide access to services and resources.
The DSCC Care Coordinator checks in with the family bi-weekly after a crucial incident to help and monitor the outcome. Tess assists in the process by guiding the participant's Care Coordinator and providing more resources and materials for education.
Once CountyCare closes a critical incident, Tess continues to monitor the situation and provides final updates at the 30-, 60- and 90-day marks. She also coordinates meetings for all care team members to discuss the incident and develop a plan of support.
"This requires very detailed organizational skills, and Tess never misses an update or chance to help," her supervisor, Quality Improvement Manager Brandon Bartels, said.
Brandon praised Tess' "exceptional" communication with CountyCare and her collaboration to keep participants' and families' needs at the forefront.
"Tess has received accolades by email from their team multiple times, so this Certificate of Excellence proves not only have they valued her efforts in the past but her continued support for our participants, Care Coordinators, and relationship with CountyCare is truly making an impact," he said.
Congratulations, Tess! We are grateful for your compassion, teamwork and commitment to children and families!
DSCC Invites Teens to Take Part in New Project to Improve Mental Health Support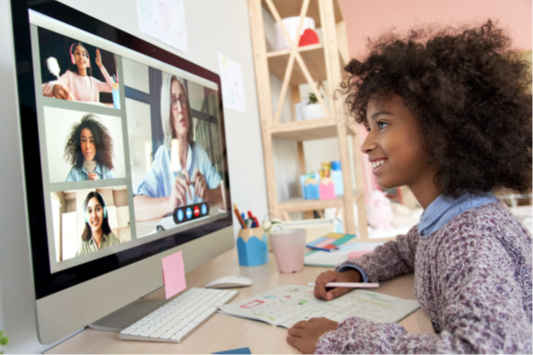 The B.E.S.T. research study looks at how care coordination services that include mental health support can benefit teens with intellectual and developmental disabilities.
Adolescence can be a challenging time for teens with intellectual and developmental disabilities (IDD).
It's not unusual to feel sad, stressed or overwhelmed.
A new research study opportunity can help teens with IDD learn how to manage these feelings and cope with times of change.
The study is called Behavioral Health Stratified Treatment (B.E.S.T.) to Optimize Transition to Adulthood for Youth With IDD.
The B.E.S.T. study wants to understand if care coordination services that include mental health programming can help teens with IDD live happier and healthier lives.
The study is available for some teens and young adults enrolled with the University of Illinois Chicago's Division of Specialized Care for Children (DSCC). Eligible DSCC participants must be enrolled in DSCC's Core Program or Connect Care Program. (Please note that DSCC teens enrolled in the Home Care Program are not eligible to participate.)
All DSCC participants receive care coordination services. The B.E.S.T. study looks at if it's more beneficial for DSCC teens to receive care coordination that also includes programs to help with mood and stress.
The B.E.S.T. study is a free and voluntary project. Teens can join the study if:
They currently have a DSCC Care Coordinator and are enrolled in DSCC's Core or Connect Care programs.
They are between 13 and 20 years old.
They have an intellectual or developmental disability.
They can comprehend at a fourth-grade or similar level.
They can read and speak English.
They have a computer, tablet or smartphone they can use to access the internet.
They have permission from their parent, caregiver or guardian (if they are under 18).
More than 200 DSCC participant families have enrolled in the study as of June 2023.
"I am thankful for the B.E.S.T. program," one parent participant shared. "It's helping (my daughter) voice feelings. I hope the program continues for her."
The B.E.S.T. study team developed the project with input from a group of B.E.S.T. Study Scholars. These scholars are teenagers with IDD who tested and reviewed all of the B.E.S.T. study materials.
"I loved working on the B.E.S.T. project because I got to share my experiences as a teen with a disability," B.E.S.T. Study Scholar Erin Compton said. "Sometimes people with disabilities have health problems, but we aren't going to let that stop us."
Erin also praised the B.E.S.T. study team, led by Project Director Iulia Mihaila, Ph.D.
"I loved working with Iulia and the team because they respected me and all the other self-advocates on the project as leaders," she said. "B.E.S.T. has a really good team, and I loved being a part of it."
Erin's mom, Diane Compton, said the project is a great opportunity to include the voices of those with disabilities.
"The B.E.S.T. team really excelled at including the voices and experiences of all who worked on the project," she said. "It gives me such hope for the future that organizations are creating these opportunities for young people."
Iulia said Erin and all the B.E.S.T. Study Scholars provided "immeasurable value" to the project.
"They gave us direction on how to make our work more relevant to teens with IDD and their families. Our work would not have been as strong without them," Iulia said.
Teens who join the study will be put into one of two groups:
Group A will receive care coordination services as usual from their DSCC Care Coordinator.
Group B will receive care coordination services and mental health support from the B.E.S.T. team. This support is based on each teen's needs and can include:

Mental health education
Online group sessions
Caregiver education and support
The study is a virtual program and should last for two years.
The B.E.S.T. study is a partnership between DSCC and the University of Illinois Hospital and Health Sciences System (UI Health), the University of Illinois Chicago's (UIC) Department of Disability and Human Development and the UIC Department of Pediatrics.
The principal investigators are Dr. Benjamin Van Voorhees and Dr. Kristin Berg.
The B.E.S.T. study team includes mental health professionals from Illinois, California and Massachusetts. They are all working together to find a way to promote the health and well-being of teens with IDD.
You can learn more information for both teens and parents/caregivers on the B.E.S.T. study website.
If you would like to join the study or have questions, please email the B.E.S.T. study team at beststudy@uic.edu or call (833) 732-5778.
If you choose to join, you and your family can support research that helps other teens and families.
Teens will have the opportunity to learn helpful coping skills for their moods and emotions. Parents and caregivers can gain information on how to support their teens.
Both parents/caregivers and teens must agree to be in the study. (Note that if a teen is their own legal guardian, they can participate alone or with a parent/caregiver if they choose.)
Those who join will be compensated for their time.
We're excited to be a part of this important research project!
DSCC Partners with Fowler Bonan Foundation to Offer Back-to-School Shopping Spree for Family in Need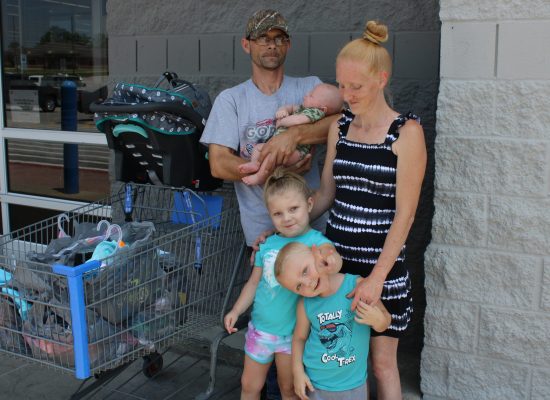 Fowler Bonan Foundation, a southern Illinois nonprofit, worked with DSCC's Marion Regional Office to provide shoes and clothing for participant Renesmae and her two younger siblings
Renesmae is an outgoing 5-year-old who loves unicorns. She recently started kindergarten with extra sass and confidence thanks to new unicorn outfits and orthotic shoes for the school year.
Renesmae and her two younger siblings received a free back-to-school shopping spree for these much-needed items and more from the Fowler Bonan Foundation.
Renesmae's care coordination team from the University of Illinois Chicago's Division of Specialized Care for Children (DSCC) partnered with the foundation to make the special shopping trip possible,
"There's a lot going on. With the kids starting school, we just didn't know what we were going to do," her mother, Misty, said during the shopping trip.
"Everyone at DSCC is really nice. They help with rides to the doctors and other things, but we never expected this. I can't believe we're shopping! It's just above and beyond."
A family in need
Renesmae has been a DSCC participant for most of her life.
"She had viral meningitis and severe seizures when she was 2 months old," Misty said. "She has partial paralysis on her right side, can't open her right hand on command or raise that arm very high, and limps or drags her foot when she walks. Thankfully, she hasn't had any seizures in a while."
Renesmae also has hypertonia, which makes her muscles stiff and difficult to move, and homonymous hemianopsia, a condition that causes her to see only one side of the visual field of each eye.
Misty describes Renesmae as "outgoing and not one bit shy."
"She's my absolute handful and, like the country song says, can be 't-r-o-u-b-l-e,'" she said. "She's also a great big sister and is always doing stuff for her little brothers. She's such a mother hen to Liam and Aries."
Liam is an infant, and Aries is 3. Aries is now starting Head Start, a program that promotes school readiness.
Renesmae's DSCC care coordination team includes Care Coordinator Cheryl Golliher and Program Coordinator Assistant Renee Woodson. They partner with Renesmae's family to find treatment options, transportation to appointments and other services to help Renesmae thrive.
"The family let me know they needed help getting her orthotic shoes," Cheryl said. "Renesmae wants to be like every other kid. The shoes look like any other pair of shoes but are different sizes and fit her brace. The shoes are an important part of keeping her focused on positive things, not other distractions."
As Cheryl and Renee looked for options for Renesmae's footwear, they learned all three siblings needed new clothes and shoes for the school year.
A local nonprofit ready to help
Our DSCC care coordination teams can help our participant families find community funding opportunities and resources to meet these important needs.
Amy Jones, DSCC Regional Manager for our Olney and Marion offices, and her team contacted the Fowler Bonan Foundation to see if they could help Renesmae's family. The foundation provides clothing and shoes to low-income children through their Clothes for Southern Illinois Kids initiative.
"They agreed to help buy clothes and shoes for all of the children and asked that we join their volunteers to help the family shop," Amy said. "We contacted the family and worked with the foundation and our team to get everything set."
Bobbie Fox is a Fowler Bonan board member who began volunteering with the organization nearly two decades ago.
"My family was new to the area, and I worked as a store manager. Back then I did all the shopping for our families on my lunch break," Bobbie explained. "Now, more people know about us and that we offer help in 17 counties throughout southern Illinois. We work with local organizations, community businesses, teachers and others to fundraise and make sure that every bit goes out locally to reach our families and help kids."
Time to shop
Everyone met at Walmart in Anna on July 20 for the shopping trip. The group included Renesmae's family – her parents, Misty and Jerry, and little brothers, Liam and Aries – and Bobbie from the foundation and her daughter, Saylor.
Cheryl and Renee were unable to attend. Their teammate Jimmy Baldi, a DSCC Program Coordinator Assistant from the Marion office, volunteered to join the group and help shop.
The first stop was the shoe department. Mom and dad located the right sizes, but the kids had a tough time deciding with so many options to choose from. Renesmae selected Minnie Mouse sandals. Aries went with the Batman sneakers.
"We want to be sure that the kids have shoes and other essentials, such as socks and underwear, in addition to everyday clothes," Bobbie explained. "The foundation typically provides $100 to $150 for each child to cover these needs."
A team effort and "win-win for all"
Everyone did their part to help Misty and Jerry feel comfortable and find items the kids needed.
The group took turns hunting for unicorns and superheroes (Aries' favorite), suggesting styles and finding the right sizes.
Everyone's efforts were worth it. At the checkout, the kids were happy campers and Misty couldn't believe they each had five new outfits for school along with plenty of underwear and socks.
Jimmy even snuck in some baby time with Liam.
"I'm really amazed and just so thankful to the foundation and everyone," Misty said. "These will be hidden away until school starts so that they don't get messed up."
As the shopping trip ended, Bobbie exchanged high fives with Renesmae and got a big hug from Aries.
"It's such a joy to be able to do this," Bobbie said. "The focus on the kids, partnering with other organizations and individuals. It's a team effort and a win-win for all."
The Fowler Bonan Foundation also ordered Renesmae's orthotic shoes. Jimmy later traveled to the foundation's headquarters in Harrisburg to pick them up. Cheryl delivered the shoes to the family.
What started as a team effort, ended as a team effort.
"The Foundation is a great resource and so quick to respond to the needs of our families," said Cheryl. "The shopping trip helped relieve so much stress and worry for the family. It was a great team effort in every sense of the word. I hated to miss the shopping trip, but Jimmy volunteered to go and really loved going."
We're thrilled our Marion Regional Office team and the Fowler Bonan Foundation came together to support Renesmae's family. A big thank you to Fowler Bonan for providing the generous shopping spree!
If you would like to volunteer to help the foundation or know of a family or child in need, please contact them at FowlerBonanFoundation@gmail.com.
You can see more photos from the shopping trip on our Facebook page.

Strategies to Empower Family Caregivers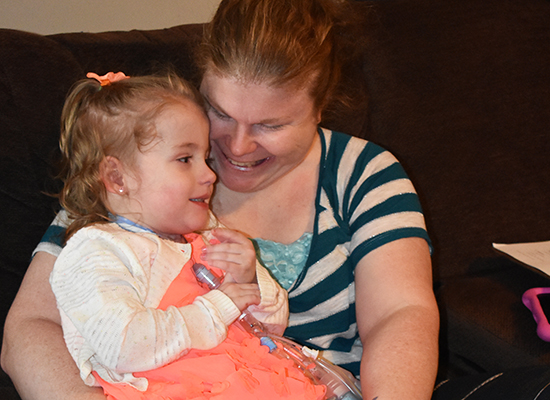 DSCC provides support and resources to strengthen caregivers' ability to care for themselves and children with special healthcare needs.
November is National Family Caregivers Month. It's an opportunity to celebrate all of you who selflessly and continuously care for your children and loved ones with special healthcare needs.
At the University of Illinois Chicago's Division of Specialized Care for Children (DSCC), we recognize the huge role you play in your child's overall health and wellbeing. We value our partnership with parents and caregivers to help set goals for your child, identify strengths and make plans to achieve what is important to your family.
We also understand the importance of caregiver health and providing you the right support and resources. DSCC is dedicated to empowering caregivers and strengthening your ability to provide care for someone else.
We recognize how you are there every day, managing multiple care needs and navigating complex healthcare systems, insurance systems and more. Our priority is to help strengthen your knowledge, reduce your stress and help you feel more confident and organized in your child's care.
Here are three significant ways we aim to empower caregivers:
Partner with you to identify what you, your child and your family need. As the parent or caregiver, you know your family's unique needs and values better than anyone. We listen to these needs and partner with you to identify your child and family's goals and how to accomplish them. If you are not enrolled in our program or need help knowing how to identify your needs, this quick self-assessment tool can help.

Help you brainstorm and connect with others. Conversations around health allow all of us to get creative, see things differently and develop new ways of doing things. These creative ways can save you time, energy or allow for improved interactions. Some connections in the community are your primary health or behavioral treatment specialist, other DSCC parents or a community parent support group.

Connect you to the latest research and information. As growing research helps us better understand physical and mental health, it can also show new techniques, interventions and treatment options. Think about how you learn best and reach out to trusted sources. Our staff can help you find the best sources of information. We are also experts on local resources and supports available in your community.
The physical and emotional demands of caring for a child with special healthcare needs are 24/7. Though we can't take away all the worries and emotions, we can provide a consistent helping hand to support you through your child's journey with a medical condition
To learn more about our care coordination, visit our How We Help page. You can also contact your local DSCC Regional Office or call us at (800) 322-3722.
Our online Resource Directory also includes resources and tips for caregivers.
Featured resources include:
DSCC Teamwork Helps Infant Heart Patient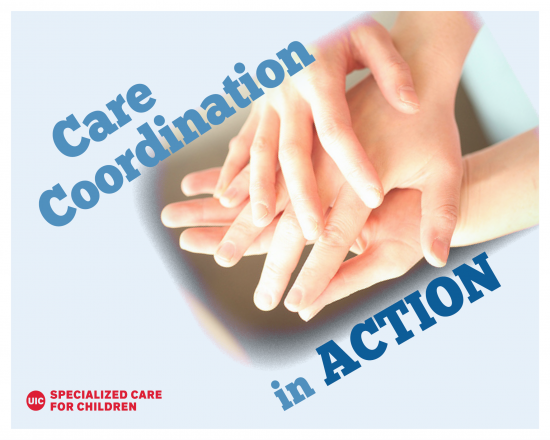 DSCC staff provide an air conditioner to family of baby boy recovering from heart surgery in triple-digit temperatures.
Families enrolled with the University of Illinois at Chicago's Division of Specialized Care for Children (DSCC) know their care coordination team is here to help. This help can include finding resources and developing a care plan to meet their unique needs and goals.
What our families may not realize, however, is how many DSCC staff work together behind the scenes to help our Care Coordinators find the best solutions for their child.
A powerful example of this group effort occurred after a 4-month-old baby boy underwent open heart surgery during a stretch of dangerously hot temperatures.
The boy was born with a heart condition shortly after his family moved to Illinois. After spending several weeks in the neonatal intensive care unit, he was able to go home in June and prepare for surgery later in the fall. However, his family soon learned that the surgery couldn't wait. He underwent the procedure in July.
"It was a blow to them," their Care Coordinator Robin Mahnken said. "But, they did the surgery and he went through it with flying colors."
Shortly after the surgery, DSCC Administrative Services Coordinator Debbie Cole called the baby's mother to check in. The mother reported that her son's recovery was going well until an intense heat wave hit the area. The family didn't have an air conditioner, and she was concerned how the extreme temperatures would affect him.
"Instead of saying, 'I'm sorry to hear that,' Debbie went, 'Hmm, I wonder if we can help,'" Robin recalled.
Debbie went to Robin and the two began brainstorming ways to get an air-conditioning unit for the family's home. Robin soon learned that durable medical (DM) equipment providers would not be able to help. She then went to her supervisors, who suggested an alternate way for DSCC to support the cost for an air conditioner.
Robin then got to work trying to find a non-medical, general merchandise retailer who would be able to bill DSCC for the cost of the air conditioner.
Robin contacted a big box retailer in town, which was willing to help. But, there were several administrative hurdles to overcome. She enlisted the help of two store managers, their general manager and a clerk to develop a plan for the store to accept a prior approval from DSCC to provide the air conditioner.
Robin then worked with DSCC Claims Services staff and the Provider Data Unit to enroll the retail store as a provider and work out a solution for payment. Claims Services Supervisor Michele Dillon even called into the office while on vacation to work with DSCC's Business Office and Provider Data Unit to make sure a solution was reached quickly so the retailer could be paid as soon as possible and the family could have the much-needed air conditioner.
Once a payment solution was reached, another DSCC Care Coordinator went with Robin to pick up the air-conditioner, deliver it to the family's home and install it for them.
"That is how a family with a 4-month-old baby who just underwent open heart surgery was able to get an air conditioner on a day when the heat index was 113 degrees at 2 p.m.," Robin said. "This whole organization and this whole other business pulled together to help this one little person."
We are extremely proud of our compassionate employees and their willingness to go the extra mile to provide the best outcomes for our families.
DSCC Regional Manager Mary Gruenich put it best – "In my 25-plus years at DSCC, I have witnessed  many outstanding examples of dedicated and caring staff going above and beyond to meet the needs of their families.  However, I don't recall such an exemplary example of true care coordination that involved so many units within DSCC to meet the needs of a 4-month-old cardiac patient… completed  within 24 hours!"
Family Thanks DSCC for Van Modifications, Support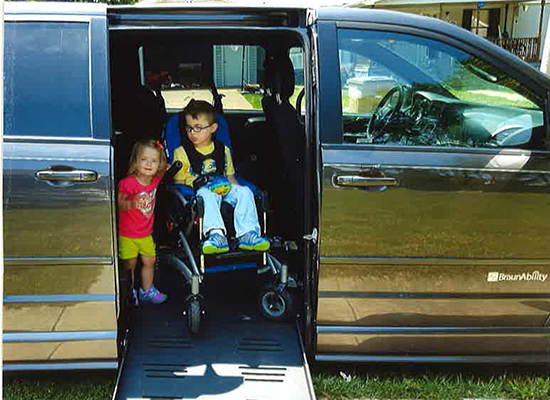 Financial assistance and resources from DSCC helped Payton's family pay for modifications to their home and vehicle so he can stay active.
Eight-year-old Payton was born with a gene mutation so rare that it doesn't have a name. The condition affects the STXBP1 gene and causes seizures, developmental delays, nonverbal communication and abnormal muscle movements.
"There are less than 250 people (with the mutation) that we know of worldwide," Payton's mom, Kristy, explained. "It is almost like a spectrum-type diagnosis… Doctors just don't know much about it."
What Payton's family does know is that his symptoms are severe. He cannot walk or sit up and is nonverbal. However, he has no problem letting his happy, easygoing personality shine through. Payton loves his little sister, Hunter, and doing special extracurricular activities, like horseback riding and water therapies.
Kristy says the University of Illinois at Chicago's Division of Specialized Care for Children (DSCC) has helped provide the accommodations, equipment and resources needed to help Payton stay active and comfortable as he grows.
Payton became enrolled with DSCC six years ago. His family qualified for financial assistance from DSCC to install a ramp in their home for Payton's wheelchair.
"He's getting bigger, and we were starting to have difficulties getting him in and out of our vehicle and his car seat," Kristy said. "I contacted (our Care Coordinator) Beverly and she told me about the ways DSCC could help."
DSCC was able to provide some financial assistance to modify the van with a lift, but the remaining price tag was still too expensive for the family to afford. Beverly then used her connections within the community to link Payton's family with two charitable organizations to pay most of the remaining cost.
"Beverly went above and beyond," Kristy said. "It's been awesome. Now I can wheel him in and strap him down, and it's so much easier without having to get him out of the chair and do multiple transfers."
The modification helps the family of four's busy lifestyle, especially now that Payton is in second grade and is increasingly involved in activities outside of the home.
Kristy said DSCC's assistance and Beverly's patience and hard work have helped make her family's lives much easier. She also values Beverly's knowledge of community resources and services and encourages other families to work with DSCC and ask what may be available to help their family.
"If Beverly wasn't able to help with something, she can always point me in the right direction of where I could turn," she said. "You just need to ask the question, and don't be afraid to ask."
Community Partners Brighten Holidays for DSCC Families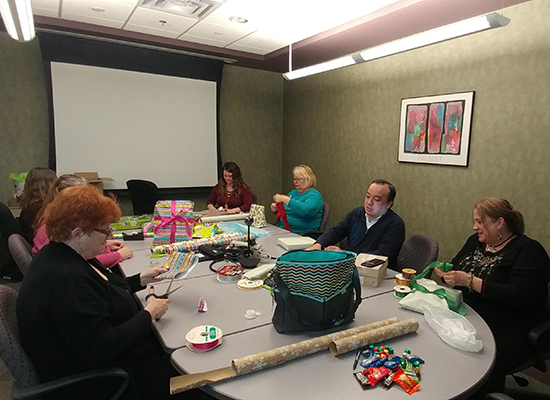 DSCC families in need receive gifts and necessities from our generous community partners.
Partnerships are a crucial part of our mission to help children and youth with special healthcare needs connect to services and resources. For 80 years now, DSCC staff has developed relationships with social service agencies and community organizations across the state to help improve the lives of our children and families. During this holiday season, we are especially grateful for our community partners who've stepped up to ensure that some of DSCC's neediest families have a merry Christmas.
In the Springfield Regional Office, Care Coordinator Robin Mahnken worked together with the Salvation Army in Jacksonville and her dedicated team of colleagues to deliver piles of wrapped presents for a sick 1-year-old in our program and her three siblings. The girl was born with Down Syndrome and a heart impairment that required surgery a few months later. In November, she developed an upper respiratory infection and was hospitalized and placed on a ventilator.
Robin has stayed in close contact with the girl's mother since her admission to the hospital and learned the family is greatly strained financially. During the first week of December, the mother asked Robin to help find any available Christmas assistance for her children. Though the deadlines for many local charities' assistance programs had already expired, Robin spoke with a director at the Salvation Army, who made arrangements for Robin to "shop" their facility for items on each of the children's wish lists while the mother stayed at her daughter's side in the pediatric intensive care unit.
"I anticipated receiving an article of clothing and one or two toys for each child.  I was overwhelmed by all of the gifts selected.  Volunteers called to me from every direction suggesting this or that for one of the children," Robin said. "The director kept telling me I hadn't selected enough.  I left with a carload of toys and clothing."
With the mother in no position to wrap gifts at the hospital, Robin snapped photos of the items to show the mother and wrapped them herself. Robin saved the little girl's packages to be wrapped by Springfield RO staff during their holiday party this week. Springfield RO members also donated funds to purchase a Walmart gift card for the family. Robin and her husband, with the family's permission, delivered four huge bags of wrapped presents and the gift card to the appreciative family on Wednesday night.
At our Lombard Regional Office, staff members have developed a special bond with their building neighbor, Hope Fellowship. This bond was strengthened last year when Pastors Jeff Brewer and Jon Trott helped the office cope with the difficult loss of their assistant regional manager, who passed away unexpectedly in November 2016. The pastors' support of the Lombard RO has continued ever since and earlier this month, Pastor Jeff asked Program Coordinator Assistant Kim Firkins if any DSCC families in the Lombard office's coverage area need extra help during this year's holidays.
Kim worked with the Lombard office's managers and assistant managers to check with staff for families in need. Staff suggested a total of eight families, and Kim collected information about each family member and provided it to Hope Fellowship. Hope Fellowship's parishioners purchased gifts for each family member. Their gifts include diapers, wipes, a homemade fleece blanket, pajamas, DVDs, gloves, hats and a generous assortment of gift cards for gas, groceries and various stores and restaurants. Hope Fellowship also provided stockings for each child and parent.
Kim coordinated the receipt of gifts, and Lombard's Care Coordinators are delivering the items to the families.
Further north at our Rockford Regional Office, a Care Coordinator learned that a toddler was being discharged from a transitional care facility earlier this month after being separated from her family for a year.
"This little one became part of a bustling home of five brothers and sisters who were overjoyed to welcome her home," her Care Coordinator Shan Johnson said.
On Dec. 14, the toddler's mother told Shan that she had no Christmas presents for the children.
Shan contacted the Rockford Salvation Army, who "without hesitation" opened their doors for Shan and let her into their warehouse on a Sunday afternoon to handpick gifts for the children. They even provided gift bags.
"I will never walk past a (Salvation Army) red kettle again without thinking about this happy miracle," Shan said.
A big thank you to these organizations, our staff and all of our community partners for their support and service to our families throughout the year!
DSCC Helps Brothers Meet Soccer Heroes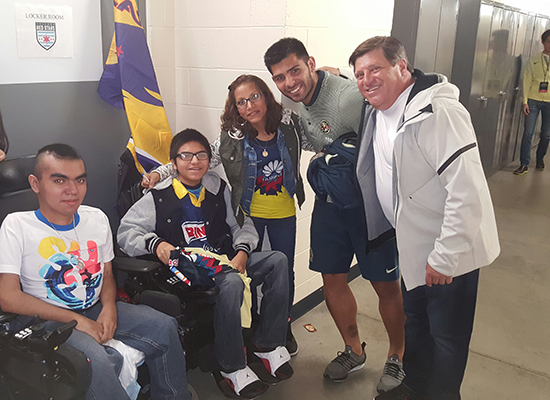 Miguel and Carlos spend time with Club America soccer team, thanks to their DSCC care coordination team.
One of the main ways that UIC's Division of Specialized Care for Children (DSCC) helps children with special healthcare needs and their families is through a process called care coordination.
Our care coordination addresses each child and family's unique needs. It can include helping a family understand their child's diagnosis or connecting a family in need of financial assistance with the right resource. Sometimes, our care coordination involves providing experiences that simply help a special needs child be a kid.
A care coordination team from DSCC's Chicago Core Regional Office recently used their creativity to provide one such priceless experience to two brothers with muscular dystrophy.
Miguel, 17, and Carlos, 14, are big soccer fans who live near Toyota Park in Bridgeview. The park hosts major league soccer games with players from around the world, and the teens had hoped to meet the Mexican soccer team Club America.
Miguel and Carlos' mother reached out to their Care Coordinator Rita DeSoto and Program Coordinator Assistant Maria Carrera to see if they could help.
Maria invited their mother to the Chicago Core office to sign authorizations so she could contact the team's marketing and promotions manager on her behalf. Rita was able to reach the manager two days before the game and with the family's permission, wrote a letter detailing Miguel and Carlos' condition and why they wanted to meet the team.
Thanks to Rita and Maria's efforts, the teens were able to meet the team and take photographs and collect autographs from their favorite players. Their mother reported that they were "surprised, grateful and overjoyed."
"Each day freedoms such as walking, running, playing, laughing, eating and breathing can be taken away from children with muscular dystrophy," Chicago Core Regional Manager August Nall said. "The Care Coordination team communicated the family's needs at the right time to the right people and they were able to secure a service the family wanted."
Great work, Rita and Maria!
DSCC Teen Surprised with Special "Beach Bike"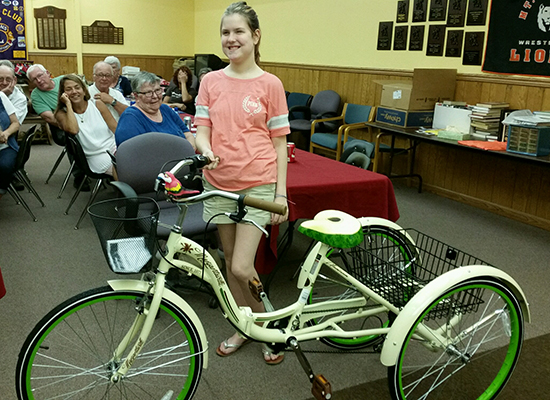 DSCC Care Coordinator partnered with Mount Vernon Lion's Club to make the gift a reality.
Fifteen-year-old Allie Riley of Mount Vernon wanted a bicycle of her own so she could go on rides with her family and friends. A traditional bicycle, however, was not a safe option for Allie as she is visually impaired and has problems with her depth perception.
Allie's mother, Melinda, did some research and found some tricycle options for Allie but couldn't afford the price tag. Melinda went to the family's Care Coordinator, Donis Vail, from the University of Illinois at Chicago's Division of Specialized Care for Children (DSCC) for help.
Allie has been enrolled with DSCC since she was an infant. Donis, who works in DSCC's Olney Regional Office, used her community connections to find funding for the tricycle and pull off a sweet surprise for Allie.
Knowing that Allie is a big fan of musician Jimmy Buffett, Donis found a Buffett-themed adult tricycle that's cream with green tires, a green seat and a parrot-shaped bike horn. She then started researching funding options. When she reached out to the Mount Vernon Lions Club, they offered to pay the entire cost of the tricycle.
Donis and the Lions Club then invited Allie and Melinda to the club's meeting last month to surprise her with the tricycle. Melinda told Allie that they were going to a bank meeting so she wouldn't suspect.
When Allie arrived and saw her new tricycle, she was "over the moon," Melinda reports. Allie also immediately stipulated that her new wheels are not merely a tricycle but a "beach bike."
Our Care Coordinators are pros at identifying a family's needs and working with local community organizations to connect the family and youth with the services and resources that can help. The Mount Vernon Lions Club's generous donation is a wonderful example of these connections and how much they benefit our participants.
A huge thank you to all involved, and happy riding, Allie!