Affordable Connectivity Program Helps Lower Internet Costs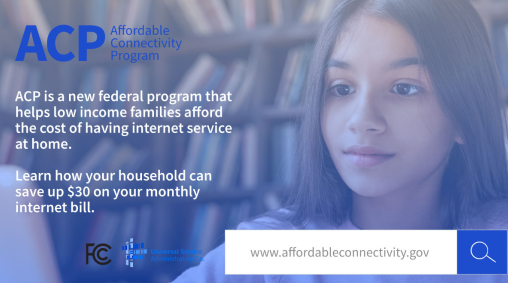 Eligible families can receive discounts on internet service and devices in their homes
Having affordable and reliable internet service at home is more important than ever.
The Affordable Connectivity Program (ACP) is a federal program to help families afford the cost of internet service and devices in their homes.
Households can qualify in a number of ways. Eligibility can be based on income, participation in other assistance programs or if anyone in the household already receives a Lifeline benefit.
Under the ACP program, eligible households may receive:
Up to $30 per month discount for broadband service

Up to $75 per month discount for households on qualifying tribal lands

A one-time discount of up to $100 for a laptop, desktop computer or tablet purchased through a participating provider. The household must contribute more than $10 but less than $50 toward the purchase price.

The ACP is a program of the Federal Communications Commission (FCC).
The program is limited to one monthly service discount and one device discount per household.
To apply, go to ACPBenefit.org. You may submit your application online or print a mail-in application in English or Spanish.
Applicants also must contact their existing or preferred provider to select a plan and have the discount applied to their bill.
For complete details and to access American Sign Language videos about the program, visit www.fcc.gov/acp.
The ACP Support Center is also available to answer your questions daily from 8 a.m. to 8 p.m. at (877) 384-2575 or ACPSupport@usac.org.
For more utility and financial assistance programs, visit our online Resource Directory.