Meet Medical Advisory Board Member Dr. Shubhra (Sue) Mukherjee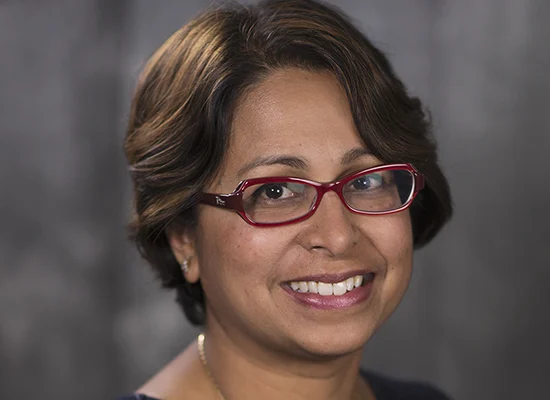 "DSCC understands the importance of supporting families and coordinating care."
Dr. Shubhra Mukherjee, also known as Dr. Sue, is the medical director of pediatric and adolescent rehabilitation medicine at Shriners Children's Chicago.
Mukherjee currently cares for patients up to age 22. Her background includes working with young adults with complex healthcare needs and collaborating across medical specialties to help these patients and their families connect with the care they need.
She has served on the Division of Specialized Care for Children's (DSCC) Medical Advisory Board (MAB) for more than 16 years.
Mukherjee's expertise in physical medicine and rehabilitation combined with a deep interest in the transition of care for children with complex healthcare needs has been a great fit.
"DSCC understands the importance of supporting families and coordinating care," said Mukherjee. "I appreciate their statewide focus and how the MAB serves as an avenue for clinician input on what changes are needed, sharing feedback about the struggles we encounter helping patients get what they need, and working together to find solutions."
Putting the Focus on Transition
When Mukherjee joined the board, schools were just beginning to explore the need to help students build the skills needed to transition to adulthood.
"They were looking at ways they could better prepare students to go on to jobs, college and life after high school," Mukherjee explained. "In pediatric care, we realized that we needed to be doing the same thing for children with complex healthcare needs and their families."
The DSCC team had the idea to increase the participation of medical professionals at the annual Illinois Statewide Transition Conference. We wanted to create a more proactive approach to helping children and their families make the transition from pediatric care to adulthood.
Mukherjee teamed up with DSCC's former Title V Transition Specialist Darcy Contri to help put the idea into action.
"DSCC was already doing great work providing family support, tip sheets, and facilitating face-to-face conversations about transition. This was just one more piece of the puzzle," said Mukherjee. "Darcy and I set up the first health care track for the Statewide Transition Conference with a goal of building more clinical engagement and increasing awareness and support for patients with complex health care needs and their families."
The health care track has provided information and presentations with and for doctors and others providing complex care. According to Mukherjee, it continues to be a catalyst for building connections, sparking ideas, and inspiring healthcare professionals.
"I got to see that impact firsthand when one of our occupational therapists (OT) attended the conference with me," Mukherjee said. "She was so moved that she became a big proponent of the OT's role in developing and teaching adolescents skills related to health care."
Opportunities to Collaborate
Mukherjee appreciates how the MAB fosters collaboration, networking and the development of partnerships. This work continues to create more options throughout Illinois for patients with complex care needs.
"It's very rewarding to grow my knowledge and connect with like-minded professionals across so many different specialties," Mukherjee said. "We're able to share, provide feedback, and exchange ideas around removing barriers and supporting patients with complex healthcare needs at all stages."
Mukherjee said DSCC also continues to be a major source of support for her own patients.
"Care coordination is so important for these families," said Mukherjee. "DSCC helps them find the right care or specialist, get to appointments, and locate funding for the services they need to stay well and engage in their community. DSCC is there for the child and family."
Mukherjee also leans on DSCC for updates and information.
"DSCC helps me keep track of program changes and learn about new services or programs that are available," Mukherjee emphasized. "DSCC plays a vital role in sharing information and connecting the many different entities that individuals with complex needs depend on for their care."
Awareness Brings Progress
Mukherjee said there is still a great need for education about the transition to adulthood and its importance.
"I'm glad to see the growing awareness and interest by professionals in helping youth develop the skills they need to be successful as adult users of the healthcare system," said Mukherjee. "We are seeing more adult providers who understand the needs of young people with disabilities who are aging out of pediatric care."
Awareness has brought progress, but challenges remain.
"Pediatric and adult care are not set up in the same way. For example, a spina bifida clinic and spinal care clinic are similar, but they are not the same. Adults with complex conditions going to a spinal care clinic may not be getting all of their needs met," said Mukherjee. "The special pediatric clinic that addressed all their needs as a kid doesn't exist in the adult care system."
Mukherjee's own focus on the transition to adulthood remains as strong as ever.
"I've been following some of the research initiatives at the University of Illinois Chicago. It's exciting to see they are collecting data, exploring different aspects of complex care and its costs, and working towards building a framework that brings all the pieces together for adults with complex care needs," she said.
"DSCC plays a vital role," Mukherjee noted. "Sharing their information and ensuring it's always there for the families we serve is important."
Thank you, Dr. Sue, for your leadership to help families and professionals support the successful transition to adulthood!
Visit our Medical Advisory Board page to learn more about the MAB and its mission.