In the News: DSCC Participant Wins Adaptive Bike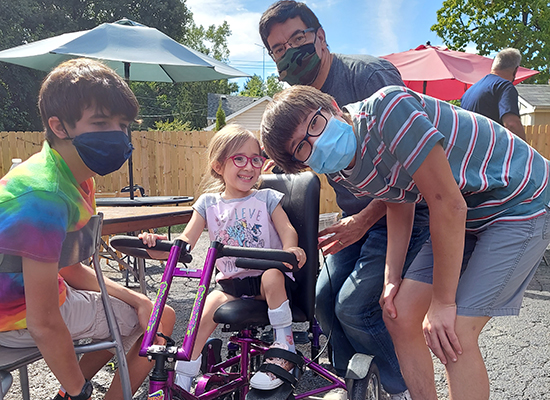 Project Mobility awards adaptive bikes to seven youth with mobility issues
Six-year-old-Dayna loves to keep up with her older brothers.
But keeping up became a lot harder when biking became a favorite pastime during the COVID-19 stay-at-home order.
Dayna was born with spina bifida, a birth defect in which the spinal cord fails to develop or close properly. She has no feeling in her legs from the knee down, so a traditional bicycle is too difficult to maneuver.
To give Dayna greater independence, her family entered a contest to raise money for a new adaptive bike.
Thanks to the Bike Rack's Project Mobility program, Dayna and six other children are receiving specially configured bicycles at no cost.
Project Mobility is a nonprofit organization based in St. Charles, Ill. It offers recreational events using specialized bicycles for people with disabilities. The organization also does adaptive bike giveaways.
Adaptive bikes can cost anywhere from $1,000 to $5,000.
"We've known about Project Mobility for a few years. We go to the Ability Expo every year and they are well-known in the spina bifida community," Dayna's mother, Kimberly Dorencz-Cuervo said. "When we saw they were starting up an adaptive bike giveaway for this year, we decided to enroll Dayna."
Dayna is a participant in the University of Illinois at Chicago's Division of Specialized Care for Children (DSCC).
She was one of seven children with mobility issues who entered the Adaptive Bike Giveaway – Everybody Rides 2020 edition.
"One way that we get to go out as a family and do things is by bike riding, and it really brings normalcy to our days," Kimberly told Chicago WGN 9 News. The news station featured the contest and Dayna in a recent news story.
"Dayna can't participate in it, so having this bike would just be able to make her feel included, and inclusivity is so important to us. It would be a blessing," Kimberly added.
Typically, the contest awards a bike to the youth who receives the most shares and likes on Facebook.
But this year's contest went viral. Thanks to the generosity of donors and sponsors, all seven children will receive their own adaptive bike. Chicago WGN 9 covered the great news in a follow-up story.
"We thought that was awesome," Kimberly said. "Dayna is so excited. She can't wait."
Kimberly said the bike shop is currently customizing Dayna's bike, so she expects it will be ready to go for next spring.
"Having the adaptive bike will allow her to participate with the family in bike riding and doing all of the things that a typical child does," she said. "It will also help her in making friends because many of the kids in our neighborhood ride bikes. I think it's going to help her with the social aspect, too."
Congratulations to Dayna and all the giveaway winners!
For more information on Project Mobility, visit www.projectmobility.org/.