Illinois Sound Beginnings Website Wins National Award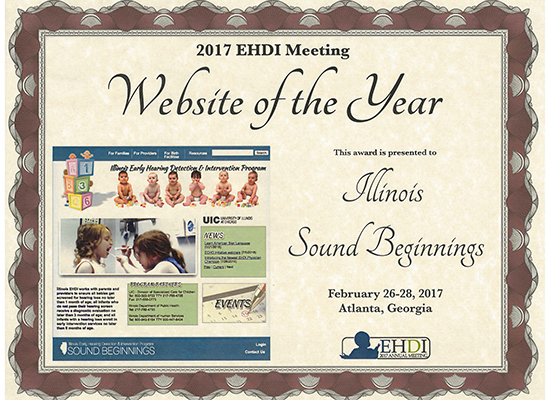 Illinois Sound Beginnings is the online destination for the Illinois Early Hearing Detection and Intervention (EHDI) Program.
Illinois EHDI works with parents and providers to ensure all babies are screened for hearing loss no later than 1 month of age; all infants who do not pass their hearing test receive a diagnostic evaluation no later than 3 months of age; and all infants with a hearing loss enroll in early intervention services no later than 6 months of age. The program partners with the University of Illinois at Chicago's Division of Specialized Care for Children, the Illinois Department of Public Health and the Illinois Department of Human Services.
The program's website at http://www.illinoissoundbeginnings.org/received the Website of the Year award during the 2017 EHDI Annual Meeting on Feb. 26-28 in Atlanta, Georgia.
The site includes resources for families and professionals, including information about diagnostic testing, screenings, hearing aids and cochlear implant options, and parent support.
Congratulations, Illinois EHDI!