Hearing Screening Equipment to County Health Departments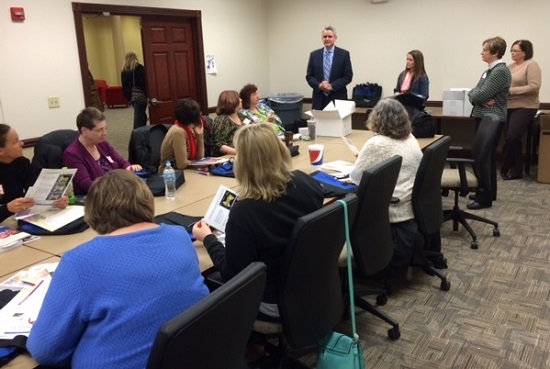 Illinois county health departments receive equipment to screen infants and young children for hearing loss.
A total of 16 county health departments and the Southern Seven Health Department, which serves 7 counties in Southern Illinois, will receive special hearing screening equipment from Specialized Care for Children. These screenings are the first step in testing a child's hearing.
Yesterday, staff from the first six of those county health departments learned how to use the otoacoustic emissions (OAE) screeners. The device sends sound into the ear and measures "echoes" that come back out into the ear canal. Based on the screening results, children may be referred for further testing.
The screeners are portable, so health departments will be able to use them at various clinic locations and even on home visits.
Counties receiving the OAE screeners include Adams, Bond, Clay, Coles, Crawford, Fayette, Jackson, Logan, Madison, Marion, Rock Island, Schuyler, Shelby, Tazewell, Warren and Whiteside. The Southern Seven Health Department that serves Alexander, Hardin, Johnson, Massac, Pope, Pulaski and Union will also receive the equipment.
Pictured above: Specialized Care for Children Director, Thomas Jerkovitz (standing), welcomes staff from the county health departments.