Free At-Home COVID-19 Test Options for Families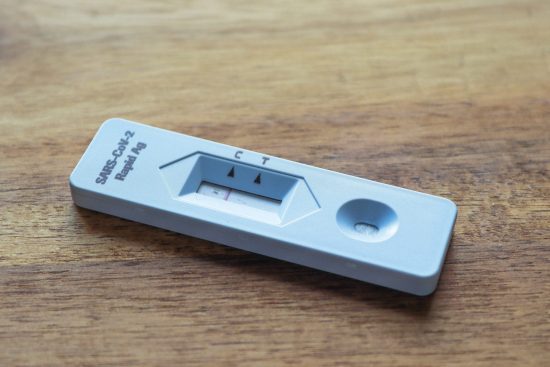 How to access at-home test kits at no cost
If you need a COVID-19 test, there are many ways you can test at home for free.
COVID-19 home test kits are available at no cost by mail or pick-up at specified locations.
You may also be eligible for insurance reimbursement or Medicaid coverage at participating pharmacies. Here is a summary of the current options:
PLEASE NOTE: Starting Sept. 2, 2022, the federal government will suspend its distribution of free at-home tests through the U.S. Postal Service (https://special.usps.com/testkits). You can learn more at www.covid.gov/tests.
USPS is also distributing more accessible tests for individuals who are blind or have low vision. The tests work with a compatible Bluetooth-enabled smartphone and a free app to provide users with audible instructions and audible test results. You can order these accessible tests at https://special.usps.com/testkits/accessible or by calling (800) 232-0233. Please note:


Although the program that provides free standard at-home tests will be suspended on Sept. 2, the accessible home tests will still be available for people who are blind or have low vision.
There is a limit of one order per residential address.
Each order includes 12 accessible rapid-antigen tests.

Supplies are limited. Please do not order the more accessible tests if you have options for using the standard tests.
Orders ship free while supplies last.


If you have health insurance through an employer or Marketplace, your insurance will pay you back for eight at-home tests each month for each person on your plan.
Individuals with disabilities can also contact the Disability Information and Access Line (DIAL) for help with available testing options, including ordering free at-home test kits.

Contact DIAL Monday through Friday from 8 a.m. to 7 p.m. at (888) 677-1199 or email DIAL@usaginganddisability.org.

Individuals who are deaf and hard of hearing can reach DIAL using the 711/Video Relay Service (VRS)

.
You may also visit www.covidtests.gov/ to see where at-home tests are available for sale. The website includes a list of free testing sites available by state. It also provides information about other testing resources.
If you have questions about testing your child, this article from HealthyChildren.org gives a helpful overview of the different types of COVID-19 tests available and what parents need to know.
Your child's pediatrician can help you determine when testing is a good idea and which type of test would be best. Please contact their office with any questions.
For more information on testing options, assistance programs and caregiver support, visit the Division of Specialized Care for Children's COVID-19 Resource Directory.