Supporting Parents to Access and Navigate Services (SPANS) Study Opportunity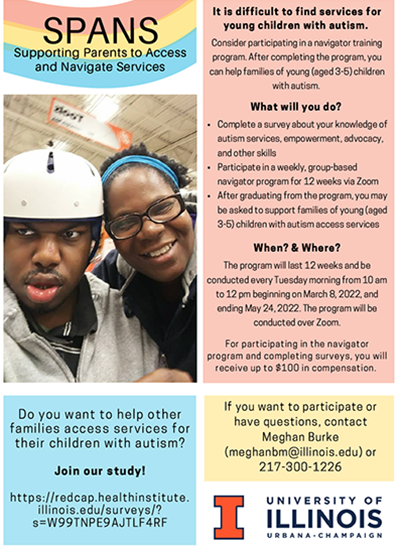 Date/Time
Tuesday, March 8, 2022, 10:00 am - 12:00 pm
An opportunity for parents of children with autism living in Cook County to take part in a study aimed at helping other families access services for their children with autism
Supporting Parents to Access and Navigate Services (SPANS), a project of the University of Illinois Urbana-Champaign Interdisciplinary Health Sciences Institute, is looking for participants for a 12-week study. The study is helping to develop a training program and technology to help families of young children with autism access disability services.
Training sessions will be conducted every Tuesday morning from 10 a.m.-12 p.m. beginning on March 8 and ending May 24. All sessions will be done through Zoom.
Consider participating in this study if you:
Have a child with autism who is 5-years-old or older
Live in Cook County
Meet one of the following requirements:

Currently unemployed
Your family receives government assistance
You have less than a college degree
For participating in the navigator program and completing surveys, you will receive up to $100 in compensation.
After graduating from the program, you may be asked to support families of young children (ages 3-5) with autism access services.
If you are interested in participating in this project, please complete the initial survey here.
For more information, contact Meghan Burke (217) 300-1226 or meghanbm@illinois.edu.
---