SciAccess 2021: The Science Accessibility Conference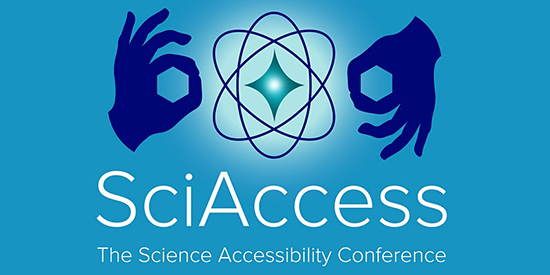 Date/Time
Friday, November 12, 2021 - Saturday, November 13, 2021, 12:00 am
An international virtual conference designed for everyone and anyone who wants to advance inclusion in science and the STEM fields
Join SciAccess for the Science Accessibility Conference via Zoom on Nov. 12 and 13 from 8 a.m. – 5 p.m.
This interdisciplinary, international conference is dedicated to exploring the ways in which science and STEM (science, technology, engineering and mathematics) can be more accessible, particularly for individuals with disabilities.
The 2021 conference features over 40 speakers, including keynote addresses from Virgin Galactic Astronaut Sirisha Bandla, Blue Origin Astronaut Chris Boshuizen, MacArthur Genius Joshua Miele and Mission Director and AstroAccess Ambassador Apurva Varia.
Conference topics will include:
Harnessing social media to create a community using platforms like DisabledInSTEM, a mentorship program for individuals with disabilities
Empowering students with low vision and their teachers in STEM through Project Inspire, which uses a math braille code to help create tactile graphics and make visual mathematical representations more accessible
Using robotics to increase skills among students who are deaf and hard of hearing
SciAccess aims to address societal and educational barriers to science faced by students, professionals, researchers and members of the public who have disabilities.
To register, get a schedule or learn about scholarship opportunities, visit the SciAccess website.
---