DSCC at the Illinois State Fair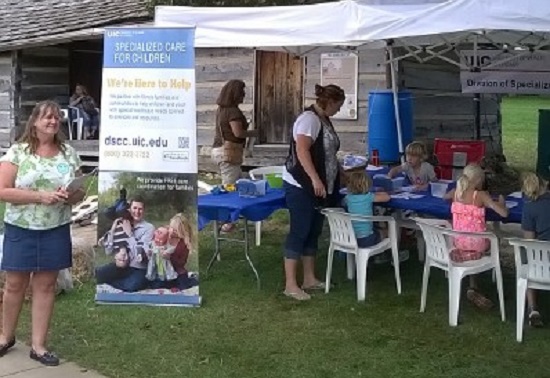 Date/Time
Friday, August 11, 2017 - Sunday, August 13, 2017, 10:00 am - 7:00 pm
Location
Conservation World at the Illinois State Fair, 801 Sangamon Ave., Springfield
Stop by the DSCC tent in Conservation World for fun activities for kids and valuable information for families.
The University of Illinois at Chicago's Division of Specialized Care for Children (DSCC) is excited to be at this year's Illinois State Fair in Springfield. We'll have a tent set up in Conservation World, which is located in the northwest corner of the fairgrounds,  from 10 a.m. to 7 p.m. on Aug. 11-13.
In honor of DSCC's 80 years of serving children with special healthcare needs, we'll have birthday cards for kids to color as well as a giant birthday card set up for visitors to sign. We'll also have a bean bag toss game, stickers for kids to personalize, coloring books for kids and a wealth of information about how DSCC can partner with your family to help connect your child with special healthcare needs to services and resources.
Click here for a list of other attractions in Conservation World, such as fishing clinics and canoe rides. More information to help plan your family's trip to the fair is available here.
Please stop by and say hello to our Care Coordinators and support staff, learn more about how we can help and celebrate our 80th birthday!
---