Bubble Fest in Rockford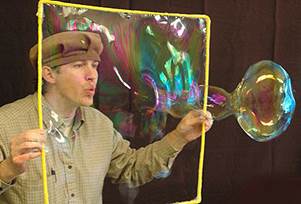 Date/Time
Saturday, September 8, 2018, 9:00 am - 9:30 am
Location
Discovery Center Museum, 711 N. Main St., Rockford
Special free performance for children with disabilities and their families!
At 9 a.m. join renowned Bubbleologist Geoff Akins as he creates huge wobbly dancing bubbles, bubbles inside bubbles, bubble caterpillars, bubble snowmen, smoke-filled volcano bubbles, a bubble merry-go-round and even the impossi-bubble square bubble for children with disabilities.
The theme of the Bubble Wonders show is Anything is Possible.  Positive messages about the power of persistence and following your dream are woven throughout the shows.
The show is approximately 30 minutes.  Following the performance, families are welcome to play in the museum or in the Bubble-Palooza Playground.
Limited seating available.  To reserve your spot, email Sue Stevens at sues@discoverycentermuseum.org.
Other show times for the general public are at 10:30 a.m. and 1:30, 2:30 and 3:30 p.m.  Tickets are available in advance for $5. Members pay $4.  Tickets can also be purchased at the event for $6 for the public and $5 for members.
For more information, visit the Discovery Center Museum website at http://www.discoverycentermuseum.org/.
---